Lavender hair at Le Meridien Angkor Wat, Siem Reap! Luxury hotel & restaurants closest to Cambodian temples.
Cambodia has fascinated me for ages. I dreamed of exploring the mysterious temple of Angkor Wat, and experiencing the warm culture I'd heard so much about.
Finally, I got to travel here thanks to the new HK Express flight route! This airline has low-cost fares from Hong Kong directly to Siem Reap, where the temples are found.
At Le Méridien Angkor hotel, I got a grand introduction to Cambodian hospitality. Passionfruit, smiling elephant statues, bodhi trees… Let's start the journey right here.
I got quite a few comments on my Instagram (@lacarmina) about this outfit of the day — and new lavender hair color! I'm wearing a Bohemian kimono by Pylo.
The label name stands for "Pursue Your Life's Obsessions" — a message I can get behind, as it sums ups my travel approach. Pylo has a fantastic selection of Gothic-Gypsy fashion, including this crescent moon necklace and black lace bell-bottoms.
OUTFIT DETAILS: Michi top † White  tulle skirt † Linda Farrow sunglasses † Metallic sneakers
I'm wearing this exact crop top by Michi, a designer activewear company. Michi makes all types of dark sports fashion such as this top with sheer panels, and colorblocked sports bra (currently on major sale — more below).

I paired it with a long white tulle skirt that made me feel like a ballet dancer. Here's a similar skirt with black hearts on it — so pretty.
We loved the artistic feeling of Le Meridien Angkor, a Starwood property. The hotel is modern design meets classic Khmer, especially the lush gardens dotted with Hindu statues. 
It was remarkably easy to get to Siem Reap from Hong Kong. We flew direct on HK Express and the trip only took 2.5 hours. Le Meridien sent a van to the airport to pick us up, and the drive to the hotel was a short 15 minutes.
From the minute we walked into the spacious lobby, we knew that this would be a peaceful stay. I liked the dramatic Cambodian lanterns, and stuffed bears for charity.
After a flight, it's a relief to munch on fresh fruit. I discovered a new "passion for passionfruit," and also couldn't stop eating their fresh baked eclairs and croissants.
The staff of Le Meridien Angkor comes from international backgrounds, and they went above and beyond to make us feel at home. Director of marketing Dennis arranged a private temple tour for us, and helped us find out more about Buddhist yantra tattooing (where a monk performs a blessing).
We enjoyed strolling in the hotel's beautiful tropical gardens. At night, the rows of trees light up.
My witchy-wizard outfit — rings, moon necklace, long boho robe — are all from Pylo.
Water flows from the trunks of Ganesha, the elephant-headed Hindu god, in this courtyard fountain.
Cambodia is humid year round, and there can be mosquitoes — so I wore this Michi crop top, and loose layers over it. 
We all had spacious bedrooms, with a deep bathtub and classic wood shutters. I got to catch up on work using their fast WiFi, while taking in a view of the pool and gardens.
My friend John Skeleton and I appreciated the location of Le Meridien — it's as close as you can stay to the temples. The famous Angkor Wat is less than a 10 minute drive away.
(Address:  Vithei Khum Svay Dang Kum, Charles De Gaulle, Krong Siem Reap 17259, Cambodia)
We loved how we could go to see the sunrise, and then easily come back for coffee and breakfast. Le Meridien Angkor was also located naer the historic Siem Reap district, night market, Pub Street and other attractions (I'll show you in an upcoming post.)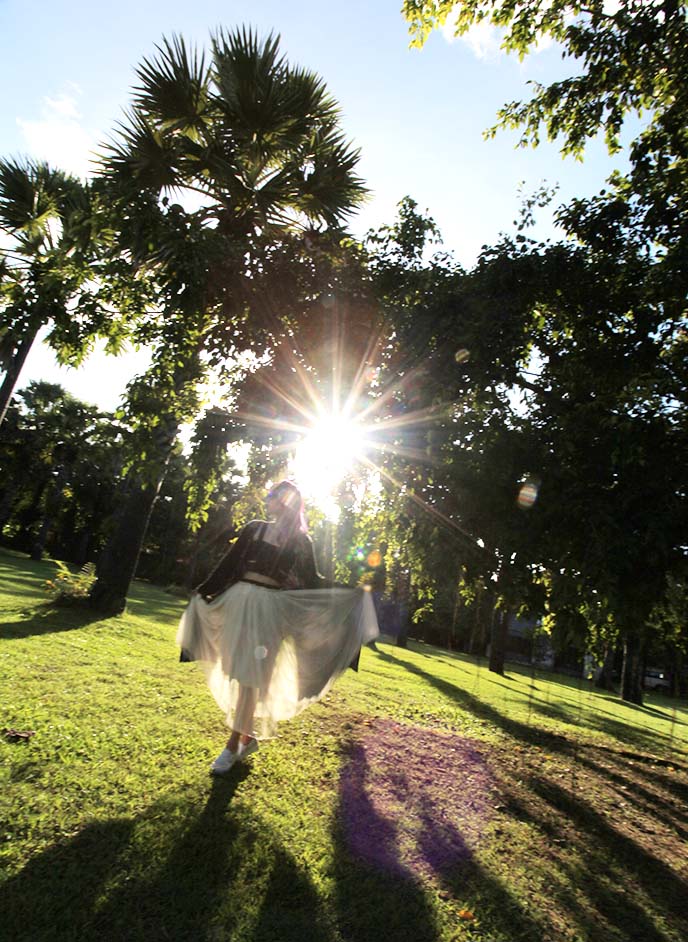 Trekking around Angkor Wat was a bit draining, especially with the humidity. We were glad we could always pop back into to the hotel to pick up equipment, shower and change our clothes.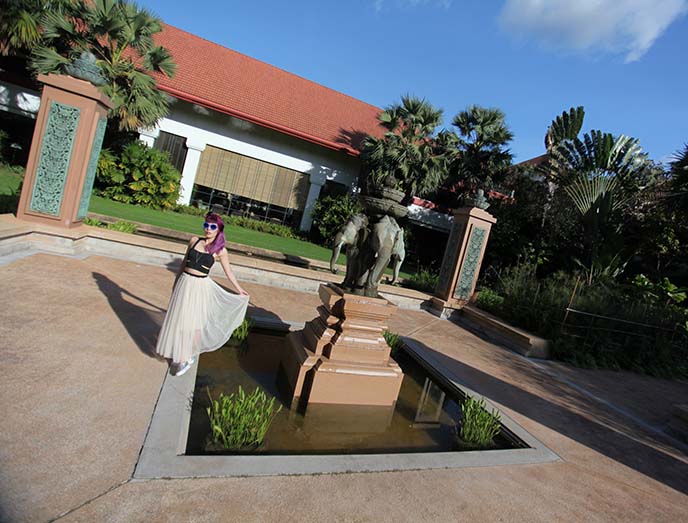 Le Meridien felt like a temple itself, with blossoming lotuses and Khmer-style pools.
(Wearing Pylo stacked silver rings, which come in mystical shapes).
I've wanted to dye my hair lavender for a while, and did it before this trip. My new haircolor happened to match these floating lotuses!
My stylist, Stephanie Hoy of Stratosphere Hair, did a purple light-to-dark ombre fade with Bettie Page short curved bangs. She twisted front sections into pin curls, for a retro explorer feel.
John went for a dip in the stunning outdoor swimming pool. It has a Tomb Raider feeling (appropriate, since the movie was shot at Ta Prohm temple).
I have so many photos from our Angkor Wat excursion to share with you next.
(Photography by Sniper Chau and Ken Yuen — and video coming soon too.)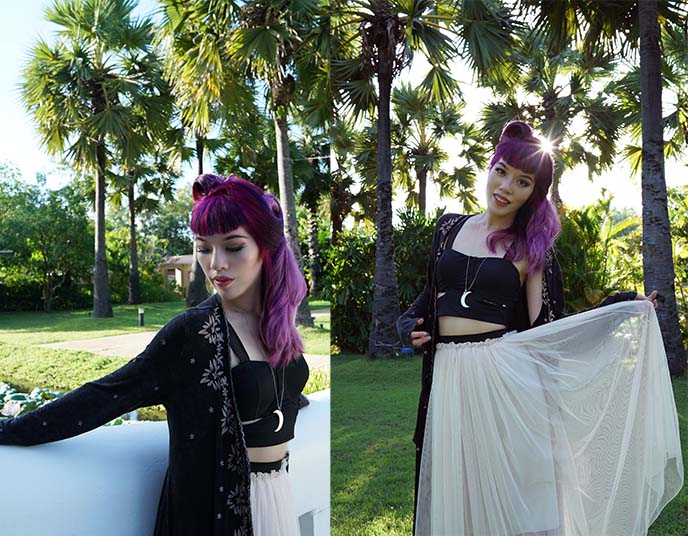 Thanks to Pylo for the bohemian-wizard fashion, which made me feel a bit like a Goth Sailor Moon.
I wore metallic, shiny creepers from Hong Kong — they are similar to these Acne sneakers.
My round blue sunglasses are by Linda Farrow. She has a marvelous collection of cat eye sunglasses.
I leave you with a glimpse of the outstanding meals we had at Le Meridien Angkor! I'm still thinking about the Khmer pumpkin curry and spiced salads we had at their Cambodian Angkor Royal Café, and my daily breakfasts of passionfruit and yogurt.
However, our most memorable dinner was at l'Angelo Italian restaurant, headed by French chef Nicolas Rouleau. He served us the best pastas and Italian dishes I've had all year, along with an impressive selection of wines and cocktails.
At l'Angelo, traditional Italian recipes get modern, French touches. I ate up every last bite of this balsamic risotto with duck breast and parmesan. 
The osso bucco, eggplant parmigiana, and spiced penne were also masterfully prepared.
We enjoyed the relaxed, contemporary look of the dining space. And how was dessert? The photos speak for themselves — fresh, tangy, inventive. 
If you have limited time in Siem Reap, it's especially worth staying at Le Méridien Angkor. This oasis is conveniently located by the temples, and you can enjoy local food, spa and culture right inside.
A curtsy to Ganesha, and to the hotel staff for making our stay an absolute pleasure. Coming up next — my travel diary of Angkor Wat!
What do you think of Cambodia so far? Did you enjoy my Outfit of the Day?
OUTFIT DETAILS: Michi top † Tulle skirt † Linda Farrow sunglasses † Metallic sneakers