Vietnam Food Tour of Hanoi! Authentic, local cooking lessons & what to wear in Southeast Asia.
A few of my friends have been to Vietnam, and encouraged me to visit. They gushed: "The food is out of this world, and everyone is so nice."
After spending time in Hanoi and Ha Long Bay, I must wholeheartedly concur. "Hat's off to Vietnam!" 
I wanted to have an immersive, authentic experience (as always) — so I went on a custom journey with Vietnam Food Tour.
Thanks to our bilingual local guide, we were able to travel to small villages where we talked to locals, and learned how to cook Vietnamese food!
Read on to see how I made spring rolls, Nuoc Cham dipping sauce, and other delicious dishes…
Watch our Vietnam video, above and on YouTube.
My friend John Skeleton and I flew to Hanoi from Hong Kong — an easy and inexpensive two-hour flight.
Vietnam Food Tour arranged for a car to take us from Noi Bai Airport to our hotel in the Old Quarter. Along the way, we saw throngs of motorcycles zipping between cars – Mad Max style! 
The driving in Hanoi is often a shock to tourists, but I didn't find  it that different from Cebu or Bali. It's just how things are in Southeast Asia.
It rained a little that night, which gave us the chance to take bokeh photos from the car window. (This is the fabulous DSLR camera that we use.)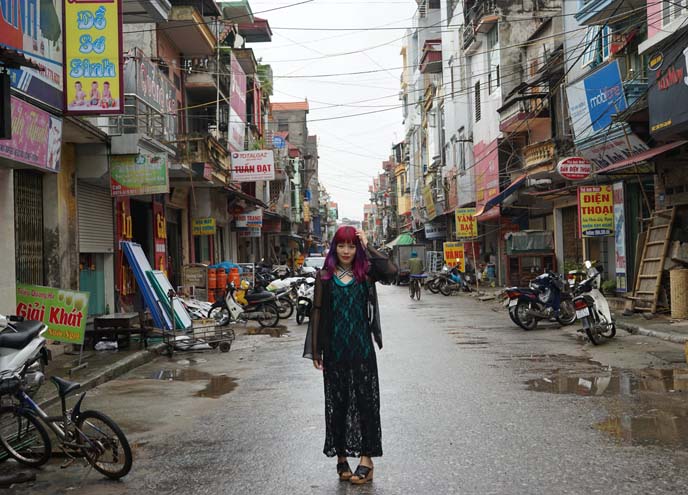 Vietnam is humid and has mosquitoes, so I devised a stylish way to stay covered. I wore a lightweight cotton tank top and leggings, and a sheer lace maxi black dress on top.
If you're going to a destination with high humidity, such as southeast Asia, I recommend finding a long lace dress like mine, or a short sleeves version to keep cool yet protected. More of my picks below:

On the first day of our journey, Vietnam Food Tour took us to a village about an hour from Hanoi, along the Red River Delta.
Thanks to them, we were able to see charming parts of North Vietnam that we wouldn't have gleamed on our own.
We stopped at  Van Giang Village's morning market. It's true that the Vietnamese people have kind hearts. Everyone waved and smiled at us, and gave compliments as we walked by.
John and I were the only foreigners in sight, since not many travel out to this village. (Vietnam Food Tour specializes in small, custom excursions — meaning that we were the only ones on the tour, with a guide and driver.)
I didn't get any mosquito bites that day, thanks to my outfit! (I'm wearing a similar long black lace maxi dress with a sheer long sleeved black jacket on top, for light coverage.)
Our sweet guide, Bao, explained that the villagers grow fresh vegetables in their gardens. They bring their produce to the market, where they greet their neighbors and exchange food in a friendly atmosphere. 
Many villagers wore Vietnamese pointed hats (get one here!). This conical straw hat is made from natural materials, and provides protection against both sun and rain.
Who wore it best, La Carmina or John Skeleton?
I think this little girl on a motorbike, with a "not impressed" face, wins first prize!
We walked through the wet market, where vendors sold fresh seafood. Some of the ladies prepared Vietnamese dishes for you right on the spot. 
John left his bloody heart on this tray.
As fans of The Walking Dead, these chicken-zombies caught our attention.
Tropical fruits, fresh flowers, Vietnamese conversations… What a joy to experience the sights and sounds of this local market! 
Our driver took us from the colorful village center, criss-crossed by electrical wires, to a more rural area nearby.
Even the cows are laid-back in wonderful Vietnam. They were hanging out on the roads, and didn't blink an eye as the cars weaved around them.
Our guide Bao went out of her way to show us the culture and beauty of her country. She stopped to pick up a yellow apricot blossom, or hoa mai, and gave it to us. This noble flower is integral to Vietnam's new years celebrations, called Tet. 
The countryside pond and trees look like something from an ancient painting.
Our guide, Bao, took us to the 300 year old house of Mr. An. He graciously invited us to meet his family, and learn how to make Vietnamese dishes.
We were in awe at his beautiful garden and open-air traditional house. We stopped to admire the family altar, which honors Mr. An's ancestors as well as the Buddha (since much of Vietnam is Buddhist, followed by Taoist).
Mr. An has some of the most impressive Bonsai trees in the entire region, which he displays along the winding path to his home.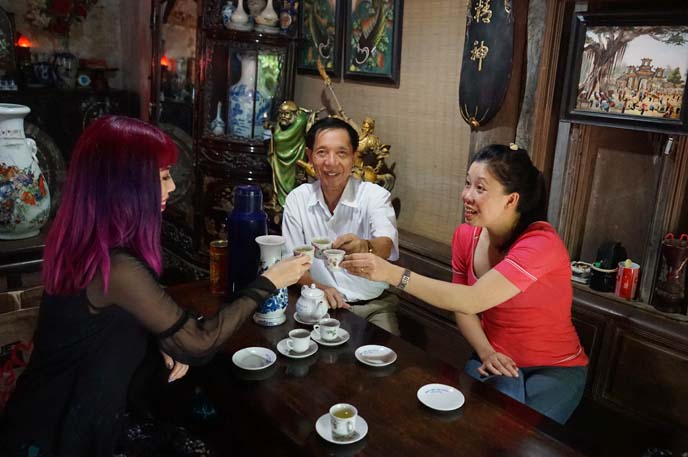 Mr An served us green tea, prepared in the traditional way (by pouring it several times back and forth, and then serving it in small cups). Although he only spoke Vietnamese, we could feel the warmth of his hospitality. 
We were curious about the bullet holes that marked the outside of his home.
Mr An revealed that before 1946, his ancestral house has three separate buildings. However, when the French occupied northern Vietnam, they set up camp nearby. During an attack on the Communists, the two front buildings burned down, and a gunfight left traces in the remaining walls.
The Indochina Wars (and American Vietnam War) caused hardships during the mid-20th century. However today, the country is at peace, and very safe for tourists. And despite these conflicts, the Vietnamese people are remarkably open and kind to visitors.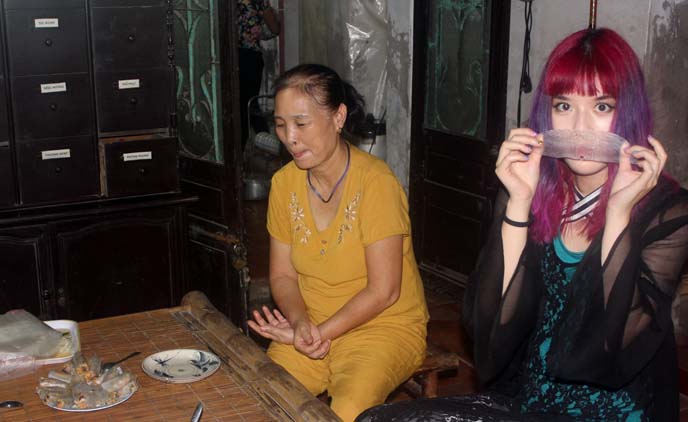 Even though Mr and Mrs An didn't speak a word of English or French, I was able to connect with them through the universal language of humor!
(The rice paper that we used to make spring rolls reminded me of a moustache, hence this funny moment.)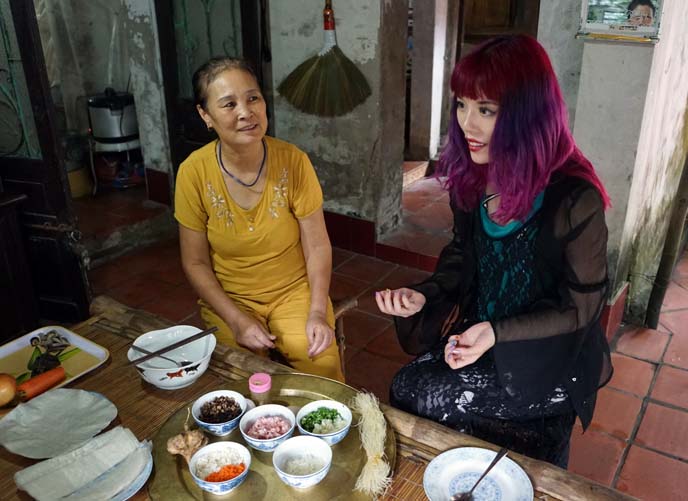 Mrs An kindly walked me through each step of making Vietnamese spring rolls. I learned how to prepare and mix the ingredients, and roll them up. She gave me and John thumbs up, as we got better at the process. (See this cute moment here!)
Perhaps not every spring roll is as tightly packed as it could be… but we had such fun, working under the tutelage of Mrs An.
John noticed a shelf of spooky liqueurs, flavored with dead snakes and quails. We had never seen alcohol made with birds before.
John wanted to try the snake potion, but Mr An warned him that it was only for those aged 50 and up! 
Mrs. An took us into her family kitchen, to cook the spring rolls and stir-fry green vegetables. We put together a Nuoc Cham dipping sauce to accompany our feast.
(We made a vlog about our cooking class. I hope the video makes you smile.)
She brought out a salad made with seaweed and vegetables, as well as a seafood soup and other side dishes.
And then, it was time to sit down and eat until we were ready to explode! The spring rolls were so delicious — better than any we had ever had — that John said he could eat about 20 of them. (And proceeded to do so.)
In classic "village generosity," as our guide put it, Mr An freely poured us the herbal-infused liqueur that he brewed himself. Before leaving, he insisted that we take a bottle back with us!
This turned out to be one of the most memorable meals of the entire year, and gave me a new appreciation of Vietnamese cuisine. We were grateful to get to know Mr and Mrs An, and hear their personal stories of the wars.
Vietnam Food Tour also arranged for us to have dinner at one of Hanoi's top restaurants, Com Viet. 
We walked across a bridge surrounded by leaves, and past a display of Asian art.
On the restaurant's outdoor terrace, I said hello to a little bird.
(My off the shoulder black silk top is another way to stay covered without getting overheated, in humid South East Asia.)
The female staff wore traditional silk tunics and pants, known as the Vietnamese aoi dai. 
(All photos by John, Bao of Vietnam Food Tour, and me.)
Com Viet felt like a walk through Vietnam's elegant past. As we ate, we listened to classic songs played on this string instrument called a dan tranh.
We tasted several courses of traditional cuisine, starting with bun thang soup and fresh rolls with prawns and vermicelli.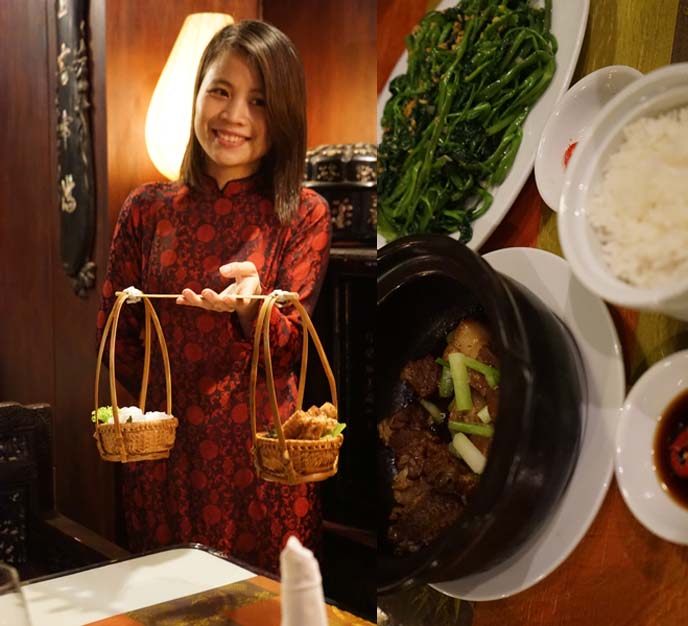 Loved the fresh flavors and presentation of the dishes, including appetizers in two baskets on a pole (a miniature version of what street vendors carry).
By now, I understood why my friends raved about Vietnamese food. It's light, healthy, and never over-seasoned or spiced.
Vietnam is often an overlooked Asian destination, which is unfortunate. My local food tour turned out to be one of my favorites of the entire year — I wouldn't have had these experiences if I came here on my own.
(You can check out Vietnam Food Tour's various Hanoi excursions here — we did the Savour four-day package, and I recommend it with all my heart.)
Much more to come, including our Pirate boat trip through Halong Bay… For a sneak peak, take a few minutes to watch our Vietnam travel video.