Marina Bay Sands: top Singapore celebrity restaurants! Waku Ghin, David Myers Adrift, Cloud Forest gardens.
What's it like to dine at one of the best restaurants in the world? A foodie's dream, as you'll find out in this post!
Singapore does both street food and high-end dining fabulously. During my time in Singapore, I got to taste the latter during an insider tour of Marina Bay Sands hotel. You know which iconic building I'm talking about…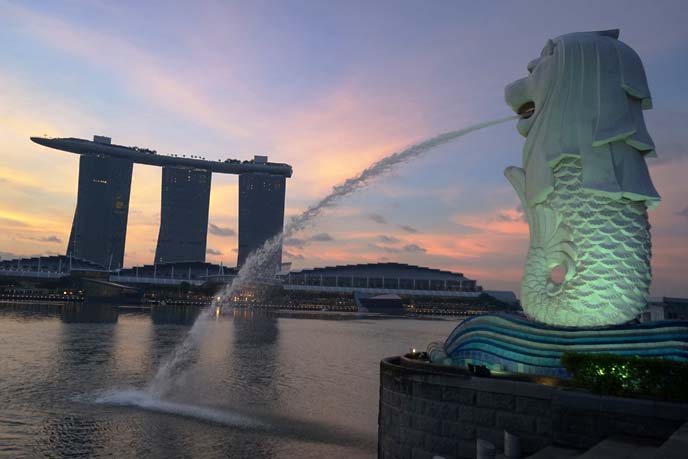 .. this "surfboard on three pillars," located across from the Merlion fountain!
Let me take you inside Marina Bay Sands' celebrity chef restaurants, including Adrift and Waku Ghin. We'll even get to dip our toes in the infinity edge swimming pool.
If you're visiting MBS, I recommend also spending time in the nearby Gardens by the Bay. This large complex includes dramatic outdoor gardens, and indoor conservatories with an admission fee. (Visitor info is found here.)
The Gardens are part of a government initiative to increase green spaces in cosmopolitan Singapore. When I went inside the Cloud Forest dome, I immediately saw this wall of "epiphytic" plants, adapted to grow on vertical walls.
(I'm wearing a skirt that's actually a scarf from Naumi Hotel. My hat is this one from Lack of Color Australia.)
The misty Cloud Forest looked like a scene from a storybook — and yet, it was all contained within a giant glass structure! This is the world's tallest indoor waterfall, and you can walk all around and through it.
Towering walkways twist around the Cloud Mountain. Most visitors take the elevator up, and walk downward. On the way, I saw thousands of plant species, and came across interactive displays about the environment.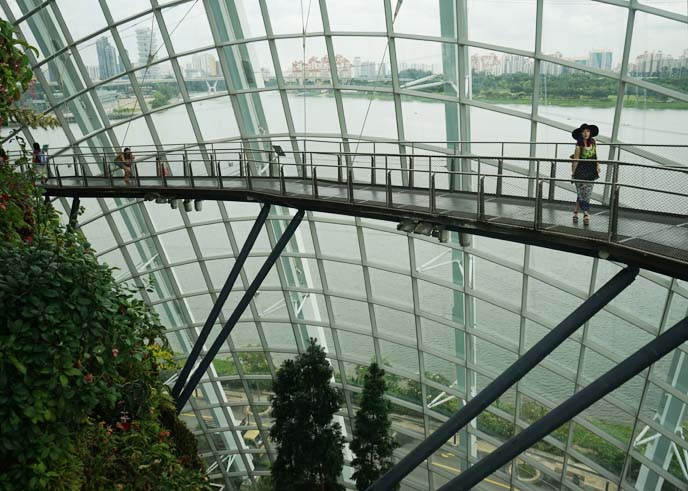 This is not your typical park, since many of the elements are indoors and manmade, and feature plants from all around the world. Still, the experience feels like a dream, especially when you walk along the high paths and see the dramatic waterfall.
Visiting Gardens by the Bay opened my eyes to how it's possible to build lush, vertical environments within a busy city, where space and resources are limited.
Next, we went into the Flower Dome, home to species from countries as far ranging as South Africa and Spain.
Everything here is constructed to minimize the environmental footprint, such as by re-circulating rainwater for cooling.
Do you like my black large-brimmed hat? The exact same one is available here!
l tried my best to blend in with the background. The dome's Flower Field changes constantly, and has special displays for various seasons and themes (such as Fairy Tales).
Outdoors, the Supertree Grove looks like an alien landscape. These unique vertical gardens are 50 meters tall, and turn into a display of light in the evening.
We strolled along the 128 meter long OCBC Skyway, which connects two of the Supertrees. (Photos by Ken Yuen)
Now, are you ready to go inside Marina Bay Sands? The eyecatching hotel officially opened in 2011, and contains… eveything. An ice skating rink, theaters, a casino, haute couture shops, and dozens of restaurants.
I'm sure you have heard of their famous 150 meter long infinity pool, located high above Singapore skyscrapers!  Talk about "swimming on the edge."
Only guests of the hotel can access the infinity pool, but PR kindly let us take a look around. And while this photo looks like I'm alone at the top… in reality, there were a lot of kids and families running around!
PR also let us look inside one of the infamous luxury suites. I couldn't believe it… in addition to spacious bed and bathrooms, the suite had a karaoke den, hair salon, massage parlor, and gym!
From the living room window, I looked out at the skyscrapers, and down at the lotus flower-shaped ArtScience museum.
Can you believe that only 5 years ago, the MBS hotel and gardens didn't even exist? Incredible to see how much Singapore's landscape has changed, in a short time.
The Marina Bay Sands lobby communicates this sense of soaring ambition. The entire complex sits on 20 hectares, and was designed by Moshe Safdie Architects. 
Restaurants are one of the biggest draws here — and I was ready to taste what they had to offer.
We started with lunch at Adrift by David Myers, a brand new concept for modern Asian fare.
Chef Myers trained with greats such as Charlie Trotter and Daniel Boulud, and his name is often found on award lists.
Adrift's menu is inspired by Chef Myers' travels in Asia. This dining room decor reflects his love of South East Asian flavors, Japanese ingredients, and more.
The cocktail bar is a scene straight out of Ginza, Tokyo. Bar consultant Sam Ross created drinks that perfectly fit with Adrift's approach. He uses ingredients like sake, and makes his own version of the Singapore Sling.
I tried his much-celebrated cocktail, The Penicillin, and it's my favorite drink of the year so far. Smoky scotch, lemon juice, ginger honey perfection.
I paired my cocktail with elevated "bar snacks" — creative, Asian-flavored munchies that I could have eaten all day long.
I'm eyeing the caramel popcorn with a spike of togarashi, and the nori rice crackers with yuzy kosho aioli.
These mouth-watering photos say it all… fresh flavors, gorgeous presentation. Adrift encourages diners to share plates, tapas style.
We loved the signature crab melt with pimento cheese, and the basil-infused tuna with avocado on a papaya-coconut sauce.
All of Chef Myers' dishes were perfect for sharing, and never too heavy.
It doens't get any better than this seared Hokkaido scallop with peas.
His handcrafted desserts were the perfect finish. The Guanaja chocolate pot de crème with burnt marshmallow was so good that I dug into it before we could take a proper photo!
Cheers to Adrift for a remarkable East meets West dining experience, "for dreamers and explorers."
I had tea and a chat with Tamir Shanel, the Vice President of Food & Beverage. He told me he had a vision of the hotel as a world-class dining destination from the start. Today, Marina Bay Sands is home to original restaurants by the world's top chefs including Tetsuya Wakuda, Daniel Boulud, Wolfgang Puck, David Thompson, Gordon Ramsay, and of course David Myers.
He's also created a name for MBS with their annual Epicurean Market. This food and wine fair brings in the best for master classes — I wish I could have attended this August, and tried all the international food!
We toured the hotel and peered into the various restaurants… if only I could dine at them all. I'm walking by Gordan Ramsay's Bread Street Kitchen, which will be open soon. (MBS has more than 60 international dining options, listed here.)
A peek inside Cut steakhouse by Wolfgang Puck. He sources the highest quality Kobe beef, and other top cuts from the USA, Australia and Japan.
The bartender was preparing ice for the evening. Cut is particularly well known for gin cocktails with Asian flavors like lemongrass and yuzu.
Wolfgang Puck, won't you cook a meal for me?
And now, for the main event... Waku Ghin. The Japanese word for excitement ("waku waku") describes the feeling of anticipation we had. After all, it's the brainchild of celebrated Chef Tetsuya Wakuda — and consistently named one of the top restaurants in Asia, if not the world.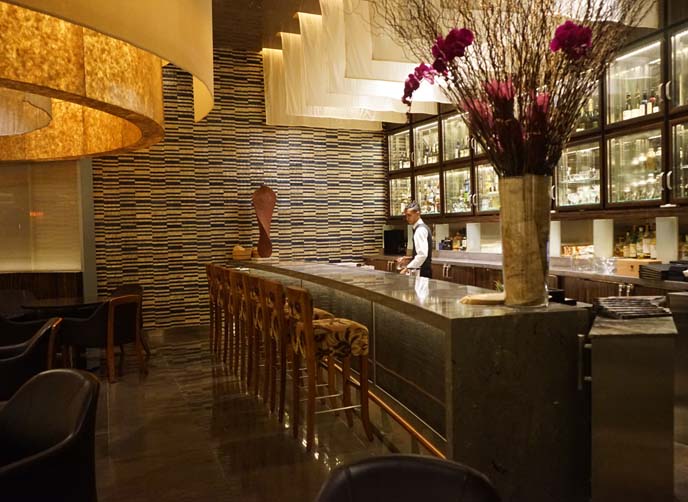 The name 'Waku Ghin' actually comes from two Japanese words, meaning "arise" and "silver." This is the chef's favorite color, and permeates the intimate modern decor.
From the start, you know that this is a sublime dining experience. The journey begins at the bar, with a staff that seems to anticipate your every need.
Then, you'll be ushered into one of the three "cocoons," or spaces where a chef cooks right in front of you. Waku Ghin only has two seatings a night, serving only about 50 lucky people each evening. It goes without saying that reservations are a must.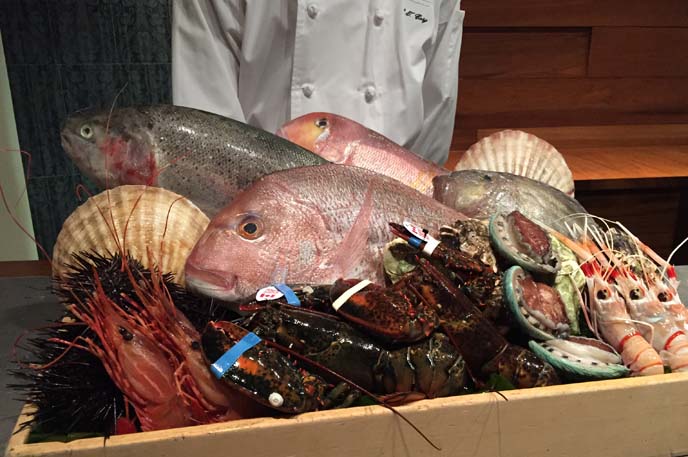 Our chef showed us a box of the the ingredients he would be serving us. The highest quality seafood sourced from all over the world, to be savored with a pairing of wine or sake.
Our chef was Cory Soo Thoo, a young Singaporean who has risen quickly in the culinary world. Chef Wakuda was in the restaurant that evening, and came out twice to greet us.
Watching Cory cook felt like witnessing a solemn ritual. He took the greatest care with each step, from the preparation to the plating.
And what a meal he delivered. One of the first courses was sea urchin and oscietra caviar with marinated botan shrimp — so decadent yet balanced.
Then (moving clockwise): pan-fried ayu with daikon and fennel, Tasmanian abalone with fregola (Sardinian pasta) and tomato, and steamed Alaska king crab.
I typically find shellfish a bit heavy, but in the hands of Chef Cory, this wasn't the case. He used techniques such as steaming to let the natural flavors speak for themselves.
After the 10-course degustation menu, all the diners move to this lounge for dessert. The window overlooks the Bay and Merlion, which light up with evening light shows.
Waku Ghin offered us some of the best desserts we had in Singapore: fresh strawberry sorbets and mousses, and petit fours.
Singapore lives up to its name as a foodie dream destination, especially at Marina Bay Sands!
Have you been to any celebrity chef restaurants, anywhere in the world? Are local food experiences important for you when you travel?