Bali cooking class with an Indonesian chef! Jimbaran fishing boats, market tour.
Wherever I go, I try to take part in activities that let me get immersed in the local life. Several of my friends insisted that I take a Balinese cooking class — and they were right, it ended up being one of my favorite memories from this trip.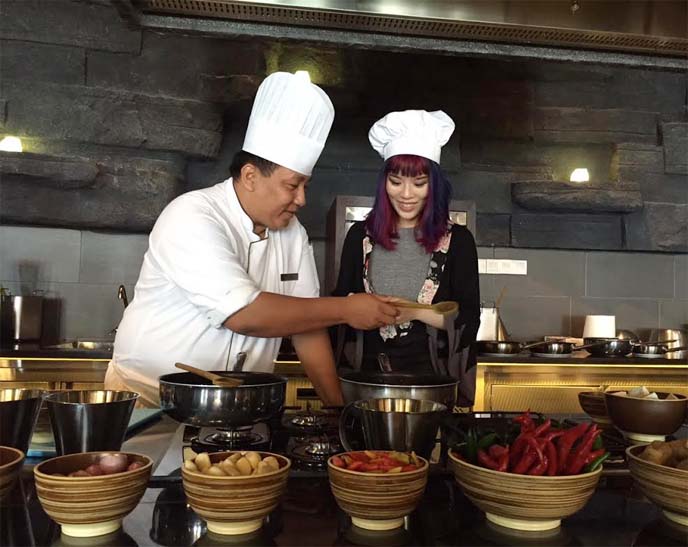 At The Ritz-Carlton Bali, I learned how to cook Indonesian cuisine with two of their chefs! Read on for my Bali cooking class adventure — including a visit to a seafood market, and a new favorite drink called "bajigur."
But first, a quick announcement… German readers,  watch me on TV on August 13! I'm the Hong Kong guide of a new Pro7 travel show, "Offline," starring Palina Rojinski. I hope you'll tune in to Pro Sieben for this episode (and for everyone else, I'll post photos and clips soon).
If you recall from my first post, Ritz-Carlton Nusa Dua was the perfect home base for travellers like me. I got to experience these picture-perfect beaches, which you wouldn't find in tourist districts like Kuta and Seminyak.
The hotel is wonderful at suggesting activities, based on the guests' interests. I wanted to experience Balinese daily life, and the island's distinctive cooking — so they arranged for a private food tour and cooking class at their Bejana restaurant.
My friends Cohica Travel took these photos of me in the lobby, while we waited for Executive Sous Chef Wayan Wacaya.
I wore a grey romper from Chaser, and a floral kimono by Japanese Goth designer h.NAOTO.
The hotel arranged a van and driver, which took us to the morning market. I enjoyed looking out the window, and seeing families balanced on motorcycles.
Your eyes are not deceiving you… above, that is indeed a dog riding on a scooter!
Chef Wicaya led us around the bustling Jimbaran market. We saw all sorts of fresh ingredients for sale, as well as homewares and other goods.
Chef Wicaya introduced us to two women preparing "banten," or ritual offerings for the gods. Three times a day, Hindus honor deities by placing a "banten" at entrances, statues or temples.
This lady is wrapping up the offerings into bamboo packets. Inside, you might find flowers, fruit, rice and leaves. If they're too busy to make their own, locals purchase these "pre-wrapped" offerings for the thrice-daily ritual.
You'll see these colorful, fragrant offerings everywhere in Bali. They're an important part of daily life. 
It's best to see the Jimbaran market early in the morning. Even at 6-9am, the marketplace will be lined with rows of motorcycles.
I don't know how these women balance full buckets on their heads.
The catch comes in every morning, on the shores of Jimbaran. This child looks eager to meet his fisherman father.
What a lively place — the beach was photography heaven! These colorful boats are "jukung" or traditional Indonesian fishing boats.  
Families waited on the beach, chatting and playing while the boats pulled in. Balinese fishermen can be out in these small wooden boats for two weeks at a time, without ever coming to shore.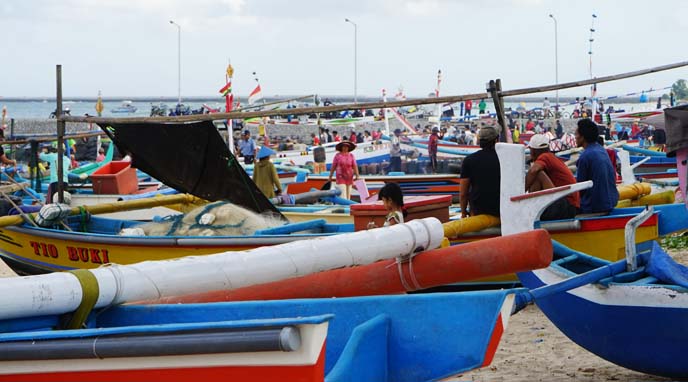 Colors everywhere, and no foreigners in sight (other than ourselves).
Now that's a clever way to rig up lighting for a boat.
It's true that the Balinese are warm and welcoming. I saw smiles everywhere I turned my camera. (I shoot with a  Sony alpha 7 mirrorless.)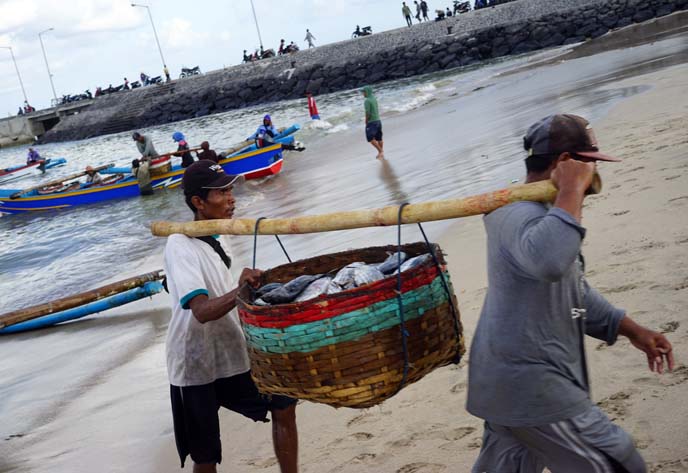 Fresh off the boat! It takes a team to bring in the catch. Love how even the baskets are brightly colored.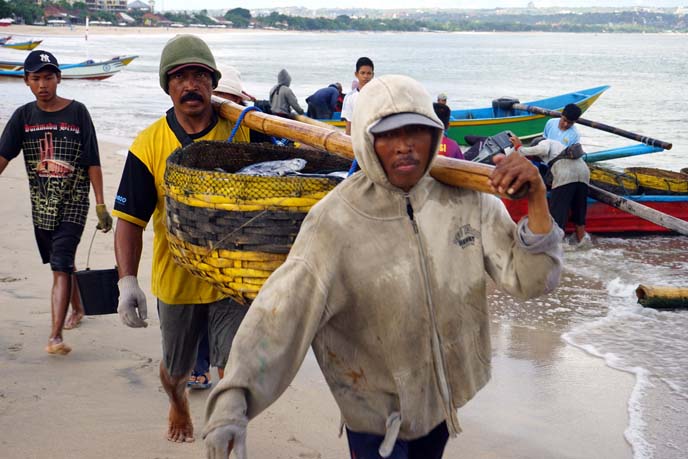 I learned that the government makes efforts to encourage sustainable fishing. These boats are prohibited from catching rare shark species, turtles and dolphins.
It's hard work, being out in the ocean. For some, these water jugs are the only source of fresh water for a fortnight.
These women in triangle-hats were selling fish right on the sand.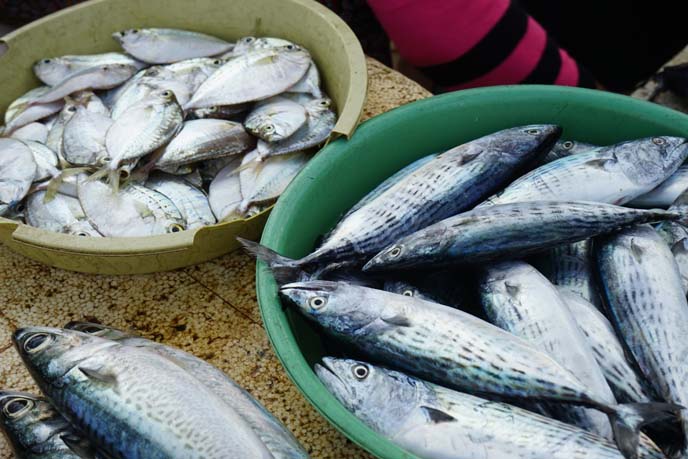 Big fish, small fish. Surprisingly fun to photograph.
Chef Wicaya led us inside to the covered area, or "pasar ikan" (fish market). 
Locals squeezed through this small space, and bought fish to prepare at home.
I saw Southeast Asian species that I didn't recognize. This looks like a zombie fish. "The Swimming Dead," perhaps?
My friends Cohica Travel, who write about sustainable tourism and local experiences, also blogged about our Jimbaran market visit. Here's how they describe the scene:
"We watched Chef Wicaya walk the narrow corridors with confidence, waving hello to friends and neighbors who are picking up fish for their families (without refrigeration, many local woman visit the market each morning to pick up everything needed for the day's meals). The sense of community and daily ritual is evident, and amidst the chaos, we're grateful to be silent observers."
Outside, I learned that yellowfin tuna… is called "yellow finned" for a reason! 
I was happy I got to see Jimbaran market, and take part in this slice of local life. It made me better appreciate the food that we were about to make…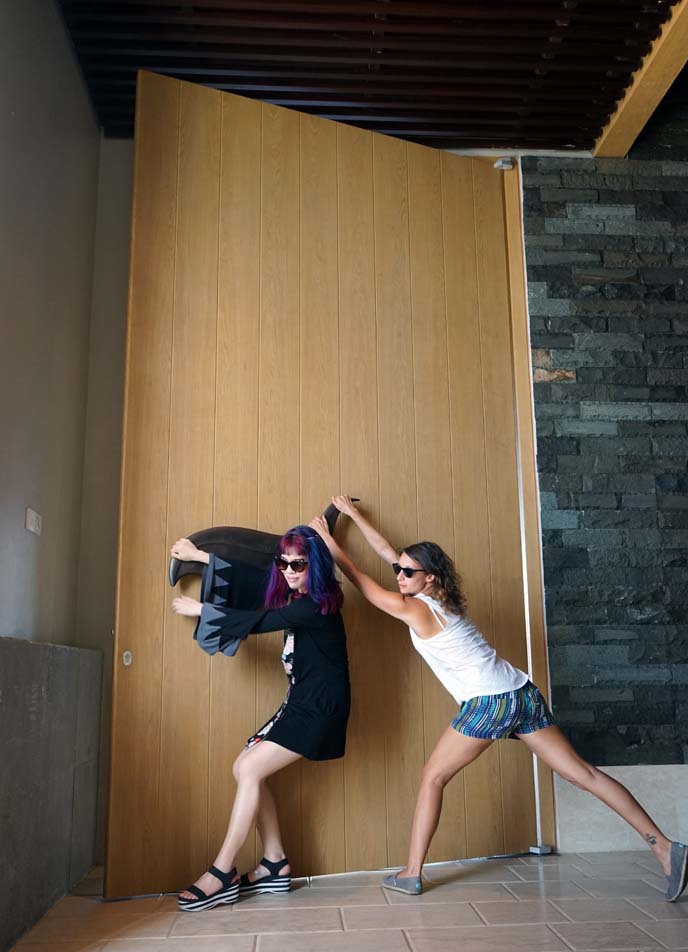 But first, we had to open this gargantuan door! Bejana, the Ritz-Carlton's Indonesian restaurant, has an entrance worthy of Game of Thrones.
Located on the hotel's upper cliff, Bejana's interiors pay tribute to Indonesian art and performance.
Everything is grand here, especially the dramatic patio views of the resort and Indian Ocean.
Bejana is also home to the Culinary Cave, a fully equipped cooking station that lets you learn Indonesian cooking through hands-on instruction. We suited up in aprons and hats, and shook hands with our cheerful teacher, Chef Made Siriana. 
(A fun aside: In Bali, all firstborn sons are named Wayan, while the secondborns are called Made. There is a succession of four names, and you start again at Wayan for the fifth boy. This Wikipedia article desribes Balinese naming traditions in more depth.)
Chef Made could have been the star of a cooking TV show. He was marvelous at explaining ingredients and preparations, while weaving in stories of childhood, and even a joke or two!
My fellow students Cohica Travel describe the scene: "Pre-prepped ingredients sit perfectly chopped and julienned in small bowls. We recognize some of the Asian flavors we've grown accustomed to: ginger, lemongrass, coconut, turmeric, garlic, shallots, and red chilies. As we get started, we also learn about new herbs and spices: pandan, a green plant that is a key ingredient in many local dishes, salam leaves, similar to a large bay leaf, and kaffir lime leaves."
The chefs were happy to modify the ingredients for us — no nuts, please, or we'll die! (Here's the best peanut allergy poster ever made, by my pirate Naomi.)
First, we learned how to make bumbu, a curry-like spice paste that forms the base of many Indonesian dishes. We stir-fried aromatic ingredients together, then blended them into a hot and mouthwatering base. We all took turns stirring and chopping behind the stove.
From two versions of the bumbu paste, Chef Made showed us how to prepare a variety of homestyle dishes, including curries and tofu wrapped in banana leaves. Above, I'm learning how to pinch together a mahi-mahi fish satay (grilled on lemongrass sticks).
Next, we moved over to the dessert station and learned how to make dadar gulung: bite-size pancakes turned green by pandan leaves, and filled with coconut and palm sugar. So, so good.
The staff gave us all copies of the recipes, so that we could re-create these meals back at home.
The photo above says it all… What a meal, and one that we cooked together! After this trip, I gained a new appreciation for Indonesian food, which is flavorful, spicy and more complex than you might imagine.
My friends and I also have a new favorite drink, called bajigur. It's a traditional Javanese hot beverage, rich with the healing flavors of ginger, coconut milk, lemongrass and pandan leaf. We're convinced that if someone made this available in North America, it would become more popular than the Starbucks chai latte.
I was so obsessed with this drink that the Ritz-Carlton arranged a special bajigur lesson for me! 
This is what I love about travel: no matter how much you read up about a place, you'll never know what will inspire you until you're actually there.
Food is such a fantastic window into local culture, do you agree?
Terima Kasih (thank you) to The Ritz-Carlton Bali for this unforgettable day! I enjoyed their Balinese cooking school so much that I'm going to do more experiences like this, wherever I go.
I leave you with another photo of the dog riding the scooter. Bali, you're the best.