Steampunk boots & Wave Gotik Treffen 2015! Victorian Village fashion, upcoming Goth museum exhibit.
As much as I travel, I can't be everywhere at once. This year, I sadly wasn't able to make it to Wave Gotik Treffen in Leipzig (the biggest Gothic festival in the world).
Thankfully, my friend Jen was at WGT with her camera, and put together a special report for us! Read on for her German Goth stories, including images of the Victorian Village, flamboyant fashion, and industrial bands.
If I went to the festival, I would have worn these eye-catching steampunk shoes from Hades Footwear! Their Harajuku boots are my current favorites — such a striking design, with a metal heel and vintage-looking buckles. You can get these exact boots here.
– My dress is by Chaser the Brand. Here's the link to purchase this exact dress (which comes in a few colors) and a longer maxi version.
– The black wide-brim hat is from Lack of Color Aus.
Shop my outfit below:


I'm a huge fan of Hades Footwear, a California-based shoe company that specializes in alternative, Goth, Victorian and steampunk styles. They make unique designs like studded stilettos or thigh high boots — you won't find these in regular stores!
If you're a metal rocker type, you might like their Motorhead chain boots. Retro ladies would enjoy Hades' steampunk ankle boots
(Click the photos below to browse more Hades Footwear styles.)

Now, let's hand the keyboard over to my friend Jen (pictured above left, with her favorite corset maker Ludwig Lilienthal). Enjoy her diary of Wave Gotik Treffen 2015 with photos by Seventh Sin, the event photography company that she co-owns.
At the end, Jen invites you to submit photos and memories of Wave Gotik Treffen for a museum exhibition. I hope you'll consider taking part in this historical project.
Jen writes: We skipped the traditional Friday afternoon picnic at Clara Zetkin Park in favor of checking out a new Friday afternoon event, Viona's Victorian Village, held at the stunning Arena am Panometer. The Village features not only a grassy area to picnic, but also vendors, DJs and concerts.
Lolita style is no longer as prevalent in Germany as it was a few years back, but the girls who do it go all out.
We saw metal artist Pawel Athanasios Lickas working live at the Village.
There was a vague dress code to encourage to guests to participate rather than merely goth-stalking, but as you can see from the crowd photos, everyone who made an effort no matter what their personal style, was welcome.
This made for a lovely atmosphere where we were able to relax and find old friends among the crowd, and have conversations without being trampled by overzealous onlookers.
The left photo shows Courtney of Atropos Threads and a friend from Paris, in front of Courtney's stand at the Victorian Village.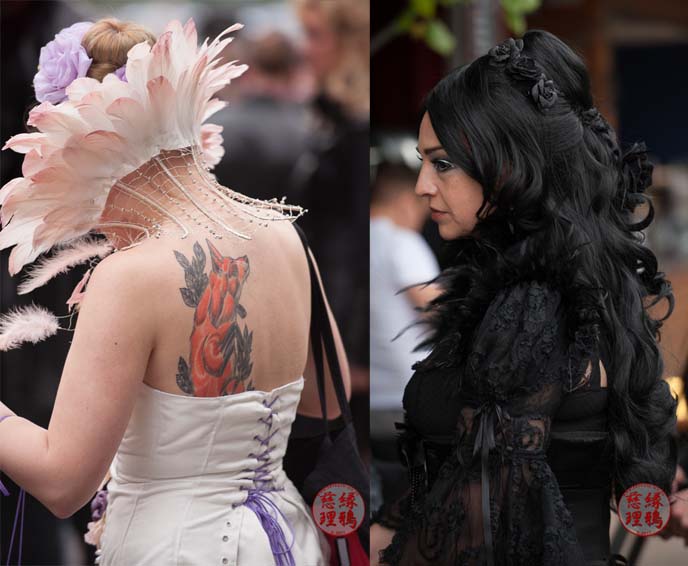 Diverse examples of the decadent personal style seen at Wave Gotik Treffen — from feathered collars to braided wigs.
The smiling participants and winners of the costume contest.
One of the best places to meet with friends and look around for new trends is the Agra, the main venue of WGT where the campground, market, and largest concerts are held. The "Black Market" is a huge hall where people can buy dark fashion and accessories.
Schnitt Muskel's macabre fetish and cyber inspired cuts and misappropriated materials seemed like a stark contrast to puderblonde's fashion and accessories in steampunk, gothic, shabby chic style. Nonetheless, the two small designers were working their booths together at the market.
I admired Benito Alesio's stunning work for The Original Atelier…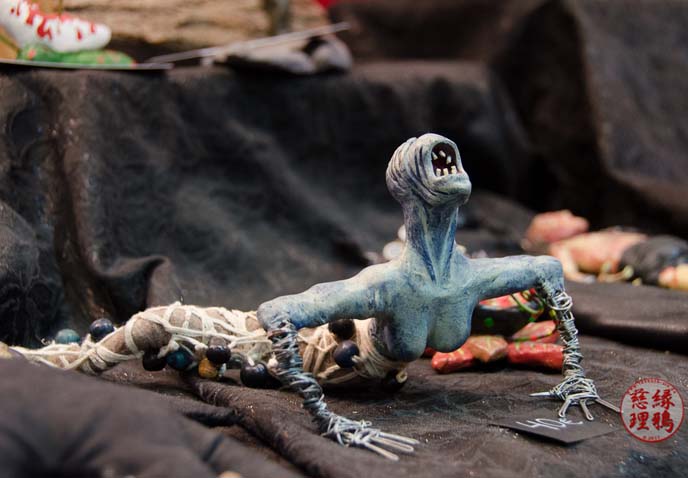 … and these spooky-hawaii figurines from Pandemonium Crafts.
Romantic jewelry and headdresses from Nox Aurum, decorated with antler horns and lace fans.
As much fun as these events were, the main draw of the weekend was the 224 concerts and many dance nights on the official program. Our cat Hugin did his best to hide the schedule and keep us home, but in the end, he decided that having so many guests to fuss over him and fluttery black clothing to play with was actually pretty awesome.
This year we focused on meeting up with friends and catching smaller, less known acts. We saw Dan and Olaf of Harmjoy make their WGT debut (above)…
…and the long lived, but still underrated industrial projects Gerechtigkeits Liga and Last Dominion Lost (above photo by Flamisol).
An atmospheric image of Evi Vine performing onstage, also by Flamisol.
Did you know that next year will be the 25th Wave-Gotik-Treffen in Leipzig? WGT has grown from its humble beginning with 6 bands and one venue, to an event that brings in over 20,000 visitors and offers events all over the city. WGT has had its growing pains, but remains true to its ideal as a meeting point for goth subculture.
(These "classic Goth" photos by Muetze were taken at the first Wave-Gotik-Treffen in 1992!)
I'm thrilled to be working with the City History Museum of Leipzig to present the story of WGT and the goth movement in Germany, in an exhibition that will open next spring. If you've been to WGT we would be very interested to hear your stories and see your photos and videos.
We're also looking for "objects" to display: such as clothing or shoes that you wore, signed albums or posters from bands you met at WGT, or handmade memorabilia. We're also looking for people willing to be interviewed about their WGT experiences and featured as part of the exhibit, so please drop me a line if you're interested.
(La Carmina's note: I hope you'll consider taking part in this Goth museum exhibit, and will do my best to see it next year!)
Last but certainly not least, I'm honored to reveal… I'm on the cover of FlyMe360° Travel & Lifestyle Magazine! 
This new magazine is the brainchild of three friends and frequent travellers, who felt they could improve on the current travel publications in the market. FlyMe360° emphasizes personal, genuine travel stories that connect with all types of readers. The inaugural issue is an entertaining mix of first-person accounts, gadget reviews, photography tips, finance and health articles, and more.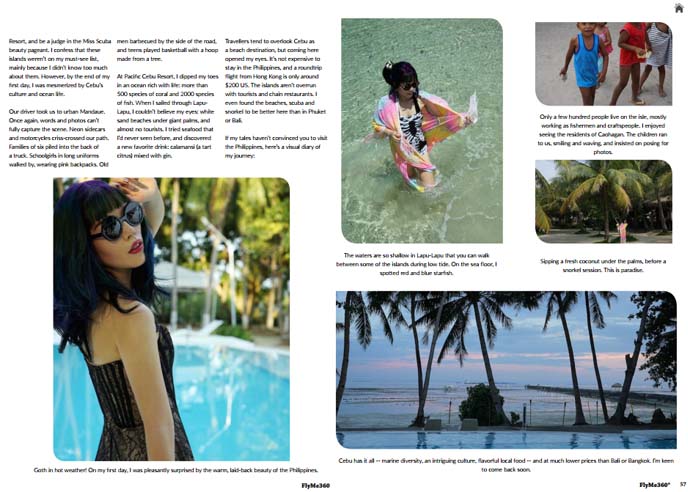 FlyMe360° puts a special focus on travels in Asia. I contributed a story about my experiences last year in Cebu, Philippines.  Above is a peek at the pages.
I encourage you to subscribe to FlyMe360 for free! You'll get access to all of the first twelve issues (including my article), and perks such as prizes. The magazine invites you to contribute your own travel stories too — you can find out more and contact them through their site 
(And if you're still thinking about my Hades steampunk boots — here's where you can find these shoes.)