The Ritz-Carlton Bali hotel, Nusa Dua: Indonesian culture meets luxury. Infinity pool villas, beaches!
Bali is one of those places that you have to research carefully, if you want to "do it right." I know people who went to the most touristy areas, and were dismayed by the trash-covered beaches and frat party atmosphere.
I was determined to avoid this scene, and dive into the heart of Balinese culture — I had heard so much about the island's warmhearted people and unique spirituality. Thanks to the Ritz-Carlton Bali, I was able to experience all this magic and more.
The Ritz-Carlton Nusa Dua is not your typical resort. Rather than closing you off from the outside, the Ritz encourages you to fully experience local life. They offer guests a variety of immersive activities: cooking classes, market tours, art making, temple journeys.
I'll show you all these adventures in my Bali series. For the first post, let's hop into my spaceship and see where I stayed! (This futuristic alien pod is actually the Ritz's wedding chapel).
As I mentioned, location is everything if you're coming to Bali. I recommend avoiding Kuta and Seminyak, which are packed with tourists and disruptive vendors. Ubud is the cultural center, and I loved making a day trip here. However, Ubud's city center is a massive traffic jam, and you'll see Polo clothing shops and Starbucks next to temples. It's not exactly an "untouched, peaceful beach" oasis.
The Ritz-Carlton Bali is in Nusa Dua, on the south tip of the island. The island's highest-rated resorts are all here, and for good reason: you wake up to the sounds of the ocean, and a paradise view like this. (Address: Jl. Raya Nusa Dua Selatan Lot #3, Sawangan, Nusa Dua, Badung, Bali)
I couldn't have dreamed of a better home base. Ritz Nusa Dua is less than an hour from Jimbaran fishing village and Uluwatu temple, and it's easy to take a a day trip north to Ubud. Between these cultural explorations, I thoroughly enjoyed soaking in my private infinity swimming pool! 
From my Sky Villa pool, I saw the sunset over the Indian ocean. (Seeing the "spaceship" always puts a smile on my face.)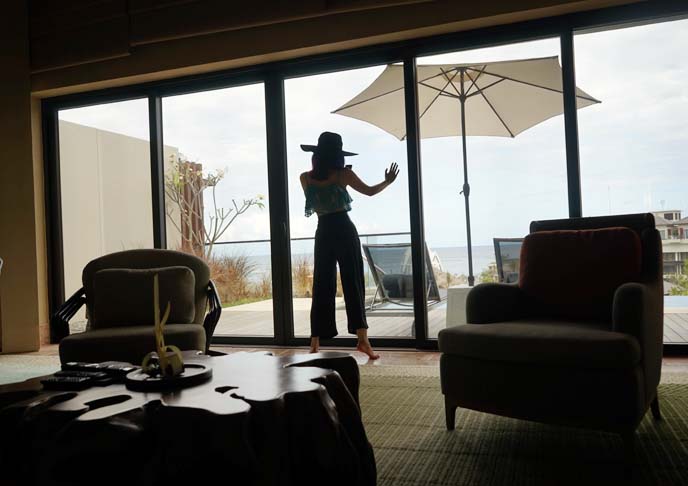 Ritz-Carlton has luxurious cliff and ocean-front villas, in addition to their regular suites. You can find details of their various accommodations here.
The moment I stepped into the open lobby, I felt calm. An ocean breeze cooled the air, and a girl brought me a refreshing lemongrass drink. She did the hotel check-in in while I lounged on the couch, taking in the 180-degree view from my cliff top perch. 
With my tastebuds satisfied, I listened to the pleasant, live sounds of the Saron. This Balinese xylophone forms the backbone of the Gamelan, or traditional Indonesian orchestra. (Later, I'll take you to a performance.)
My eyes took in traditional art, like these wooden sculpted figures.
And a basin gave off the fragrance of white and yellow plumerias, an Indonesian flower used in offerings and wellness treatments.
The Ritz-Carlton Bali is a brand new property, which officially opened earlier this year. The architects did a great job at integrating the structures with the raw landscape.
My friends and I loved riding the glass elevator to the beach level, and seeing decor inspired by Balinese art.
The design was inspired by a famous Indonesian water temple, and the layered terraces of rice fields.
Such a joy to experience the Ritz with my friends Cohica Travel, who took these photos. (They're passionate about responsible and sustainable travel, and currently chronicling their trip around the world on their site.)
The hospitality here is among the best I've experienced. Whenever I walked around, staff greeted me by name, and made efforts to make my stay even more special. (Above: inside the Ritz Kids villa.)
The staff was great at anticipating needs, such as handing towels to guests getting out of the pool, and asking if they needed a buggy ride back.
The main swimming pool and lounge are pretty fantastic…
… but I have to say, I loved having my own personal infinity pool, located high up in my Sky Villa!
On this private balcony, I could disco to my heart's delight. (My hat is available here.)
Remember that I mentioned that Kuta (and other tourist districts) has crowded and disappointing beaches?
In stark contrast, the Ritz-Carlton gives you the Balinese beach that you'd see in movies…
… untouched and uninhabited.
The private, white sand beach is only steps away from your hotel room.
I dipped my feet into the ocean foam, and left messages in the sand.
The Ritz-Carlton Bali equips all guests with sunhats, robes, and beach bags (I'm carrying mine, and got to bring it home with me.)
My t-shirt is from Chaser the Brand, and features the Hamsa palm symbol. For Hindus and Buddhists, this symbolizes the interplay of the five chakras and elements.
All these energies are brought into balance, at the Ritz Bali spa.
The wellness treatments are rooted in ancient Balinese practices. My friend and I enjoyed an hour long, full body massage with oils made from local plants and flowers.
In August, the full Ritz-Carlton Spa will be launched, for an even larger selection of tranquility treatments.
As I mentioned, The Ritz-Carlton encourages guests to learn about Balinese culture, and take trips to different parts of the island.
However, between these excursions, I have to admit that I quite enjoyed relaxing in my living room…
… sleeping in this giant king bed,
… soaking in my marble bathtub,
… and taking in this spectacular view.
Bali was the perfect destination for wearing my Sanskrit Hamsa top from Chaser, a fashion line inspired by music and travel.
I was excited to eat Indonesian food, and Ritz Bali's six restaurants did not disappoint. At breakfast, we had a huge spread of international food including local specialties like nasi goreng (fried rice) and mie goreng (fried noodles).
We loved the fresh fusion sushi at their Japanese restaurant Raku, and took part in a cooking class at their Indonesian restaurant Bejana. (I'll do an entire post about this adventure next.)
The staff treated me to an in-room champagne breakfast, delivered right to my Sky Villa.
Nothing like lobster and caviar omelet, pancakes, mimosas and fresh tropical fruit to start the day.
One evening, we went down to the Beach Grill for just-caught seafood. The restaurant had set up the oceanfront gazebo for a romantic dinner, right by the waters.
I received a bouquet of red roses as I sat down. A memorable meal of tuna, Wagyu, and strawberry millefeuille dessert. 
The spaceship chapel looks particularly cool at night! Grateful to my friends Cohica Travel for the photography and good company.
I hope this story conveys the healing, spiritual, cultural side of Bali, and helps you plan a trip to the island.
Thank you to the Ritz-Carlton Bali for the lovely experience. It was everything I had hoped for.
Are you fascinated with Balinese culture, as I am? Would you want to make a trip here?