Odaiba Robot cafe, Gundam statue & Hello Kitty store! Trip planning with Odigo Tokyo travel app.
There's no place like Tokyo. A city filled with cute shops, theme cafes and game centers. As you know, I love to write about these wonderful places on my blog.
However, Japan can be a confusing place to visit. It's hard to figure out where to go and how to get around. But I've been working on a project with Odigo, to make trip-planning a whole lot easier.
Read on to see the Gundam giant robot, Hello Kitty shops and much more kawaii!
I visited the Odigo team at their Tokyo office. They've built a community of passionate experts like me, who want to help travelers get off the beaten track in Japan.
What I'm wearing: Killstar skirt with witchy patterns, and a Nightmare Before Christmas sweater from Lumine Shinjuku. My blue coat with a zig-zag front is by Alice's Pig.
Odigo is a newly-launched website that lets you create your own custom trip. You can search for cool local spots, and link them together in a customized trip.
You can then download the itinerary to my phone, or print out a pocket-sized version. That way, you have all the necessary info — addresses, opening hours, subway routes — right on hand.
I've been helping the team with ideas. Our goal is to make Odigo as helpful as possible for English-speaking visitors to Japan. It's free to use, and anyone can add their own writeups to the site. If you're intrigued, you can also keep track of our collaboration on Odigo's Facebook, Twitter and Instagram.
For example, when I search for Gundam… the site shows me there's a giant robot exhibition in Odaiba! I can click to see photos, prices, and a review by a local expert.
Thanks to Odigo, I know exactly how to get to "Tokyo Teleport" station (how sci-fi!) and walk to the Gundam Front.
It's located in Odaiba, the Japanese man-made island. You can spend a whole day here, shopping and enjoying the various entertainment activities.
On previous occasions, I ate at the King of the Pirates theme restaurant, visited the Tokyo Trick museum, and played retro video games.
On the way, we passed by the Fuji TV headquarters. I'm digging this futuristic glass building, with a big "hachidama" ball at the top that serves as an observation room. hachidama ball
Odigo's travel tips including arriving at the top of the hour, to see the robot in action. We got to Diver City just in time, to see the Gundam's head turn and lights flash.
Somehow, this towering metal mecha fits into the Japanese landscape.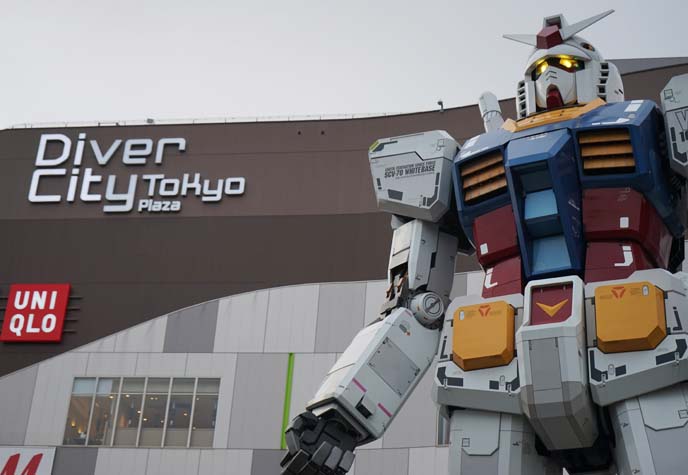 I felt so tiny, looking up at the Gundam's bright yellow eyes. The statue rises 18 meters from the ground. 
DiverCity mall also has a Gundam Cafe, which serves roboto-themed drinks and food. (There's one in Akihabara too.)
I ordered a green tea Haro latte. I suppose matcha tastes better when it's decorated like a cute little robot.
You know you're in Japan when you are ordering coffee from the Gundam cafe, and the signs tell you to "cooperate with judgment."
Later that evening, a colorful Jpop boy band performed at the foot of the Gundam. Their look and dance moves reminded me of the Power Rangers.
Hundreds of Japanese teen girls gathered and screamed, while waving neon lights above their heads.
Odaiba is a great place to visit on rainy days, since most of the attractions are indoors. In addition, you can usually take photos and videos without a storeperson running up to you and screeching "Dame-ehh!"
I said hello to children's TV character, Gachapin the green monster, at the Sweets Paradise  cafe.
Odaiba is full of cute characters gift stores. You'll even find obscure mascots like Chikin the ramen chicken. I found Miffy coin purses and cards in other parts of Diver City.
So many big-eyed cuties, everywhere you go!
Of course, there's a Sanrio store. This one features traditional Japanese-themed goodies, like Hello Kitty in a pink kimono.
One side of the shop sells My Melody and Hello Kitty pancakes. The batter goes into special molds, to make the shape of these characters.
Odaiba is home to Rainbow Bridge, and this electric tunnel that leads to Venus Fort. The colors change every second.
Illuminated in space-purple. Odaiba is full of wonders. (Photography by Melissa Rundle and Eric Bergemann)
Random… there was an antique car show inside MegaWeb and VenusFort. This mall is decorated like ancient Italy, with Roman-style fountains and a sky-painted ceiling.
We continued to this humongous game center. So many video games, crane machines… and even robot pandas and lions that you can ride for a 100 yen coin.
I tried this sumo fighting game, where you lean on this stocky wrestler and try to push him back. I lost…
I hope my Jpop adventure showed what you can experience, with travel website Odigo! Soon, they will also have a mobile app that lets you add your own discoveries, and be part of a community of travellers.
What type of features would you find most helpful, in planning a trip to Japan? Stay tuned, and we'll release a video of my adventures in Tokyo.