Lion dance & lanterns! Hong Kong Chinese New Year celebrations at Hotel sáv, Kowloon.
What's it like to celebrate Chinese New Year in Hong Kong? Loud and colorful, with fireworks and lions!
In February, Hotel sáv flew us in to ring in the Year of the Sheep (or Goat), and soft-launch their new hotel in Kowloon. We even got to decorate our own "La Carmina room" inside!
Even though I've traveled to Hong Kong over 20 times, I've never been here for "Gung hay fat choi" festivities. Thanks to sáv, I saw the rituals up close… maybe too close, since I got attacked by a hungry purple lion!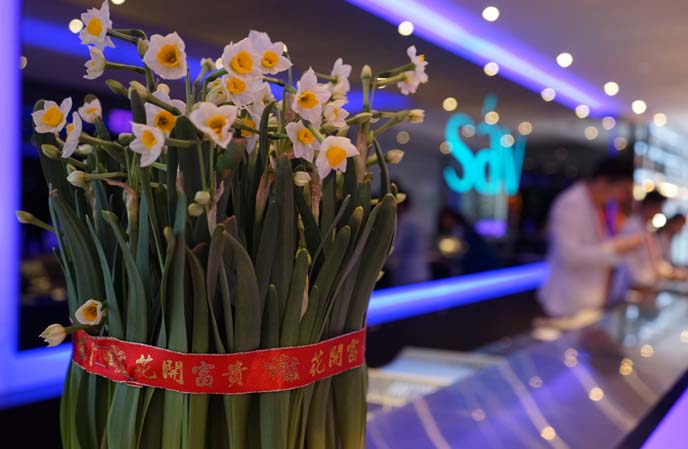 The newly-opened hotel has a lifestyle philosophy that connects with me. They want guests to have an elevated stay: connecting them with local art / culture, and enriching the body / mind.  
(Hotel Sav address: 83 Wuhu Street, Hung Kom, Kowloon, Hong Kong. See map and Chinese directions.)
Sav's modern lobby reflects the "Color Journey" approach. Each shade represents qualities such as creativity, peace and vitality. To give guests a personal experience, every room has a different color.
Sav hotel brought in lion dancers, to celebrate the Year of the Sheep (or Goat – both are used interchangeably in Asia).
Color, energy, inspiration — these qualities make the hotel stand apart.
I worked up the courage to pet the furry pink lion…
Unfortunately, the purple lion got jealous. He raised himself on his hind legs… and swallowed me whole! 
(These Goth buckle shoes are by Steel Ground Shoes. I adore their alternative designs — check them out if you're looking for edgy new footwear.)
When you see our video, you'll know this was a raucous performance. Musicians banged on traditional drums and symbols, while the lions twirled and danced.
The yellow dancer scurried up the bamboo pole, a feat that requires expert coordination. The music built up a crescendo… and finally, the lions released confetti and a scroll from their mouths. (The Chinese characters express the wish that "everything will be better than you expect.")
Everyone cheered, and the Sav hospitality team cut the roast pig down the middle. This offering of food and incense is a classic good luck ritual, in China.
Cheers to the Hotel sáv team. We see them working long hours each day, ensuring that every detail is in place for the guests.
Their hard work has paid off. The lobby design is remarkable: the lights and logos are constantly changing colors. 
Since it was Chinese New Year, I wanted to wear something with red (the lucky color). My dress is by Hong Kong designer Spider — it has a carnival, festive feeling that matches the occasion. The lace black cape is from Black Milk Clothing. My cat-ears hairstyle is by Stephanie Hoy of Stratosphere Salon, Vancouver.
The hotel is now open to guests, but some of the amenities are still being finished. I can't wait to see the completed patio and bar, equipped with an impressive sound system.
The indoor lounge bar, Amplitude, will also open soon. The space will offer specially created cocktails, and can be rented for private events.
I don't actually know how to play the bongos, but I did my best. (Photos by Naomiyaki and Melissa Rundle. In the next post, I'll show you how Naomi made art for our custom room!)
We looked forward to eating at Palette Restaurant every day. Their motto is that "Food should do two things: it should taste completely delicious, and it should contain things that do your body good."
Palette's chefs source local and seasonal ingredients, to make a global menu. No MSG or grease here. (I personally recommend the Singapore laksa, fish balls and vegetables soup, steamed shrimp dumplings, and Thai curry.)
Even if you're not a guest at Hotel Sav, you can come to experience the daily breakfast, lunch and dinner buffets. Save room for desserts!
Decisions, decisions… Which drink to try first? Sav makes some of the healthiest cocktails around, using fresh fruit such as strawberries rolled up to resemble a rose.
True to the theme, each hand-created fruit cocktail corresponds to a color. The lime/rum and orange/honey were my favorites.
How else did we celebrate Chinese New Year in Hong Kong? John Skeleton dropped by, with his new goat-head rings.
Hong Kong puts on a stunning fireworks display every year. I don't recommend going to the Tsim Sha Tsui harbor to watch, since you'll get crushed by the crowds. My friends and I watched them from my uncle's apartment on the Kowloon side. We also got lucky red pockets filled with money — one of the best rituals of the season!
On a different night, we dropped by the TST waterfront to see the Chinese lantern displays. Above is more proof that cuteness reigns in Asia.
Rows of gigantic lanterns, featured smiling and waving sheep.
Are you familiar with Chinese New Year celebrations? Ever see a lion dance?
Next, I'll take you inside our custom-decorated Hotel sáv room, and show you more of Hong Kong!