Hipster Hongdae! Seoul's coolest neighborhood: graffiti walls, robot bar, Zombie cafe.
I survived a Korean robot attack! This photo captures the spirit of Seoul's hippest neighborhood, Hongdae (pronounced "hong-day"). Many compare it to Tokyo's Harajuku, since both are youth hubs with a quirky, colorful, indie vibe.
If you want to see the cool and cute side of Korea, then Hongdae is for you. I loved this area so much that I came back the next day.
Enjoy my tour of Hongdae's best street art and cafes, including gourmet ice cream, a robot bar, camping-themed restaurant, Zombie coffee and graffiti galore!
I'm wearing a seahorse tank c/o Show Me Your MuMu, a free-spirit label with plenty of beach cover-ups and pastels. Wildfox also has a cute breezy top like mine, and here's a similar silver metallic skirt.
Shop the Look (click the images below for details):

Remember when I visited YouTube stars Eat Your Kimchi in their Hongdae studio? Simon and Martina drew me this map of their favorite surrounding dessert shops and theme restaurants. On panda paper, no less. Naturally, I had to visit them all.
To get to this part of Seoul, take the subway to Hongik University Station (Hongdae is an abbreviation of the university's name).
I was feeling weary and needed a caffeine fix. Fortunately, Hongdae is on a gourmet coffee kick, and I spotted at least two specialty coffee shops on each street.
(Eat Your Kimchi established their own cafe, You Are Here, in Hongdae! It wasn't open when I was in Seoul, which is why I don't have photos of it, but it's at the top of my list for next time.)
Zombie Coffee Roasters are leading the pack. The name is also apt for the caffeine-deprived, and lets people pose like this in front of their awning.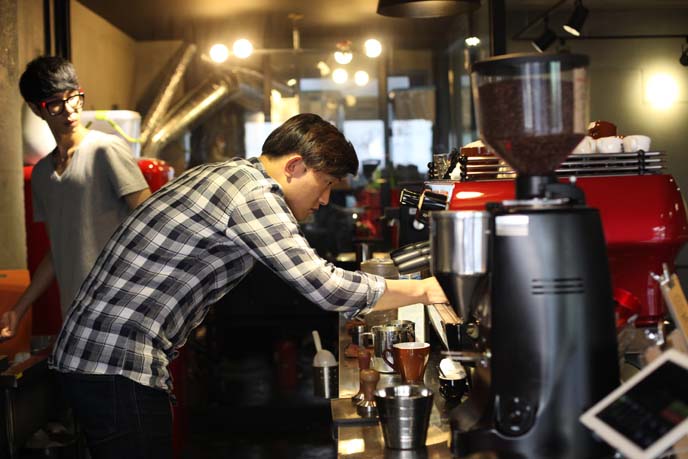 Zombie takes pride in roasting its own beans, right in-store. Through a glass door, you can peek in on the process. The young and smartly dressed baristas have won awards for their latte art prowess, and demonstrates these skills in every milk pour.
In fact, the barista was such a perfectionist about his craft that he tossed out the first drink he made for me — saying the art wasn't up to standards, when I thought it was a swirling masterpiece.
The cafe drinks are a bit expensive, averaging 4000 won, but that's the price for Pirate perfection.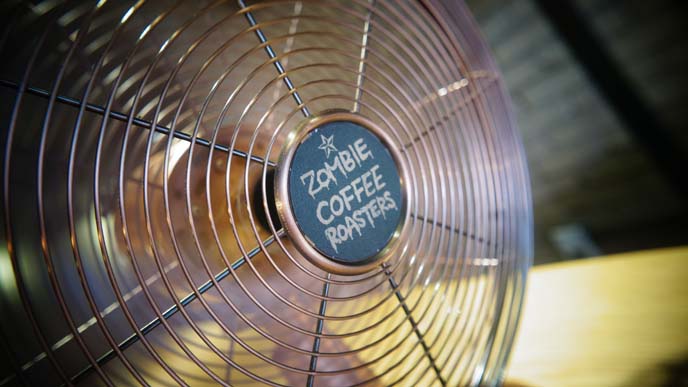 If you're an early riser, Zombie has public "cuppings" or tastings at 7am each day, which lets you sample a variety of their roasts.
Dessert club, table of three: yes please. Martina (of Eat Your Kimchi) is a cupcake connoisseur, and says she can never resist stopping at Chikalicious. At night, the cafe makes a nice picture window. This part of Hongdae is especially charming, with winding streets lined with cute cafes and boutiques.
She's right, this Seoul cupcake parlor is a winner. The Meyer lemon was bursting with real flavor. My photographers still had a sweet tooth, so we went nearby to…
Fell + Cole, purveyors of gastronomic ice cream. Everything is made with natural ingredients, in small batches.
We died over the makkoli ice cream, made from the milky Korean rice wine. Yoda says, "Ready are you to be amazed, hmm? Then to this shop, come."
(All photos by Jacqueline Kwok / noircorner and Ken Yuen.)
I am doing robot-dance moves because I'm in front of the Robot Vinyl bar. Only in tech-crazy Korea, right?
The robot's eyes flash, and beckon you in. The menu consists of standard cocktails (about 5000 won for my grapefruit rum mix). But unlike in regular bars, the drinks are served in a clear vinyl bag with a straw. How… future-pop!
Inside, the atmosphere is vintage-cozy, making Vinyl Robot a favorite spot for friends to catch up over a drink. Chances are, you might spot Eat Your Kimchi here.
You are allowed to take the drinks outside, and many patrons get cocktails to go. It's funny to see young Koreans walking around with what appear to be a medical bags dangling from their lips.
There are a few Graffiti Streets in Hongdae. The art is diverse — note the cows and the music notes. It's not what I expected of Korea.
There's a off-kilter aesthetic in the street art here. It's not as cutesy as Japan, but striking in its own weird way.
The next step in the evolution of mankind… is the Kpop girl! Joke, or not? Korea is certainly pulling ahead as the world's most tech-progressive country.
In the late afternoon, vendors set up food and craft stalls at the Hongdae Free Market, which encircles the park.
Since this area is the site of Hongik University, there's a youthful energy here. Unlike in Japan, Koreans rarely dress up in subculture fashion (such as Goth, Punk, or style tribes like the Diamond Gal-Circle). As Simon and Martina put it, a hardcore Korean metalhead might have hundreds of albums and go to obscure concerts, but on the surface, he looks like an "Average Kim." I'll show you the Kpop fashion in the next posts, since there is much more to say…
For now, let's focus on food. I'm not fond of "roughing it" so I was excited to visit Outdoor Kitchen, a Korean BBQ joint that simulates camping in the woods.
Small touches, like a lantern and camp chairs, create the "campy" feeling of being in the great outdoors. There's even a refreshing fine mist that sprays from the ceiling. Seems the puppy was glad to cool off.
The staff drops hot stones into the grill at your table, and it's up to you to cook the high-quality beef, soup, and sealed package of hot dogs.
Unlike many theme restaurants (like the Hello Kitty Cafe), the meals are great here. A dinner set for four campers — including salad, kimchi, sides and meat — ranges from 30,000 to 70,000 won. Mosquitoes not included, thank goodness.
We ended the evening at Hongdae Playground, or Hongik Children's Park. On the weekend, it's more like a young adult playground. Everyone sat around, drinking and listening to bands perform. What a sight — you have to experience it for yourselves.
Thanks to Simon and Martina of Eat Your Kimchi for this guide to Hongdae! For more, check out my visit to the EYK Studio.
Have you been to Hongdae, or heard of it? What do you think of the shopping and cute art?
PS: if you like what I wore in this post, details are below: