Pacific Cebu Resort, Philippines: Scuba diving, beaches & beauty queens!
What do scuba divers and beauty queens have in common? You'll find out in this fun post!
My film team and I visited the Philippines for the first time, as guests of Pacific Cebu Resort. As you can see from the photo above (with fellow travel blogger Rose Afaye), this is tropical paradise. 
I took full advantage of the resort's relaxation options. Lying in a hammock under palm trees… spa pampering… ordering fresh mango smoothies at all hours… oh yes.
But there's more to Pacific Cebu Resort than lounging around. They have a top-rated diving school, and guests can get certified in all levels of scuba.
The Philippines have some of the best diving and snorkeling sites in the world. Their waters are rich with tropical marine life:  more than 500 species of coral and 2000 species of fish! 
The 3D map shows that Mactan Island, Cebu is a prime place for under-the-sea adventures.
At Padi Gold Palm diving center, beginners can train with experts in various languages (English, Chinese, Japanese), and dive right from the resort's long pier.
I went for a hippie look, in a breezy outfit from West LA Boutique. I'm wearing a white "Padang backless dress" by Jen's Pirate Booty over a swimsuit, and over-sized House of Harlow 1960 sunglasses. I added tie-dye color with a rainbow silk scarf headband, and multicolored sandals from Shibuya in Tokyo.
I wish I could have joined the scuba lessons in the pool. Unfortunately, I have some eye and skin conditions that make it difficult for me to go underwater. Filmmaker Eric dove in for me.
While he learned about scuba safety, photographer Melissa Rundle and I went to explore the pier, which reaches far out into the ocean.
You can see the resort in the back: 6.5 hectares of palm tree paradise, with its own sandy beach front.
We took a break to eat seafood pasta under the romantic thatched roof.  (All meals and drinks are included for guests.)
Pacific Cebu Resort has recently been renovated, under the new management of sáv Hospitality. We filmed one of the new rooms, a modern white interior with splashes of color.
The new suites have outdoor lounge beds overlooking the ocean.
… and a private patio, ideal for drinking wine and watching the sun set.
This blissful statue pretty much sums up how I felt during my stay here.
Back to the pier, this time to see Eric make his first dive. But he wouldn't be alone…
… he was in the company of Filipino beauty queen contestants! These ladies were taking part in Miss Scuba Philippines, a pageant that raises consciousness about marine preservation.
I was one of the judges of the Miss Scuba competition, which was held a few days later. The contestants all learn to scuba dive, and the pageant quizzes them on marine conservation in addition to the usual swimwear, evening gown and talent portions. (I'll do a full post about the beauty contest later on.)
Getting ready to descend into the clear blue. You can already see the clumps of waving sea grass and coral below the surface.
Eric makes the OK sign with his fingers. Since scuba divers can't speak to each other underwater, they use hand signals as a visual communication.
He took this selfie with a GoPro camera, which lets you film and shoot in water. Stay tuned for mesmerizing footage from this dive.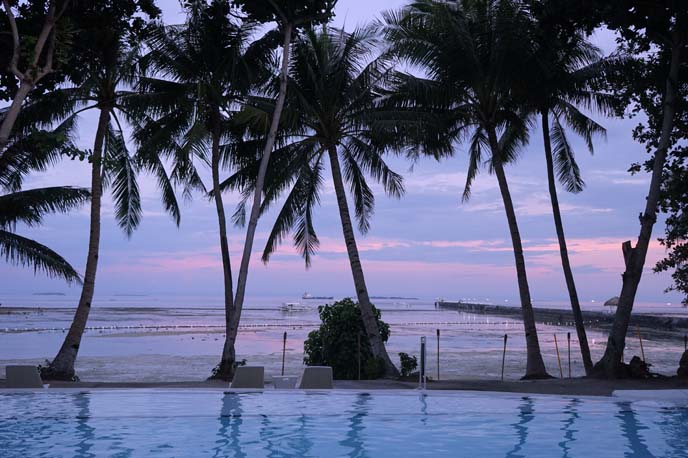 I ended the day by watching the pink candy sunset, while sitting by the pool. Ahh.
Come gaze at more photos on the Pacific Cebu Resort Facebook. The resort fits the budget of young travelers, and is a quick flight from Hong Kong or Japan — so I hope you'll keep it in mind for your next beach escape. Thanks to sáv Hospitality for these warm memories.
Have you ever snorkeled or dived? How do you like my pirate-hippie look?