Heavy Pop, Harajuku fashion club night! Tokyo Japan Halloween Goth parties.
Halloween 2014 is creeping closer… do you have your costume ready yet? How will you be celebrating?
If you're in Tokyo, Japan for Halloween, there are a number of dark and alternative events this year. These include Midnight Mess's 12th anniversary Goth dance party on Oct 25, and Tokyo Dark Castle Zombie Halloween on the same day. In Osaka, Farplane Night is having a cabaret festival on Nov 1st.
But for Japanese spooky kids, Halloween is every day of the year! So every month, they congregate at Heavy Pop (へびぽ), a club night that celebrates cyber, Goth, Lolita, drag and other alt fashion tribes. As you can see from the group photo, it's one colorful party.
Heavy Pop changes its location and exact date each time, so check their Facebook for the next event (I'm not sure yet if they're having a Halloween extravaganza). I went to the anniversary celebration at Hell's Bar in Sangenjaya. The tiny space was packed, hence the face-fanning.
"Hebipo" generally takes place on the last Sunday of the month, around 3pm to 11pm (so that partygoers can take the last train home, as it stops running around midnight). Come here if you want to dance to Jpop while surrounded by youths, dressed in experimental-kawaii fashion.
Each event features a roster of DJs and performers. I watched these two cute Japanese girls dressed as French maids, singing and dancing a frenetic "para-para" on stage.
One of the regular artists is… Yukiro, in his evil guise as drag queen Die Schwarze Frau! That's reason enough to check out the club night, don't you think?
Most of the guests dressed in some sort of alternative street style like kawaii, fairy kei, or Gothic. I saw some wild makeup and hair in the crowd. This lizard-monster, made of full body rubber, gets my medal for "craziest costume."
As you can see, there isn't much room to make giant hand motions. Wear layers so that you can take something off if the room gets too hot. (Even the reptile took off his head at one point.)
Everyone's welcome at Heavy Pop, but I suggest you join the Jpop spirit of the party, and dress up. Wigs, crowns and hats add a fun touch.
Don't forget to take a picture at the photobooth, and say hi to Die Schwarze Frau (she won't bite) and organizer / DJ Ray Ochiai. He started this party a few years ago, and it's built up quite the following.
You can't help but smile at the theatrical performances on stage. The event alternates between DJ sets and performers.
The side of the room has a line-up of vendor booths, run by independent designers. Shop here for neon face masks and other oddities.
Light colors, lace and living-dolls abound.
Can you feel the energy of the music? All these images are by Said Karlsson — give him a shout if you need a photographer in Tokyo.
The drag theatrics of Die Schwarze Frau always get attention. Stand too close to the front, and you might get whipped by her flailing skirts.
Love the hair-horns, pink eyebrows and layers of eyelashes on this girl.
The queen in motion. DSF performs drag at other events in Tokyo, which you can see on her Facebook.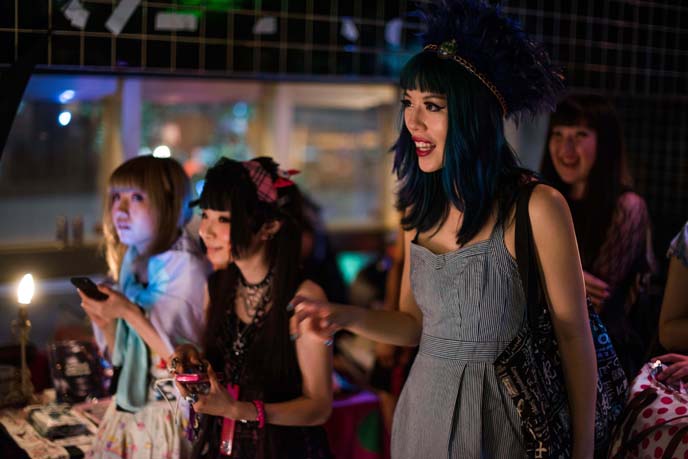 I'm wearing a feathered crown from my friend King Vulcanus Levi (remember when we teamed up in NYC?) and a Nanette Lepore striped dress (here's where you can purchase it.)
Don't you want to be at this fabulous club night too? Keep track of the next Heavy Pop party on their Facebook page. Entry fee varies; it's generally 1500 yen and a drink if you RSVP on Facebook.
How do you like the Harajuku fashion and makeup featured in this post? Do you have Halloween plans yet?
If you're in Tokyo in late October, be sure to check out the Gothic nightclubs and bars, listed here and at the top of this post.