A Goth in Hot Weather: Philippines! West LA Boutique outfit, Wong Kar Wai neon lights.
Goth Tropicana, here we go! I had a wonderful time in the Philippines. Fell in love with the people, beaches, food, and spectacular Pacific Cebu Resort.
What was I doing here? And how do Goths dress in hot weather? Read on for an electric outfit post featuring West LA Boutique. 
Perhaps you note a change in the image quality. I now have a Sony Alpha 7 (A7), a mirrorless DSLR camera. The full-frame sensor rocks, yet the body is half the size of a normal DSLR. Perfect for bringing on my travels.
sáv Hospitality brought my 2 filmmakers and me to the Philippines, to experience and showcase their newly-renovated Pacific Cebu Resort. I was also a judge in the Miss Scuba Philippines beauty pageant, which raises awareness about marine conservation.
On Day 1, I danced around the pool in my fabulous Gothic lace-up heels, from Steelground Shoes. They're a Portuguese alternative footwear brand, and I'm super impressed by the quality of their materials. You can check out their range of men's and women's shoes — creepers, furry pink boots and more — on Steelground's site and Facebook.
How can one pull off a darker look, in hot and humid weather? West L.A. Boutique came to the rescue, with round Ksubi sunglasses and a For Love or Lemons mini dress.
The dress has a corset-like boned top, but the lace material is light and airy, making it perfect for a South East Asian climate. The sunglasses have a retro-Goth feel. I completed the look with cross-top tights and the platform buckle heels.
Can't wait to show you more of my outfits from West LA Boutique. They have a store in Dubai, and you can easily place orders internationally, from their site (brands include Boy London, Unif, Lazy Oaf.)
On our first day in Mactan, we had to run to a store for an errand. Pacific Cebu Resort got us a driver, and he took us through the chaotic streets of Mandaue (one of the urban centers). So much to see, outside my window! Driving in the Philippines is an "anything goes" adventure, filled with the honks of horns.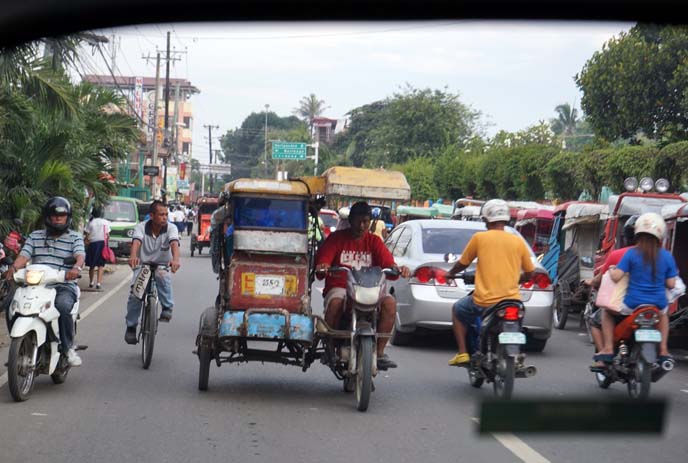 Sidecars, jeepneys and motorcycles criss-crossed our path. Families of six piled into the back of a truck. Schoolgirls in long uniforms walked by, wearing pink backpacks. The words "authentic randomness" came to mind when we saw people barbecuing by the side of the road, and playing basketball with a hoop made from a tree.
Inspired by Cebu's energy and color, we wanted to take images with a Wong Kar Wai night-time feel. 
A lighting store created an interesting mood.
(Photography by Melissa Rundle and Eric Bergemann.)
As the sun set, we drove to the Mandaue city center. I wonder what type of street food they are selling here.
In the Philippines, traffic can get congested, so people travel on two or three-wheelers. These "motorized tricycles" or auto rickshaws are everywhere.
Locals ride "jeepneys" as public transportation. These were originally converted from American military jeeps after the end of World War II. Today, these tricked-out, kitschy rides are a symbol of the Philippines. We saw a pink one with a demented Hello Kitty on the side. If a jeepney is filled to capacity, riders will stand on the back platform and hang on for dear life.
Despite the "free for all" streets, we felt safe driving through Cebu. There's a laid-back attitude here. No road rage.
We passed by a "Ferrari" building, lit up with these neon lights. We couldn't resist stopping here for an impromptu photoshoot.
A perfect match for our Wong Kar Wai mood. Ever-changing neon lights, in saturated colors.
This is one of the best aspects of travel: even if you do research up to your nose, you'll never really get a sense of a place until you're actually there. As you explore, you'll be hit by unexpected scenes and inspirations. Before coming to Cebu, I never thought we'd come across a sight like this.
If you're liking this outfit, you can check out more inspiration on West LA Boutique's website (they're constantly listing the latest arrivals — I'm eyeing their leather mini skirt).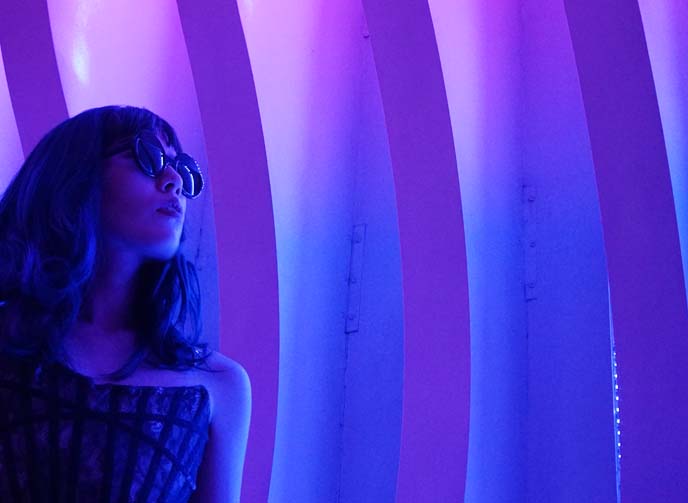 Florescent lights, Asia comes alive at night.
The name and logo say "Ferrari"… but is this actually a luxury car dealership?
Not quite. This Wanted sign reveals what actually lies inside — a girlie nightclub. I wonder if I qualify as a "pleasing person?"
Onward to the city center, which has a church, park and a Jollibee — the fast food chain of the Philippines, with a big bee as the mascot.
And finally, back to our home base, Pacific Cebu Resort. The staff went all out to welcome us, beginning with a green drink made from pandan leaves at check-in. Later, we had a tasty dinner that included adobo chicken and unlimited drinks. I'm a fan of trying local flavors, and adored the gin with calamansi (a local tart citrus), and fresh mango smoothie with Tanduay rum.
For dessert, the waiter served this cute surprise! Pear, ice cream, caramelized cake —  it was delicious.
Can't wait to show you more from this Cebu paradise, including scuba, snorkeling and beach time.
Thanks to Stephanie Hoy at Vancouver's Avantgarde Salon for this "oil slick" hair, a gradient of purples, greens and blues!
For previews of my South East Asian travels and outfits, you can peek at my @lacarmina Instagram.
Have you ever been to the Philippines? How do you like my "Goths in Hot Weather" outfit of the day?