Safari near Cape Town, South Africa! Aquila game reserve lions, elephants.
A dream come true… I went on safari in South Africa!
Cape Town Tourism brought my travel filmmakers and me to Aquila Game Reserve, located two hours from Cape Town. Without having to "rough it" in the bush, we got to see the Big Five animals up close and in a natural environment.
Aquila's 7500 hectares holds hundreds of African species, including endangered ones. We saw lion kings,
… playful elephants beneath the Cape Karoo mountains,
… and the mighty rhinoceros, which the reserve is fighting to protect from extinction. (The other two of the "Big 5" animals are the Cape buffalo, and the African leopard.)
My travel team and I are adamant about only supporting ethical places, where animals are well treated (no tiger temples or ocean parks, for example). We were glad to see Aquila's commitment to responsible practices and anti-poaching. Our guide worked in rhino conservation for years, and we could sense his passion from the way he described the animals.
Aquila is a private game reserve and offers "safari drives" in the morning and evening, lasting about three hours long. There are also bicycle, horseback, and overnight options, but we aren't exactly the hardy outdoor types…
… and preferred to enjoy the quaint lodges and cabins. We arrived just before lunch time, and made our way to the buffet.
These black and white photos on the wall made me miss my Scottish Fold, but got me excited to see the big cats up close.
My first encounter with creatures: a peacock, near the welcome entrance. The blue and gold feathers are luminous.
If I could talk to the animals, like Dr Doolittle, what would they say to me? Probably "Bleh." (My outfit details are described below.)
Number one rule, which filmmaker Melissa is breaking: don't touch the wild animals. Lions may look fuzzy, but their predator instincts are sharp.
We settled into a covered safari vehicle, and our guide drove us through the reinforced gates. He reminded us to keep limbs inside at all times, and not make startling noises.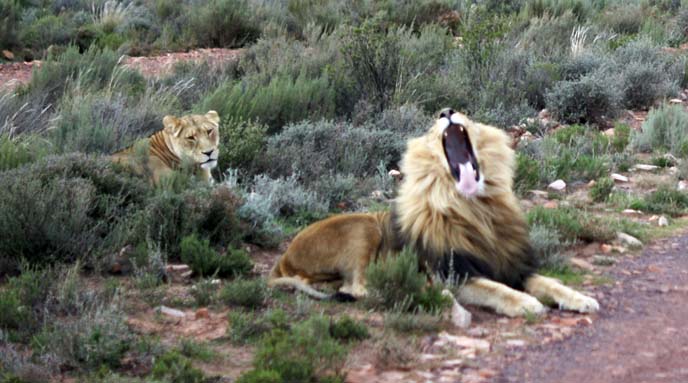 These lions were saved from "canned hunt" operations. When the guide described this torturous practice, I wanted to cry. Canned hunting is when animals are put in a confined area — almost like a large gladiator arena — so that "trophy hunters" can easily find and kill them.
The lion pride resides in a separate fenced section of land. Since they grew up in canned hunting operations, they don't have the skills to survive in the African wilderness. Aquila lets them live in a naturalistic home, while getting care from the staff.
How can anyone want to shoot these creatures? Our guide told us about something even worse: big game hunting, done from online! People would use their computer screens to track animals, and press a button to shoot them. It's like the horror movie Hostel come to life.
Fortunately, these lions now have the chance to enjoy life. From our vehicle, we got to see some National Geographic action. The male lion prowls towards the female…
… gets behind her, and nibbles her neck. You can guess what happens next! (I actually took a video of the lion mating; you know you want to see it.)
"Can you feel the love tonight?" It didn't last long, but the lion king got a kiss after.
Yet another section is home to cheetahs and leopards. So sad: this leopard was fattened up for a canned trophy hunt, to the extent that his stomach hung to the ground. Once again, Aquila gives these rescued animals a secure home, and even has a cheetah breeding program.
Tip: even though you're in Africa, dress warm. We visited during their winter (July), and there was a strong wind. I am wearing a million layers under my Algonquins top, and silver skirt by Candy Stripper (both from Tokyo). My happy lion backpack is a present from A Bros Products in Hong Kong. The leopard print tights are a random purchase from somewhere in Asia.
It was fun to drive around the immense main reserve, and look for animals. We spotted zebra print among the tall grasses. (Here's a video of the zebras flipping their ears and tails; it's quite different to see the safari in motion.)
Indescribable, the joy of seeing animals in this manner.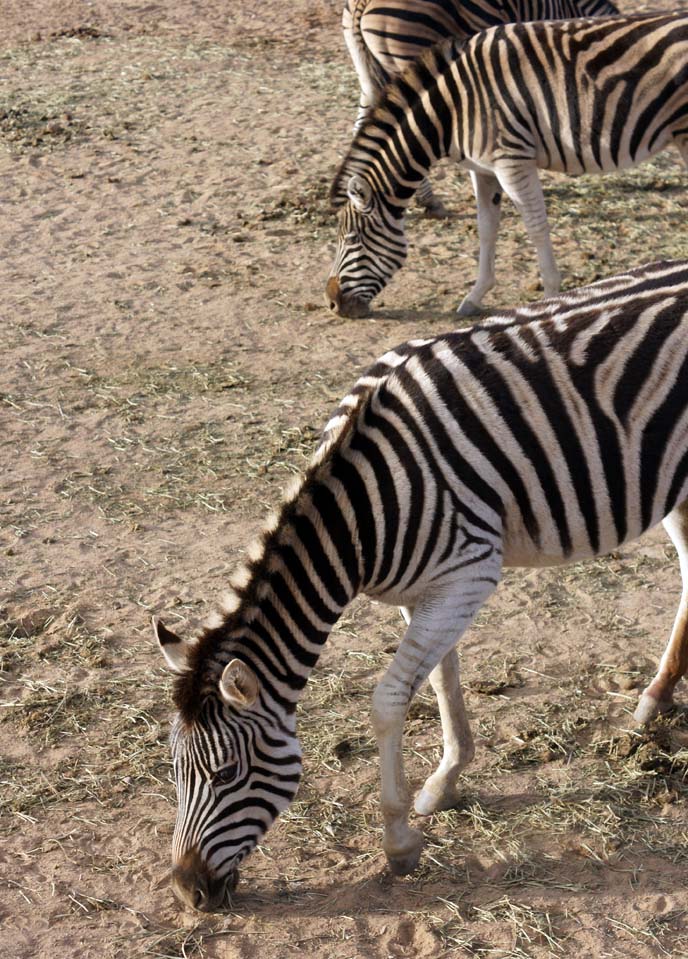 Our guide parked us close to the creatures, and told us fascinating facts about them. We learned that if the zebra's mane flops to one side, it isn't healthy. And why can't we ride zebras? Because they have a different spine structure from horses, which doesn't let them support the weight of a rider.
He also told us that our cabins are well away from the animals… because once, a water buffalo charged through the door!
These are springbok, a type of antelope-gazelle. As their name suggests, they've got a spring in their step.
Here's an eland, or antelope with twisted horns. We also spotted the grumpy-looking water buffalo, but weren't quick enough to get a photo.
We had rather good luck at capturing animals doing "natural activities!" Since the rhinoceros is severely threatened by poachers, out to cut off their horns, Aquila has a "Saving Private Rhino" initiative. They focus on training programs to prevent attacks.
Our guide taught us to identify white rhinos. They look a lot like black ones but are taller, have a bigger head and larger hump on the back, and tend to hang in large groups, eating grass.
We kept warm with blankets from the guide's stash. Sunglasses and sunscreen are a must, as you'll be outdoors for several hours.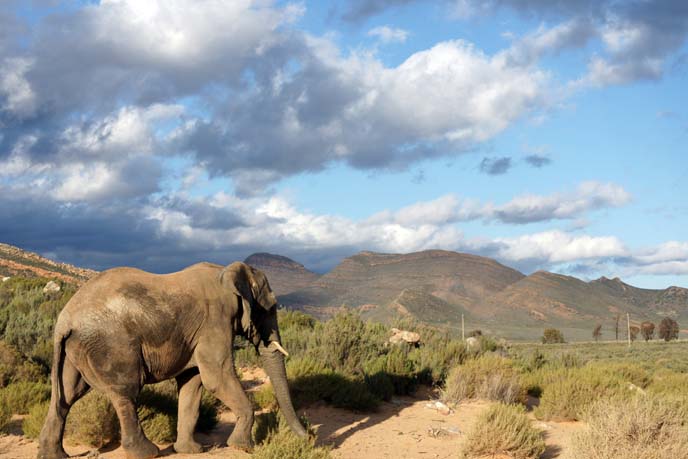 The elephants were heading to the mountains, but we caught up with them just in time.
These elephants are teenagers, playing together with their trunks!
They're such peaceful, happy animals. Our guide told us the difference between African and Indian elephants: the African ones are larger and more wrinkled, with full rounded heads, and ears shaped like the continent.
The vehicle stopped, and we all took a few minutes to stretch our legs. (Photos by Melissa Rundle and Eric Bergemann.)
The guide offered us nuts (no thanks, allergies) and champagne (why yes!). Cheers.
We didn't want our safari game drive to end. There's something magical about being in an environment like this, simply observing the animals as if you were one of them.
Near the watering hole, multiple species gathered. I spotted zebras, ostriches, rhinos, and the little symbiotic birds (oxpeckers) that perch on their backs.
Only one word to describe this look… kawaii!
How many lions can you count? Funny how their expressions and postures are exactly like my Scottish Fold cat's.
There's more about Aquila Game Reserve and their conservation efforts on their site. While this safari is more tourist-oriented than some others, the big benefit is that you can easily make a day trip here from Cape Town.
Thanks to Cape Town Tourism for making this report possible. I hope all of you will get a chance to experience safari. It's as amazing as everyone says.
Some final shots from my Instagram, of the cozy African-style rooms and a lion in motion.
Have you ever seen lions, giraffes or elephants in person? Is safari on your travel dream list?