Asia fashion magazine Kirameki: cover model! Japanese kabuki makeup.
I don't often do editorial photoshoots, with avantgarde hair and makeup… but when the opportunity arises, I go all out. Kirameki Magazine asked me to be the cover model for their 10th anniversary issue, and I brought in my talented Vancouver team to create these images.
We're happy to announce that the Asiatique issue of Kirameki Magazine is out now — featuring me on the cover, and in a spread and interview!
I'm so happy with how the images turned out. All the credit goes to my team:
Photographer: Shimona Henry
Makeup artist: Jennifer Little of A Little Artistry
Hair stylist: Stephanie Hoy at Avant Garde Hair Studio, Vancouver
Assistant: Katherine Dockrill
Kirameki is a fashion magazine with a theme for each issue. We interpreted "Asiatique" with makeup and styles from a variety of Asian influences.
This look is inspired by kawaii Harajuku anime-eyes, and Japanese street fashion. The two hair rolls almost look like cat ears — the look is very "me," don't you think?
I'm wearing a Moi-meme-Moitie graveyard dress (the print is called Sleeping Garden), bought in Tokyo. This brand was created by Mana, guitarist/leader of Malice Mizer and Moi dix Mois, if you aren't familiar with it. I also wore this EGL (Elegant Gothic Lolita) dress to the LA Oscars party.
Ankle boots: hair stylist's own
Tights: Jonathan Aston
We collected fresh flowers and placed them all around the bed. Downtown Vancouver's Georgian Court Hotel generously let us shoot these images in one of their suites. (I previously reviewed this luxury boutique hotel; it's one of my hometown favorites.)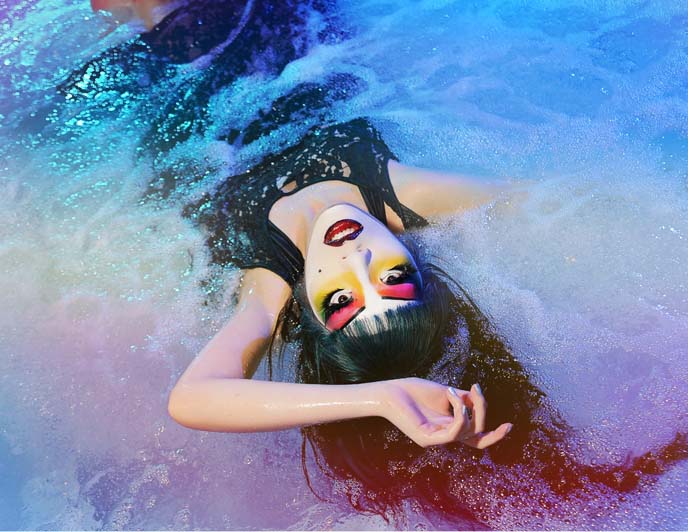 The Georgian Court even let us shoot in their whirlpool, resulting in these dramatic underwater images!
Black lace dress: c/o Salsit (I wore it in my cherry blossoms outfit post)
Skeleton bathing suit: c/o Little Wicked's Emporium (I wore it in Bangkok)
Forever grateful to makeup artist Jennifer Little, who went into the water to help me float — or else I wouldn't have managed these poses!
Stunning, the kabuki-like mask that she painted on my face.
Jennifer also did my makeup for Alt Noir Gothic magazine and more. Check out more of her works, including award winning bodypainting, on A Little Artistry and her Facebook.
Kimono robe: makeup artist's own, a vintage silk number.
For the third look, I'm wearing a traditional sequined Chinese dress called a cheoungsam. I got it in an Asian fashion boutique.
My hair got some poof thanks to a 1980s crimper. The blue color, cut and styling are by Stephanie Hoy — ask for her at Avant Garde Hair in Yaletown, Vancouver!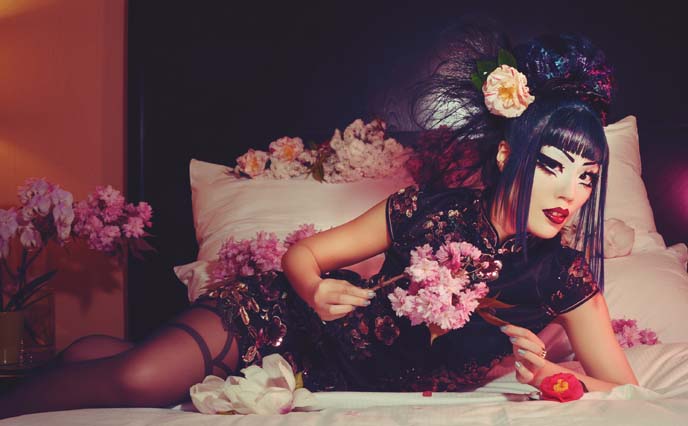 Love the mood captured by Shimona Henry, who runs Pin Up Perfection in Vancouver. As the name indicates, she's a pro at pin up and alternative portraits. She's fast and fun to shoot with, and I'm excited to do more with her soon.
A behind-the-scenes peek at Jennifer, me, and Stephanie. Wish we could have had a slumber party at the Georgian Court.
Hugs for my team — I love how the photos and concept came together, and couldn't have done this without you!
And thank you to Kirameki Magazine for honoring me with the cover. I hope you'll order a copy of the magazine — both digital and print copies are available. You don't want to miss the full spread and extensive interview with me, along with other inspiring Asia fashion features.
Which of these three styles do you like best? What do you think of these more dramatic looks on me?