J-rock Visual Kei music stores in Tokyo! Book Off & Japan CD shops.
Readers often ask me: "Where can I buy Jrock CDs and Visual Kei memorabilia in Tokyo?"
In this post, I'll take you to some of my favorite musical haunts in Shinjuku: Book Off, Closet Child Mens, and Pure Sound. At the bottom of this post, you'll find more info about J-rock stores in Harajuku and Ikebukuro.
My shopping partner of the day was Yukiro Dravarious, wearing signature purple and lots of kitty-cat influences.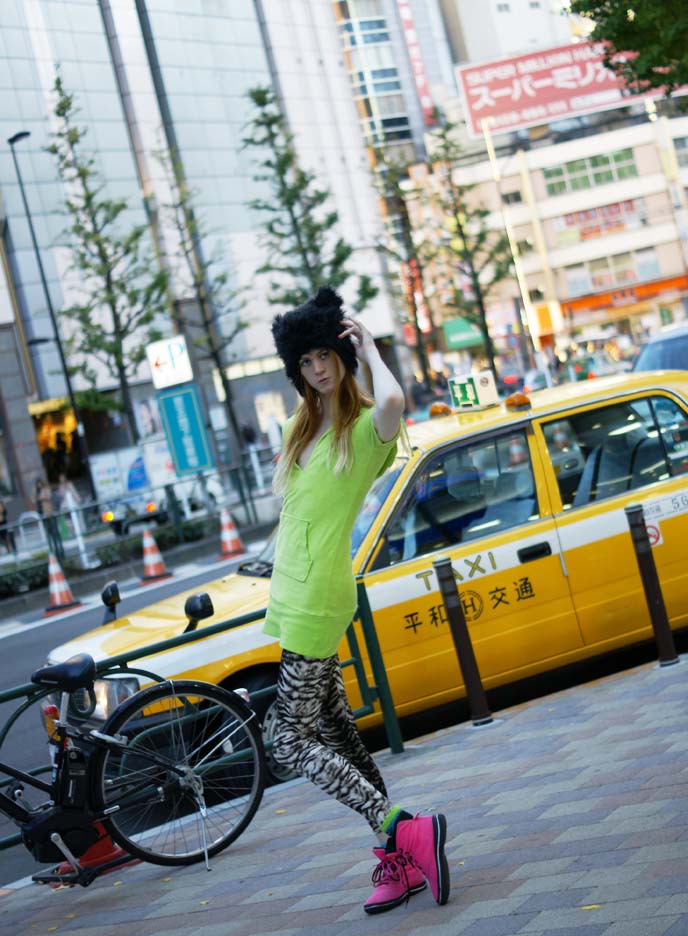 Who says Goths can't rock neon? The Japanese taxi in the back matches the look.
I hadn't brushed out my curls yet, but this gives you a sense of the blue-green shaded color. The scarf is by Sex Pot Revenge, and the sunglasses are old ones by Salvatore Ferragamo.
We first stopped by Book-Off, which has various locations. One is located near the Southern Terrace and Shinjuku station south exit.
Inside, you'll find tons of used music and magazines. We picked up recent copies of Kera and Gothic Lolita Bible, and Yukiro even found Malice Mizer cds for about $2 each!
We walked to the West side of Shinjuku station, and spotted these rock-style boys looking at music posters. Obviously, we were in the right place…
… Closet Child Men's, one of the more obscure branches of this secondhand alt clothing store. (If you're been reading this blog for a while, you may remember I wrote about it in 2010.)
Here is a map of Closet Child Men's; you may need to walk around a bit to find it.
On one side of the small store, you'll find tons of J-rock and Visual Kei memorabilia, including special edition CDs and concert booklets. Many young people hang around, browsing for treasure, like this green haired girl.
Note: only the Men's and Ikebukuro branches of Closet Child sell music as well as clothing.
On the other side, there's a nice selection of Goth, punk and alternative men's fashion. These brands include unisex ones like Super Lovers and Sexy Dynamite.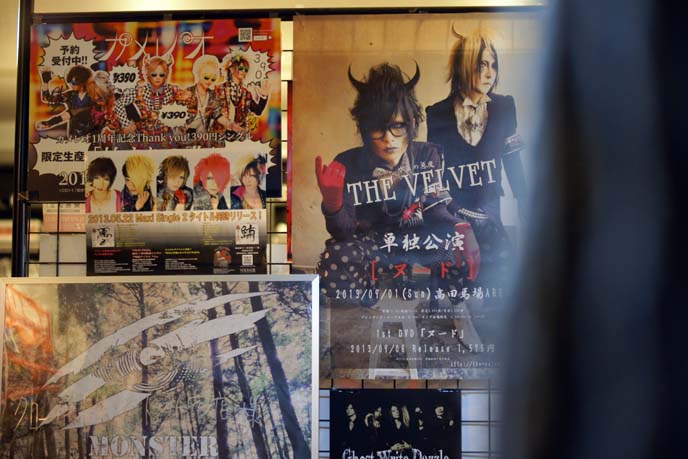 Right next door is Pure Sound, a Jrock-oriented music shop. When you see the giant posters of boys with teased colored hair and makeup, you're there.
Pure Sound often has special events, such as band signings. If so, the shop may be temporary closed, and there could be a long lineup of fans.
All your favorite VK music is sold inside, like Penicillin, The Gazette, Golden Bomber and more.
Tip: pick up the free band flyers at the front of the shop. You can used these to decorate your walls.
A smaller rock music shop nearby also sells some used Lolita and Harajuku fashion.
The best place to shop for secondhand Goth Lolita Punk clothes, however, remains Closet Child. This is a snap of the upper "rock" floor of the Shinjuku location. (For more info about the various branches of CC, see my Tokyo shopping guide.)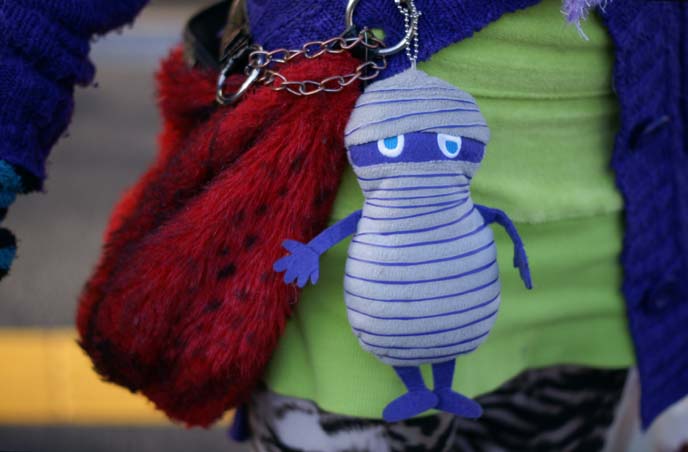 I leave you with some close-ups of Yukiro's cute accessories. A zombie doll…
… a cute faced plush cat.
Bright pink sneakers and mis-matched socks, a Harajuku staple.
Want more Jrock posts? Check out my collection of concert reviews including Dir en Grey, X Japan and Moi dix Mois.
There are also more Visual Kei merchandise stores in Harajuku; I've listed a few at the bottom of this comprehensive guide.
Which bands are currently on your playlist? Share your favorites with us in the comments!
Tons more Tokyo coverage coming right up — including the owl cafe, Heavy Pop Harajuku party and a horror themed bar. Be sure to add my Instagram for previews of my Asia adventures.