Modeling Nanette Lepore in Humble House Taipei, a newly-opened design hotel.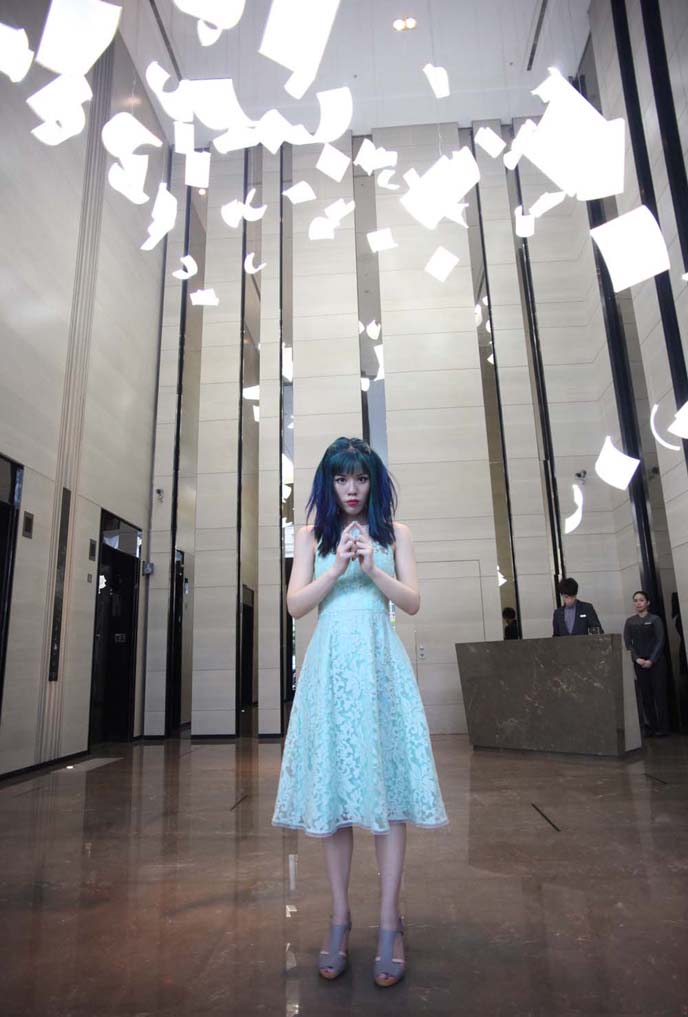 My stay in Taipei was a joy — because I got to experience this modern boutique hotel, Humble House. The design reflects the mix of busy city life and lush nature that is unique to Taiwan.
What better place to debut this mint-colored lace dress, sent to me by Nanette Lepore? Let's give it a twirl!
Humble House opened last December, making it one of Taiwan's newest hotels. The design has a sleek grey aesthetic, but without feeling stark or robotic. Quite the opposite: it puts the focus on organic forms and green spaces, like this sky garden.
The outdoor pool has a perfect view of Taipei 101, formerly the world's tallest building. This district, Xinyi, is the center of government and business. I recommend staying around this area, since it's central and near some of the hippest bars (which I'll show you soon).
Inside, the choice of contemporary art is inspired by the Tagore quote, "Let Life be Beautiful like Summer Flowers." These works ponder the relationship between nature and civilization, expressing them through modern mediums.
My first impression of Humble House was this ground floor installation, custom-created by Paul Cocksedge. Suspended from the high ceiling, these electroluminescent sheets twirl in the wind, as if I threw them in the air.
Outfit details: NY-based designer Nanette Lepore sent me this Beach Breeze dress from her summer collection. I love the lace overlay and elegant high neckline, and this mint color is my current favorite.
My shoes are Camper Allegra sandals.
In most hotels, you hardly remember the art on the walls. That's not the case at Humble House, which has thought-provoking works like these by Yang Yongliang. They seem to be photos of flowers, but if you look closely, the parts are made up of skyscrapers, highways and other city life.
Climbing the stairway to heaven. The angles turn it into an M. C. Escher vision.
This trippy LED piece, by Polish artist Piotr Uklanski, makes it seem like you're staring down into a black hole. In fact, it's an optical illusion and the work is only a few inches tall.
Much of the art has a sense of fun, like Paola Pivi's "Crazy Ball," made from miniatures of famous chair designs.
Taipei is known for its food, and some of my favorite meals were at their Italian restaurant, La Farfalla.
We wanted to join in the fun: so photographer Ken "hacked" the breakfast buffet! He gathered ingredients — honeycomb, ice cream, beets, Asian fruits — and concocted this dessert plate. He even made his own eggs Benedict and Hollandaise sauce, from items found in the buffet.
Lunch at Farfalla is a semi-buffet, meaning that you order a main, but build your own appetizer plate from the generous spread…
… which includes seafood, cheeses, salads and of course desserts.
As for the mains, the photos speak for themselves. This is steak with a potato block and basil oil drip.
I died over the pan-seared Hokkaido scallop with sea urchin risotto. Oh, creamy glory.
A healthier option: Dover sole with caper basil and cherry tomato.
And braised Australian beef cheek, with mashed potato. All photos by Ken Yuen and Jacqueline Kwok (noircorner).
On the terrace, I danced next to the butterfly statue by Zadok Ben-David. Called "Natural Tower", the corten steel changes color as the temperature changes and time passes — making the butterflies seem alive, and in harmony with their environment.
"Peony," by naturalist Sugiura Yasuyoshi, lets guests to get closer to nature, while staying in a cosmopolitan city.
Nanette's dress is made for twirling in the lobby. You may be wondering: why is this fabulous place called Humble House? Asia has a culture of modesty, and the hotel focuses on unobtrusive service. Every need is taken care of, without fuss.
I loved staying at Humble House, a high-tech hotel full of soul. You must at least come up to the terrace for a cocktail, to take in this view.
Did you realize Taipei was so modern and design-oriented? I hope my travel posts continue to surprise you.
Coming up: I'll show you the pop culture side of Taiwan, from Hello Kitty exhibits to apothecary bars…