My Mickey Mouse hairstyle! QVC Oscars Pre-Party 2014, Four Seasons celebrity red carpet.
I have Mickey Mouse hair! Needless to say, this fun hairstyle got quite the attention in Los Angeles. I was honored to be invited to several Academy Awards parties, including the QVC Oscars pre-party at the Four Seasons Beverly Hills hotel.
It was quite the night of celebrity shenanigans, including Joan Rivers and Miss Piggy getting into a cake-fight…
Let's start by dressing up. My blue hair is probably my favorite color to date. It's by Stephanie Hoy at Avant Garde Hair: give her a ring if you're in Vancouver!
I've been doing more natural makeup lately — gotta switch it up. My lipstick is c/o Shien Cosmetics; I adore the matte coverage, designed to flatter Asian skin tones. This neutral shade is Shanghai Rose.
My flowing, lavender gown is by the Japanese brand Comme l'un. Remember I wore it for my Goth Fairy photoshoot in Hong Kong?
This two-buns hairstyle is inspired by the looks seen in gyaru magazines, read by trendy Tokyo gals. It's also a tribute to Mickey Mouse, since I'm not far from Disneyland. (Spotted this collection of retro-Disney figurines at YVR Vancouver airport.)
In the words of Karen from Mean Girls: "I'm a mouse. Duh!"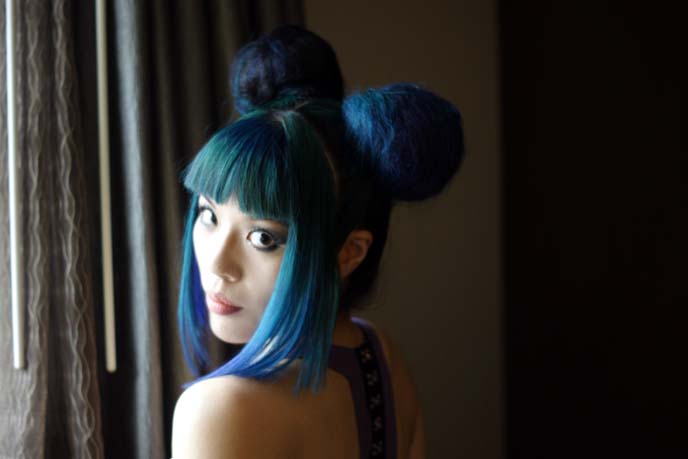 Can you believe my hairdo stayed like this for three nights? Stephanie put my hair in two high ponytails, then backcombed and pinned it into circles. A lot of hairspray was involved.
I wore high heels with cut-out hearts from Lumine. Here are more photos from this Shinjuku department store.
Details of the back of my dress. I don't usually put my hair in an up-do, or wear cocktail/party dresses like this. It's good to get away from the norm sometimes, and see where it takes you.
Every year in LA, there are a number of invite-only parties that celebrate the Academy Awards. The QVC Oscars Red Carpet is a favorite for celebrities.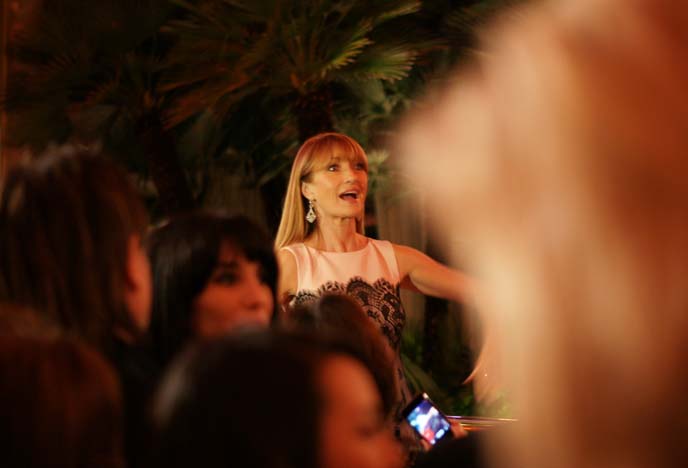 Actress Jane Seymour waves to friends. Mario Lopez was smiling nearby.
How fun to mingle with guests like the fabulous Joan Rivers, of Fashion Police.
We drank special cocktails, snacked on hor d'oeuvres, and posed for photos.
QVC was broadcasting a live TV show during the party.
At a special table, I got my iPhone case covered in Swarovski crystals. (More info about my custom phone case here.)
The funniest part of the evening: watching Joan Rivers run out of the party, covered in cake! Apparently, she got in a fight with Miss Piggy and lost.
Other celebs who attended were Nicole Richie, Kaley Cuoco, Kat Dennings, Krysten Ritter. Also present: Sarah Paulson, Kate Mara, Bella Thorne, Nikki Reed and many more. (Above photos via QVC.)
What a fun, glam night. Thanks to QVC for inviting me to LA to attend the red carpet bash. More Oscars event coverage coming right up.
Did you watch the Academy Awards this year?
And do you like my Mickey Mouse hair?
PS: You're welcome to Pin any of my blog photos onto Pinterest. I have an account on Pinterest; add me (lacarmina).