Tokyo night photography: Shinjuku walk, Japan after dark.
Shh. Even though I live for exploring new countries (Israel and Jordan right now!), it's no secret that I miss Tokyo whenever I'm away.
I was in Japan around Christmas-time, which gave me an opportunity to take photos with light displays. Enjoy these street shots of Shinjuku after dark.
In Tokyo, I'm one of the tallest people around…
Hello Kitty and friends sweater: from last year's Forever 21 x Sanrio collaboration
Short plaid purple skirt: Peace Now, from Closet Child
Blue fuzzy animal purse: Mercibeaucoup, bought at Shinjuku Marui Annex
Art Nouveau print tights: Innocent World x Alphonse Mucha
First Mate fixer Naomi took these cool purple effect photos by shooting between the escalator rail. Using a prime lens on a DSLR, you can achieve nifty effects like this.
The background blurs out, and the little Xmas bulbs turn into "bokeh", or glowing balls of light.
This little hallway of lights is located by the West Exit of Shinjuku Station (near My Lord department store). There's an Anna Sui store and a Ne-Net boutique in this area.
I rode the escalator at least three times for the sake of taking outfit photos!
In the center, there were three trees covered in lights. Naomi shot through glass for this reflected image.
Lost in a Japanese winter wonderland.
Since I know you enjoy seeing Tokyo city life, I went on a long stroll through Shinjuku with my camera, and captured the night-time action. Here, a traffic guard in a helmet whistles and waves his… light saber?
A man in a cap is silhouetted in front of a drink vending machine. In busy areas like Shinjuku, there are literally vending machines every few meters.
My favorite drink is not usually found in machines, but at convenience stores like 7-Eleven. It's yuzu, of course (the Japanese tangy citrus). This little "pet" bottle is hot, sold near the check-out counter.
Near the entrance of Shinjuku Station East Exit, a ska band gave a free performance. The lead saxophonist twirled and jumped around. This concert was actually part of a vitamin brand promotion, perhaps explaining their manic energy.
An anime-cyborg girl overlooks the business commuters.
Shinjuku is filled with little narrow streets, lit up with neon signs. Many of these advertise restaurants and bars.
Flashing billboards with anime characters are a common sight.
The eye-catching designs are so varied. A Japanese-style tiger leaps at a butterfly.
Shinjuku Doori is one of the main streets, and leads to the various 0101 department stores. (For a peek at the street style boutiques found inside, see my post about Marui Annex.)
How have you be dressing up this winter? Would you wear a Sanrio sweater like this?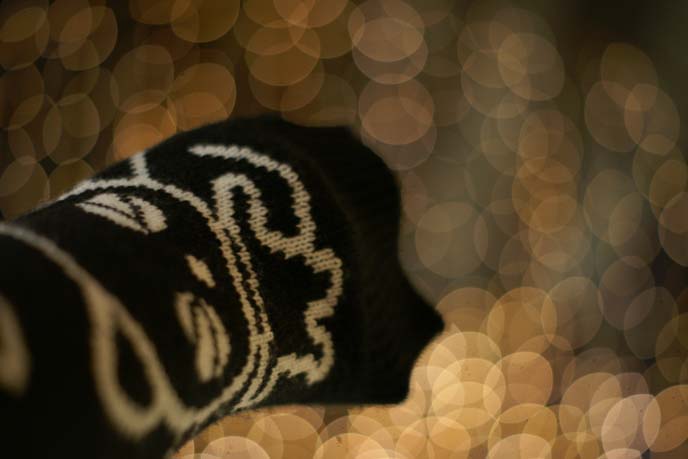 Close-up on my Chococat sleeve. He's one of my favorite characters.
Naomi holds up a Jrock / Visual Kei flyer, to demonstrate how we "pull focus" with the camera lens. By focusing on something in the foreground, the background blurs out with this cool dotted effect.
I leave you with a Japanese girl buying a drink from a vending machine.
Are you enjoying these mood photos? Do you take late-night city walks like I do?