Shinjuku Marui Annex: Lolita, Gothic, Tokyo Punk clothing shops moved for 0101 renewal.
If you're going to Tokyo, and want to shop for the best Goth, Lolita, Alternative and Punk fashion… then you'd better read this post for a head's up. Marui One Shinjuku, the department store that houses these street styles, is currently closed for renewal.
Most of these brands, like Baby the Stars Shine Bright, have moved to Marui Annex for the time being. Where is it, and what's it like? Scroll down for the scoop, and don't forget to study my comprehensive Tokyo shopping guide for more shopping tips!
It's not clear how long the Marui One "renewal" will take (a previous one took about half a year), or what it means exactly. The department store will be revamped in some way. My guess is that the Goth/Loli/Punk focus will be minimized, and that a larger variety of brands will be brought into the mix.
For now, you can shop for most of these alt labels at 0101 Marui Annex (Shinjuku, 3−1−26). To arrive here, get out from Shinjuku Station East Exit (near Studio Alta). Turn right, and keep walking down Shinjuku Dori. Annex is a tall modern building on the right side of the street, right before Armani.
Annex has converted two of the upper floors into temporary homes for cute street fashion. Milk, with its twee and scalloped coats, is one of the first you'll run into. (Links to all labels are at the bottom of this post.)
Don't limit yourself to the underground brands, however. Take a walk around each level; you never know what you'll find. I got this blue cutie-faced purse at Mercibeaucoup, on one of the lower floors.
I also spotted this winking cat top. There are a lot of cute but chic designs in Annex, which can suit a slightly older (but still offbeat) shopper.
Mercibeaucoup had a Snoopy collaboration for winter. You can incorporate these garments into a rock-style coordinate like the one on the right.
In the gift store, I found these colorful Godzilla cats. I wouldn't mind if these cute kitties terrorized Tokyo!
Most of the alternative street style brands, like Putumayo, are currently in two of the upper floors of Annex. The space isn't as uniquely decorated, and the boutiques are smaller, but you can still shop the latest collections.
There are also some new brands in the melee. How about these Game of Thrones fur collar jackets?
They are handmade by Acryl Closet. I saw the designer sitting at the table, working on new clothes.
In the old Marui One, an entire floor was dedicated to cool shoes. It's been reduced to about a third of the size, but you can still find Yosuke and other Lolita lace heels.
Peace Now is no more, but their aristocrat and boy-style designs live on in other labels.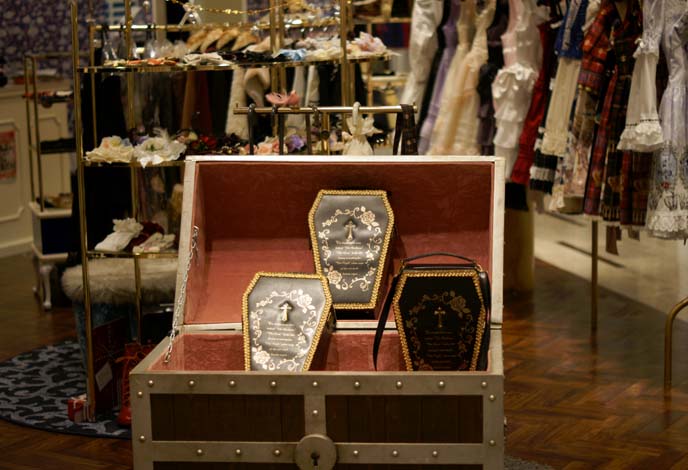 Alice and the Pirates remains one of my favorites. Oh, those coffin purses…
… and white ankle boots with adorable lace and ribbon detailing.
I don't particularly like "winter" Lolita fashions, like these dresses by Metamorphose temps de fille. The heavier fabrics and bulkier cuts aren't to my taste.
Meta's angel wing purses, however, are heavenly. (Couldn't help myself…)
The Kera Angel area is home to a number of smaller Loli brands. You'll find more experimental fashion here, which is hit or miss. I like this playing card king and queen collar…
… but the angry cat-face purse and bunny kitty print dress are a bit much.
Another example of "please no"… the creepy child-baker print on the JSK skirt. What's with the giant fork and the "Use Yeast" caption?
I'm fond of the traditional Japanese "wa" influences in Ozz On and Ozz Croce, although I rarely wear clothes like these. I recently got a "hakama" skirt, so I'll be playing around with this style more.
Most stores were relatively undecorated, since they are only in Annex for the time being. Ne-Net is an exception: the entire wall was covered in stuffed panda bears.
Totoro and Spirited Away fans, you can't miss the Hayao Miyazaki store. I found these stuffed sprites, among other plush toys and goods.
Sex Pot Revenge and h.NAOTO still offer their signature Goth Jrock style.
Annex has a boys love and anime/manga section, and kawaii jewelry as well.
If leather and studs is more your style, then there's a good Goth selection.
Love this Marie Antoinette antique-style purse with lace trim. You can find such unique and elegant items in Tokyo. That's why it remains one of my favorite cities for buying clothes.
A pink backdrop can only mean one thing: Angelic Pretty, the much loved Sweet Lolita label.
Nearby is Baby, the Stars Shine Bright. Wouldn't you like to have a pastel and lace EGL wardrobe like this?
Close up on long, white ruffled sleeves and a dollhouse fabric print.
If you're getting tired, you can stop by Swallowtail for a black rose cake. This Ikebukuro butler cafe has a bakery and tearoom in Annex, minus the cute butlers sadly…
But there are female servers wearing modest, Victorian style dresses, like the ones found at Excentrique.
I leave you with a velvet Gothic Lolita dress. Here are links to the websites of all these Goth Lolita Rock brands. For more Tokyo fashion photos and maps, read my Japan alt shopping guide.
What do you think of the current collections inside Marui Annex? Which items would you most want in your closet?