Alternative Portland Halloween: Steep & Thorny underground party, Besaw's restaurant.
T-minus 10 seconds… to Halloween partying in Portland!
Every year, I try to celebrate All Hallow's Eve in a big way. This time, my pirate crew dined on pumpkin, then ventured to a warehouse club filled with contortionists, fire-dancers and Almond Joys. Read on for the spooky story.
On October 31, Besaw's Restaurant invited us to dinner. The waiters were dressed to impress, and invited customers to take part in an Instagram costume contest. Earlier that day, two robot-aliens took over the bar and won the popular vote.
Besaw's (2301 NW Savier St.) is a popular downtown Portland restaurant, specializing in Pacific Northwest fine dining. That night, we were well-taken care of by an anime bunny and Wednesday Addams.
The building dates back to the 19th century. Wonder if the vampire and witch were the original inhabitants.
I discovered a new favorite cocktail: Bourbon, lime, ginger beer. My outrageous astronaut costume is from J Valentine Catalog, and my makeup is Annabelle (here are tons more space-girl outfit photos).
Our feast began with pumpkin fritters and spiced creme fraiche — perfection. I continued with butternut squash lasagna, made from organic and local ingredients. (First Mate Naomi is wearing a Cab Calloway ghost costume, which she made herself!)
We finished with two of the best desserts in recent memory: pumpkin cheesecake, and spicy gingerbread served warm with honey, roasted pears and vanilla ice cream.
Countdown, 3… 2… 1… let's party! We were guests at The steep and thorny way to heaven (2nd and Hawthorne under the bridge by the waterfront). This is a semi-private underground party, meaning you have to RSVP or know someone to attend.
Organizer Myrrh bought this small warehouse space, and has regular events here with his friends. Expect surreal costumes and performances, and imaginative theme drinks. (I'm holding "The Pumpkin King," made from my beloved pumpkin puree, ginger liqueur, aromatic bitters.)
The one-room venue alternated between dancing, music, and haunting theatrical performances. Above, Myrrh plays guitar and sings his original dark, reflective songs.
A contortionist joined him on-stage. Can't wait to show you the video footage of her moves.
Some of the performances will leave your jaw hanging — such as this cheeky burlesque-like dance by a giant Almond Joy bar!
Such a variety of acts, like three girls who sang Medieval and Renaissance songs a-cappella.
A fire dancer heated up the room, accompanied by pulsing music.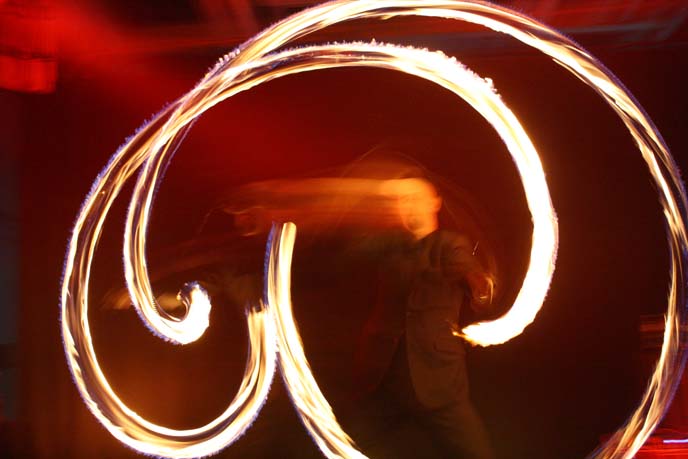 Love the movements that Naomi captured in these no-flash images.
Finally, a fusion belly dancer twirled and raged with a sword on her head.
But perhaps the best performance of all was the impromptu one… where filmmaker Melissa played tricks on a sleeping victim! (Photos by me, Melissa Rundle and Naomi Rubin.)
Look for upcoming Steep & Thorny event announcements, including pirate karaoke, on their Facebook page. A must-see party, when you come to Portland (and not many locals know about it)!
Are you enjoying my Spooky PDX costumes so far? Isn't this a terrific city for the offbeat?
PS: I'm in the land of earless robot cats (aka Tokyo) right now. Follow along my adventures on Twitter and Instagram.