A Gothic Fairy Halloween! The Lovecraft Bar Brickbat club, Lincoln Restaurant Portland, Argus Car Hire.
The Old Ones have woken in Oregon… and I'm about to have my spookiest Halloween yet!
Thanks to Travel Portland, my film team and I got to dance with monsters at Lovecraft Bar, and dine at Andrew Zimmern's beloved Lincoln Restaurant. Plus, I got to debut my new blue-green hair. Perhaps you've already glimpsed it on my social networks, linked on the sidebar –>
I had navy hair in my mid-late teens, but products were weak back then and it faded quickly to a murky green. But now, it's possible to get salon-quality dyes in rainbow colors.
My amazing stylist Stephanie Hoy at Avant Garde Hair Vancouver bleached my hair, and layered on turquoise, blue and dark purple. She stayed away from yellow-green tones, in order to complement my skin. What do you think of this big change?
The romantic hair flower clips were custom-made for me by Angelica Brigade. I love her detailed work and delicate fabrics. She takes requests through her site, so you can have her create accessories to perfectly match your outfits.
I had three Halloween costumes this year; here's Look #1. The Goth Fairy dress, wings and star tights are from my friends at Lip Service, the popular Gothic brand that also makes Victorian and Steampunk garments. My cut-out boots are Yosuke, bought in Shinjuku Marui One in Tokyo.
Although I look ready to party, I'm really here to make travel videos and articles with my hard-working film team. On these shoots, timing is key: we need to get around to a lot of locations during our short stay.
If you're travelling to Portland, I highly recommend renting a car. Having this rental from Argus Car Hire helped us enormously — each day, we shot at up to six locations all over the city!
I'm notorious for complaining about my vehicles ("There's no suspension! The wheel is jerky!") but with Argus, the experience was 100% smooth, no pun intended. We got a spotless Subaru Legacy with less than 2000 miles on it. Enough legroom for our 4-person pirate team, and the color even matched my outfit.
Since I travel so much, I'm going to make Argus Car Rentals my go-to. They work with multiple companies, so they have a much larger selection of vehicles and options — 30,000 locations worldwide including USA, Canada, Europe.
Now, time to fly away and eat! We drove about 15 minutes to North Portland, to try one of the most talked-about restaurants in the Pacific Northwest.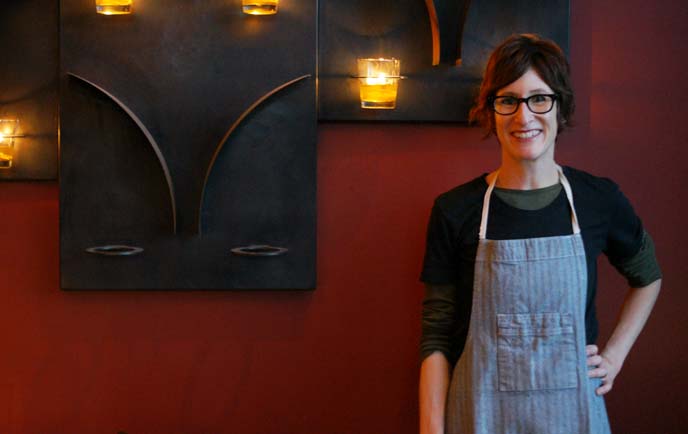 When I had dinner with Andrew Zimmern in Vancouver, he told me I had to meet his talented friend, chef Jenn Louis. She kindly invited us to her flagship Lincoln Restaurant (3808 N Williams Ave, Portland OR).
Filmmaker Melissa shoots a collection of Jenn's accolades, including Best New Chef by Food & Wine Magazine. Jenn built up her resume in kitchens around the US, but fell in love with PDX's foodie culture and local ingredients. She opened Lincoln and then Sunshine Tavern, and recently appeared on Top Chef Masters.
After filming an interview with Jenn, we sat down to beautiful cocktails: "The Stone Fence" with Bourbon and apple cider, "Double Agent" with bourbon, Aperol and peach bitters. Perhaps our favorite is the one not pictured: a mix of mint-citrus syrup and Prosecco.
We started with appetizers: two hen eggs, pure local flavor. Then apple fritters with pickled chili aioli, and grilled octopus with olives. These seemingly incongruous ingredients are magic together; the flavors are surprising, thoughtful, balanced.
Same goes for the panna cotta with caramelized popcorn sauce (top right image). Imagine the taste of the movie theater without the crunch, paired with silky cream.
And here's the money shot: sea urchin gnocchi. The bokeh really expresses the "choir of angels" feeling I had on my first taste. I usually find this type of pasta too chewy and starchy, and "uni" too rich and briney. But this is a completely different experience: melt-in-your-mouth bites of potato and ricotta, with a brush of sea urchin, Italian cayenne, mint and bottarga (cured fish roe).
I'm still reflecting on this meal; it's honestly one of my favorites from this entire year. Thank you Andrew Zimmern for introducing us to your talented friends at Lincoln Restaurant. Can't wait to show you the video footage we took with Jenn Louis.
Later, we went nightcrawling at The Lovecraft Bar (421 SE Grand Ave, Portland OR). It's named after horror author HP Lovecraft, best known for his Cthulhu Mythos. I'm a fan of his writings, and have wanted to cross this venue off my "Goth bucket list" for some time.
Inside the (appropriately) small and dark club, his portraits and book covers line the wall. I was convinced that Lovecraft's eyes would follow me, like in "The Case of Charles Dexter Ward."
The decor is a tribute to his universe. Tentacles represent Cthulhu, an Old God who looks like an octopus with claws and wings (much like my own). Lovecraftian symbols are everywhere, like this pentagram-like Necronomicon gate. Note the cute "No Entry" sign and my ever-present glass of absinthe.
Every first Friday of the month is a no-cover Goth night, called Brickbat Mansion. The DJs played highly danceable darkwave, post-punk, classic Gothic and shoegaze.
I won't go into detail, but let's say we had a bit too much fun on the dance floor. Portland locals are a friendly, kooky bunch. (My makeup is from Annabelle Cosmetics — love their creamy eyeshadows that match my new hair, and TwistUp lipstick crayons.)
Things got scandalous, when we got our hands on the balloons… We may or may not have left with a giant eyeball or two.
It doesn't get better than this: celebrating Halloween in a sci-fi Goth party with my Pirate film crew. I'm lucky to be able to work with my friends, and glad that we can travel worldwide and shoot the topics we love. (Outfit and restaurant photography by Melissa Rundle; food closeups by me; Lovecraft images by First Mate Naomi.)
Much more Halloween shenanigans on the way, along with a video. I still have two costumes to show you!
PS: I've updated my travel TV hosting reel. Watch it above and on YouTube. The clips include Food Network, Today Show, Travel Channel, Discovery, National Geographic, CNN… How fun to see my hair change over time.
How do you like Portland's spooky side? Thoughts on my new mermaid-colored hair?
PPS: If you've read H.P. Lovecraft and want to chat with me about his weird tales, I invite you to comment in this post or on my Facebook. "Ph'nglui mglw'nafh Cthulhu R'lyeh wgah'nagl fhtagn!"