Clubbing in Thonglor, Bangkok's hippest nightlife district. Badmotel club, Moose Bar cocktails.
A lot of people have a stereotypical image of Bangkok's nightlife, perhaps from movies like The Hangover II. Ladyboys, sketchy bars, massage parlors… you get the not-so-pleasant picture.
It makes me a bit mad. This is only a tiny part of the scene that has been exaggerated (much like how the media called Japanese bagelheads a "trend").
Where do young, dialed-in residents actually go clubbing? In Thonglor, an upscale neighborhood lined with modern music venues, restaurants and nightclubs. Read on to learn why Seby and I were blown away by Bangkok's mod clubs.
It was hard for me to leave my cozy hotel room at the Sofitel So, but I wasn't going to miss out on a nightcrawl. I changed out of my bathrobe to a Japanese dress and Yosuke moto boots from Shibuya 109.
Here's the good news about transportation in Bangkok. Taxi fares are extremely low, as long as you grab a cab with a running meter. A 30 minute ride can be as little as $3-10 US, depending on traffic. You can take an open-air tuk tuk or motorcycle, but if you care about your clothes and hair (like we do), then taxis it is!
Now, the bad news. Bangkok traffic is atrocious. In all directions, at all hours. From our well-located hotel, a ride to Thonglor would regularly take 10 minutes. With this gridlock, however, Seby and I spent at least 30-40 minutes on the road.
But it's all part of the experience. Just give yourself enough travel time, and enjoy the view along the way. (Most photos in this post are by Seby)
We were invited to dinner and drinks at Moose Bar (Ekamai 21, Bangkok, Thailand). The restaurant/bar is newly opened, and already popular with local hipsters.
Inside, the name makes sense, with antlers and taxidermy in every corner. Moose Bar has a vintage and laid-back feel. At the small stage, two acoustic guitarists strummed and sang.
The cocktail menu had dozens of intriguingly-named choices. Seby and I like to try local flavors, so we had drinks mixed with Rosselle, a type of hibiscus.
Now here's a funny story — we're pretty strong when it comes to hot food, and ordered a dry seafood curry, tom yum papaya salad, and crispy fried fish. Took a few bites, and it was marvelous. But the spices were a ticking timebomb… Minutes later, we were panting with our tongues out, and frantically waving for more water and rice!
Lesson learned: food tends to be much hotter here than in a Western Thai restaurant. But don't let that dissuade you from trying the local cuisine, or you'll skip out on delicious dishes, and perhaps a fun story or two.
The next night, we cabbed to the Thong Lor or Thonglo clubbing area (Sukhumvit Soi 55, Bangkok). In the past 5-10 years, this neighborhood has become the destination for trendy nightlife venues.
Badmotel is ruling the current club scene (located between Thong Lo Soi 15 & 17). The stark facade and glowing blue letters are easy to spot from a distance.
Not long ago, the owners took over a dilapidated building and re-did it in mod white, while keeping the sense of industrial grit. With the three floors, an outdoor space and a rooftop, this club would have felt at home in Brooklyn or Berlin.
Badmotel has a good reputation for bringing in the hippest DJs. That night, the crowd grooved to funk and mellow dance tunes from vinyl records.
There are often special exhibits on display, such as a pop-up photo gallery.
This picture says it all: Badmotel is the place to boogie on the weekend.
The delicious cocktails came in appropriately retro-hip glasses. Many were infused with Southeast Asian flavors like galangal, cumin powder and Thai tea.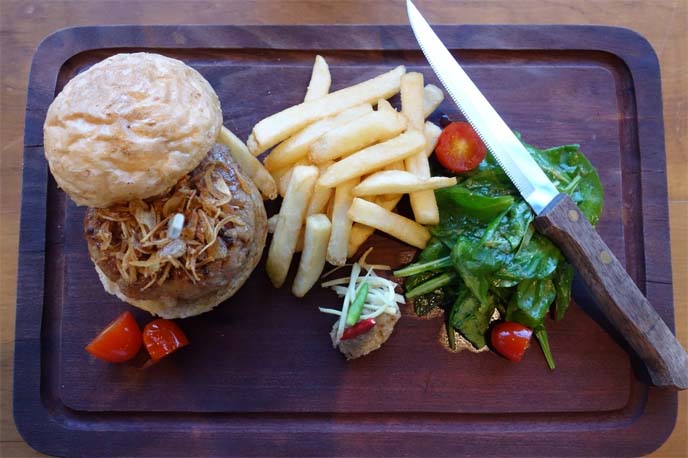 Tip: make a dinner reservation if you want to eat, since the tables fill up fast. The cuisine is regional with a twist, such as the burger with nham (Thai-style fermented pork sausage).
View from the top of Badmotel. I loved getting to know the young, urban Thong Lo nightlife and hope you'll witness it for yourself in Bangkok.
Seby and I also had a glorious view from the Sofitel So club lounge, where we stayed.
The lobby has a Mixo bar with unique cocktails, and The Water Club holds regular pool parties.
This hotel epitomizes the sleek, modern design I see around Bangkok, such as the 5 Senses light installation and giant chess pieces above. (I wanted to take this chess piece home.)
Sofitel So is decoratively divided into sections, inspired by the five elements. Guests can opt to change rooms in order to try each (above is Wood, obviously). Here are more photos of me modelling in the hotel.
The theme continues at the award-winning So Spa. I had a Serenity of Five Elements Thai massage, which incorporated bamboo sticks, hot stones and herbal compresses. Forever grateful to my masseuse, who worked out the kinks in my left shoulder.
Coming up: Seby and I get spiritual at a famous Buddhist temple.
Was Bangkok's club scene what you expected it to be? Did Moose Bar and Badmotel shake up your impression of Thai nightlife?