How to be a travel blogger & what to pack: best suitcases and bags. Off to Bangkok, Thailand with Seby!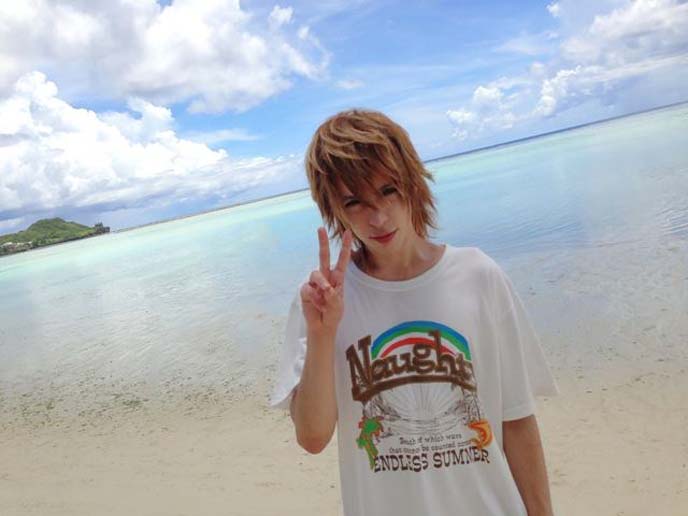 Time to pack and fly to Asia again. This time, my destination is… Bangkok, Thailand with Seby! (I like the sentiment of his t-shirt: "Naughty" and "Endless Summer.")
Everyone's familiar with Jpop and Kpop — but did you know Thailand also has exciting youth culture and street style? Thai Tourism is sending Seby and me to report on these trends, including a futuristic hotel, apothecary bar, and Gothic Lolita fashion boutique.
We'll work hard to bring you unique coverage of Bangkok, going far beyond the usual tourist attractions. If you have suggestions for places to visit, let us know. (I visited the city about 10 years ago, but so much has changed and I can't wait to rediscover it.)
Many of you have asked: how do I pack so many outfits for my trips? Believe it or not, I take only one suitcase with me. The trick is to plan ahead and bring travel-size products.
In this post, I'll break down the essential items needed for travel bloggers with a fashionable bent. These are items that I've personally used and road-tested, so you can trust these recommendations. To purchase the products, simply click the blue links below.
SUITCASE. From my experience, it's best to take a large, lightweight suitcase. Bringing only one case saves space in your hotel room, and make it easier to you get around. I prefer soft, expandable luggage (in case you go shopping and need the extra room!). Wheels and a pull-out handle are a must. If possible, try to get something colorful so that it's easier to find in baggage claim.
1. Samsonite Silhouette Sphere 25″ (Spinner Expandable) is exact suitcase I have. It cost $550 but has lasted me for years — better to splurge once on a quality case, than on a $200 one that quickly breaks.
2. Tumi Alpha Lightweight suitcase is also stylish and lightweight. Tumi is one of my favorite travel brands, and the cute bear logo is a plus.
3. Michael Kors rolling suitcase has sturdy wheels and a waterproof PVC fabric.
4. Tumi Voyageur is a smaller case, and ideal for short trips. The bright Art Deco flowers are chic and easy to spot.
PURSES AND BAGS. I usually only take one purse on each trip. Get one with zippers and pockets, and make sure it's big enough to hold your camera (and even laptop). For my favorite backpacks, keep scrolling down.
5. Sumo Laptop Purse is padded to protect your computer. With a pink trim, it's a lot more stylish than the typical laptop bag, and can be worn when you're out exploring.
6. Kipling Aleron messenger bag has lots of pockets and secure clasps. A fun, solid color like this one can contrast nicely with neutral outfits.
7. Forzieri red apple messenger bag merges cuteness with functionaltiy. It can match kawaii or Lolita outfits.
8. Alexander McQueen Heroine tote is sturdy, and the black color goes with almost anything. Make sure your purse has a solid strap or handle like this one.
DRESSES, BIG TOPS, LEGGINGS. Do these coordinates look familiar? These are my staples for travel outfits. The clothes below can be dressed up or down. Look for lightweight fabrics that don't require ironing, so that you can roll your clothing to save space.
9. L'ecole des Femmes "In the Mood Dress" is a fitted, wool black dress that is perfect for colder weather. With different accessorizing, this single item can work for a casual outfit, a formal event, or a club night.
10. Freak Of Nature Hi Lo Dress in Desert Rose Print is equally versatile. You can go sightseeing in it, then Goth up your makeup for a bar or party.
11. Miss Karmaloop The Scenario Dress is easy to layer; you can wear tights and a jacket if the weather gets colder. The black color also masks stains.
12. ASOS Swing Dress With Woven Drape Pocket has handy pockets and a relaxed fit, in case you ate too much pasta.
13. Freak Of Nature Let It Rock Lace Up Leggings. When I'm on the plane or train, I like to wear big t-shirts with leggings. That way, you're comfortable without looking like a sweat-pants mess.
SHOES. My travel filmmakers and I need to cover a lot of ground during our shoots. I always bring good walking shoes, but there's no need to sacrifice style and height.
14. Camper wedge sandals are great for warm climates. Camper is one of favorite brands (I wore them in this Dubai post). The neutral color and sturdy heel goes with many coordinates.
15. Underground x Long Clothing Comanndo Double Sole Ankle Boots. Even if you're not planning on hiking, it's important to have a good non-slip sole. These black ankle boots would match all the outfits featured above. (They have a shoe version too.)
16. Bess NYC Leopard Creepers are light and give some height. Leopard print adds punk flair, and can match a number of colors.
17. Dr. Martens Stud 8-Eye Boot in Metallic Silver. Docs are the tried and true footwear for Goths. A solid metallic color, such as silver, can match more items than a multi-colored pattern print.
BACKPACK. In addition to my large suitcase (see above), I bring a backpack as my "carry-on item" for the plane. Trust me, it's much easier to travel with a backpack than an additional small, wheeled case. Go for a quality one, or you'll end up with sore muscles.
18. Crumpler Dry Red #5 is the exact backpack that I carry. (Naturally, I decorated it with a few cute charms.) This pack has a compartment to cushion your laptop, and designed to protect your back. Again, a worthy investment that lasts.
19. Cargon 2.5 – Black Backpack Carry On Trolley has pull-out handle so you can roll your bag behind you. There's a zippered compartment at the bottom, with a padded laptop pocket.
20. UNIF Shredder Pack can double as your bag for going out. It's edgy, but also has lots of zippered pockets to protect valuables.
21. UNIF Black Pack Backpack is equally cool, and can be worn anywhere.
COATS, SWEATERS, JACKETS. Since outerwear tends to be bulky, I usually only bring one large jacket and use layering to stay warm. Avoid rigid, voluminous and structured coats; they're a pain to pack.
22. Fringed Leopard-Print Scarf. A scarf is a smart thing to carry around in your bag, in case the weather changes or you need to cover up (I've been denied entry to churches for dressing too scandalously!)
23. One Teaspoon Storm Rider Leather Jacket. Can't go wrong with a sleek leather jacket. Beware of heavily decorated and studded ones, as they can be heavy.
24. Halfman Romantics Miss Fur Cardigan. I like to layer with a sweater or cardigan. This one is easy to keep in your purse, and can match many outfits.
25. White faux fur coat. This will keep you warm, without complicating your packing. This store carries a Lolita coat too.
MAKEUP AND BRUSHES. For convenience, I bring compact brush kits and palettes. (Loose minerals and powders get messy, and it's difficult to find products when they are jumbled up in a bag.) Stick to the highest-quality cosmetics and neutral colors, but don't forget red lipstick. Invest once in a good set of makeup brushes, and you're set for a decade or more.
26. Travel Brush Set – Chantecaille has all the basics for your eyes and face. The shorter handle helps save space.
27. NARS eyeshadow set contains 6 shades, a travel-size Eye Shader Brush, and a medium base. Perfect for building smoky eyes.
28. Laura Mercier 'Signature Color Essentials' Travel Set. I'm a big fan of Laura Mercier, and this kit has flattering colors for your cheeks, eyes (including mascara) and lips.
29. Bobbi Brown Caviar and Oyster Collection is a fab 7-piece brush set. I used travel-size products in day to day life as well, so you only have to purchase one good set.
30. NYX 'Beauty To Go' Kit contains 47 eyeshadows from matte to glitter, glosses, concealers etc. in a fold-out package.
31. GloMinerals – Deluxe Holiday Kit is an excellent option for sensitive skin.
HAT AND SUNGLASSES. On lazy days, you can still look fashionable by covering up your bad hair and tired eyes. Big sunglasses are always in season. I usually take only one hat, since they can be hard to pack.
32. Eric Javits Maribel Cutout Sun Hat has a lovely cut-out brim, and is similar to the one I wore at Art Deco Weekend Miami.
33. Swinger Large Brim Sun Hat has a nice contrast, and accessorizes well with black or white garments.
34. Tom Ford Malin Cat-Eye Sunglasses, Havana Big. A large, cat eye shape is flattering for most faces.
35. Karl Lagerfeld round glasses. Such a fun shape, and it's worth splurging on designer brands.
36. Kenzo big round acetate sunglasses. These black frames add flair, and match most skin tones.
I hope you found these fashionable packing tips helpful! Above is an example of my tricks in action: big cat-sunglasses, leather jacket, black clothing that can be dressed up or down, red lipstick, and ankle boots that are good for walking.
Do you have any packing strategies? Leave a comment to share them with me! You can also learn more about the items I recommended by viewing the links above.
See you in Bangkok, Thailand! Lots of travel blogs to come (above is an outtake from Montreal). You can see previews on my Twitter and Instagram. Looking forward to hearing your suggestions.