Jpop Fruits fashion: street style magazine modeling in Tokyo. Nakano Broadway neighborhood.
Guess what — I'll be in Asia again soon! Can you guess which city? It may not be where you expect… but I promise, there will be lots of cute, poppy street style reports.
I'm already getting into the spirit, as you can tell from the bunny ears. Here are more photos from my Adone Magazine cover shoot in Tokyo a few months ago.
I had a great time posing in game centers and anime shops. This geeky neighborhood is Nakano Broadway (do you remember the monster-dancing video Yukiro and I made about it?)
Huge hugs for my Tokyo-based team: photographer Said Karlsson and Hair by Kukukachoo.
They were wonderful to work with; full of creative ideas and energy. The shoot went by fast because we were laughing the entire time! If you're looking for a professional photographer and hairstylist in Tokyo, I hope you'll give them a ring (they speak English and Japanese). Take a look at Said's site to see more of his images and contact info.
Are these Shinto torii gates? Nope, this is the entrance to Mandarake, the famous Nakano manga and toy store.
Near the subway tracks, there's a long mural filled with cute colorful art, such as this bunny. Since I look a bit like Alice in Wonderland, I thought it would be appropriate to chase him.
I love the pop-rainbow Fruits Magazine feeling of this district. Kukuachoo made these hair extension flowers entirely by hand!
My pirate creeper shoes and bunny-eared hoodie are by Peace Now, the Japanese alt-Goth brand that is sadly no more.
We found a mysterious door, leading to a secret garden.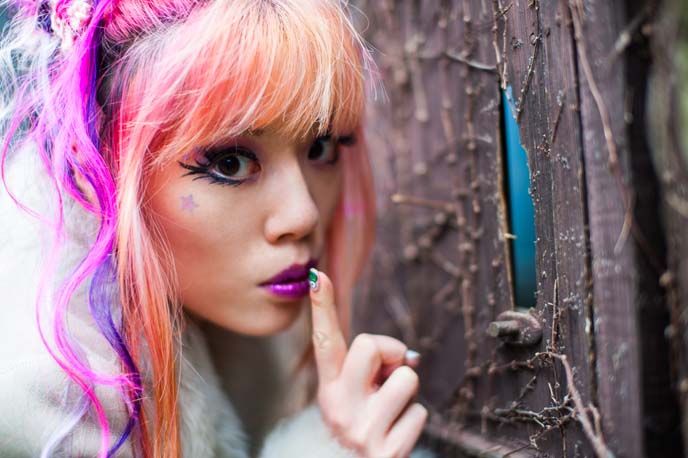 What lies inside? I'll never tell…
I can't resist jumping shots. The street filled with signs made the perfect backdrop. When the sun begins to set, the "golden hour" for photography begins.
My outfit details:
White lace sleeveless dress: Liz Lisa, the gyaru brand
Black booties: Michael Kors
White long coat: Camden Market London.
Me and my lantern. Nothing beats night-time photography in Japan.
This long, white fuzzy coat is among my favorite wardrobe items. It reminds me of the iconic one worn in the film, Last Tango in Paris.
My hair color and personal style are constantly changing… but there's always some kawaii, underground and J-pop influence in there. You can see my evolution over the years in these photos.
More images from this photoshoot are posted here. What do you think of my pink hair? I only had it like this for a short while because the color washed out quickly..
And where in Asia do you think I will be next? Leave a comment with your best guess!