Maldives travel video: Pirate Style! Five star resort Gili Lankanfushi restaurants, wine cellar & chocolate.
I'm pleased to present my travel team's latest video… about our Pirate adventures at Gili Lankanfushi in the Maldives!
We've come a long way with our filmmaking, and are very proud of this latest episode. Won't you please take a second to watch?
I wrote an article about our Maldives experience, which you can read on Business Insider. My filmmakers and I put enormous effort on this, and we would hugely appreciate your support via a Like or Share (click below).
In the jungle, the mighty jungle… La Carmina wore:
Oversized polka dot sunglasses: Marc by Marc Jacobs (a present from Seby)
Bat strapless dress: gifted by Sourpuss Clothing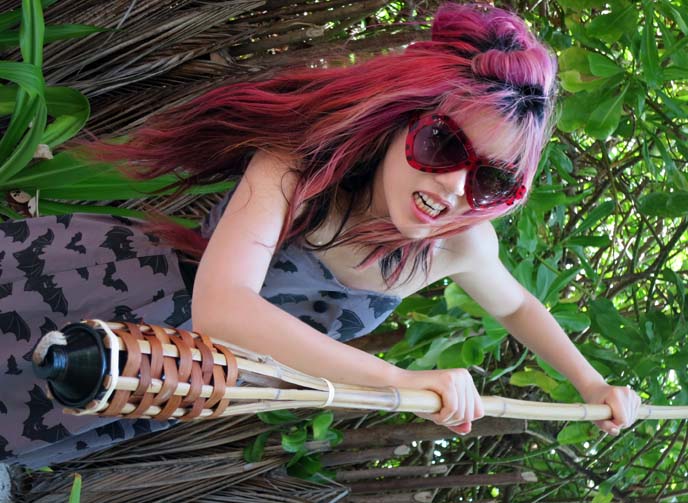 This award-winning resort keeps everything eco-friendly, including the torches that illuminate the paths at night. (Don't worry, there aren't any wild animals roaming about.)
The natural design of Gili Lankanfushi's wine cellar is astonishing.
In the center: a table made from a huge piece of driftwood that washed up during the 2004 Indonesian tsunami.
I raise my glass to the extensive wine selection.
The resort's sommelier walked us through a five-part chocolate tasting, paired with wine. The lemon truffle and Hungarian tokay were standouts.
What a dream, to be able to experience places like The Maldives and make travel videos with my friends! All these island photos and video are by the ultra-talented Melissa Rundle and Eric Bergemann.
Each day, we ate lunch at the Overwater Bar and Grill. Baby sharks circled the waters below the restaurant.
As you'll recall from my previous Maldives posts, the water jugs are for washing your feet of sand (since going around barefoot is encouraged).
Located in the Indian Ocean, the Maldives Islands are known for their seafood, especially hand-reeled skipjack tuna. The sashimi was out of this world.
You could have fresh-grilled job fish, prawns or calamari. Or how about all of the above?
Too many organic, fresh salad dressings to choose from.
My plate ended up looking like this. Nothing like tropical fruit, seafood and salad for the summer.
Thank you to the kind staff at Gili-Lankanfushi for having us. To learn more about this paradise on Earth, take a peek at their website.
What do you think of our latest professional travel video? Did you laugh at my tennis-playing failure?