Montreal Goth alternative travel: Canadian art & magic! Grover artist studio, musical swings & pink balls.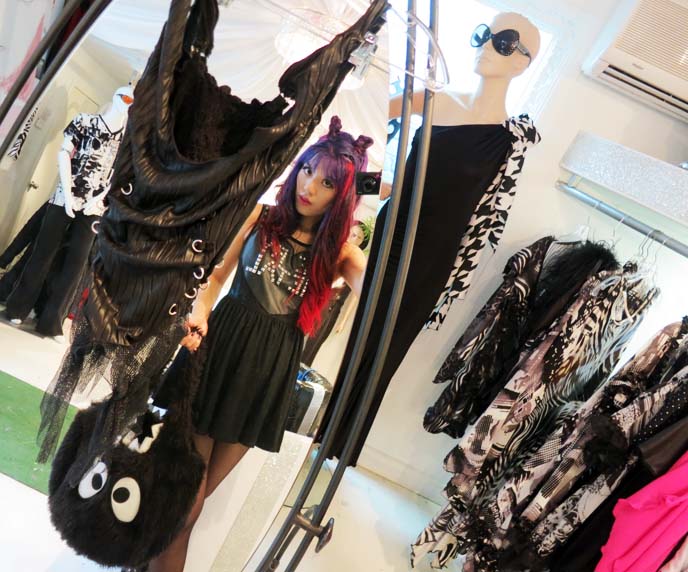 Can you believe — I haven't traveled anywhere in Canada (except Vancouver) for almost ten years? Bad, bad. There's so much to coolhunt in my home country, especially in dark and artsy Montreal.
I made up for this void with a press trip to cover Kinetik Festival and the Goth-alt-art scene in Montreal. For those who need a refresher in Canadian geography, this bilingual city is on the East side of Canada, in the French province of Quebec. I've only been here once, for a few days as a pre-teen, and don't remember much of it.
Montreal and Canada Tourism make it possible for me to re-discover the city, and share my journey with you. They flew in performance artist Lauren, now located in NYC, to help with photos and videos. We stayed at the Hôtel de l'Institut downtown.
In recent years, Montreal has gained hip comparisons to Berlin and New York. The food's great (as Anthony Bourdain professes), and there are many alternative events such as Pride or Fierté, coming up in mid-August.
For our first day's outing, I wore the bedazzled light-up eyepatch Cat Morley made for me, in her Crafter to the Stars series. She perfectly captured my Pirate-cute aesthetic!
Very Metal dress: GladNews, from Shibuya 109 (see photos of this Tokyo gyaru department store)
Studded black motorcycle boots: Yosuke, from Shibuya 109
Black sheer ruffle jacket: Ozz Croce, from Closet Child Tokyo
The tourism board set us up with a guide, who browsed my blog and gave us "a walk on the dark side." In addition to Montreal's main attractions (the Market, the winding metal staircases), we drove down graffiti-covered streets and saw Goth churches converted to apartment buildings, complete with belltowers.
We passed Theatre du Creation, an experimental theater that has yet to open its doors.
"Whoops!" said our guide. He remembered a white magic shop that he once walked past, and thought it would be the perfect place to take us.
He was right. We were charmed by Charme & Sortilege, seller of all things "sorcellerie, wicca, ésotérisme."
Lauren and I browsed the silver jewelry, candles, books and skulls. A wall held a rack of hooded robes.
Don't I look like a character from The Craft?
You know you're in a "magie blanche" boutique when there's a white cat prowling around. Note the brooms in the back!
Next, our guide drove us to an art collective: Ateliers Grover on rue Parthenais. (The winding metal staircase in the background is a typical feature of Montreal houses, and a slip-hazard for mail carriers in the winter.)
Follow the cats, painted on the walls, and you'll arrive at the artists' studios.
A quick stop in the coffeeshop. Do you like my new hair? My stylist, Stephanie Hoy at Avant Garde Studio Vancouver, gave me a dark purple to red ombre color. The "alien antenna" hairstyle is inspired by Jpop star, Kyary Pamyu Pamyu.
The locals are generally bilingual, so you won't have any trouble ordering in either English or French. (As some of you know, I'm fluent in French — a fact officially certified by the tourism board!)
We visited several artists working in their Grover studios. Two big, woofing dogs welcomed us into this ceramic-worker's space.
An epic arrangement featuring Edward Scissorhands and teeth. We filmed a travel video about our adventures, so stay tuned for the footage.
When we walked into the Velvet Moustache workspace, we knew we were in the right place.
These handmade, stuffed animal pillows are as cute as anything you'll find in Japan. You can find their toys, charms and sleep masks online, and they'll be selling crafts in Vancouver this November.
Montreal is wonderfully supportive of public art projects. Without telling us what to expect, our guide took us to Sainte-Catherine Street East, aka the Gay Village. What a delight to see 170,000 pink balls (Boules Roses by Claude Cormier) strung in rows above the road.
We also swung by "Les 21 Balançoires," a large-scale art installation featuring seven sets of swings outside the Quartier des Spectacles.
As you sway back and forth, sounds play to match the movement. The notes change, depending on your height, speed and position. (Here's a Vine video of my friend in action.)
On the way back, we stopped by Morisset, an indie-rocky clothing store. My purse is by Hyoma from Izzue Hong Kong, and I want this mirror because it makes me look six feet tall.
More Montreal on the way, including vintage stores, bagel tastings and the Goth-Industrial festival Kinetik. I created a new Alternative Canada category; I'm determined to write more about my home and native land!
I leave you with my pastel Goth Kuromi nail art by Glam Nail Studio. You can see more cuteness on my Instagram and Tumblr.
Have you ever visited Montreal? What do you think of my Kyary alien hairstyle, and did you miss my red color?