World's most lavish hotels! Photos inside Burj Al Arab, Dubai 7-star sail & Jumeirah Skyview bar.
Thanks for your kind words about my appearance on Discovery & Science Channel's Oddities! If you missed my episode (where I "purchased" this elk head), you can see the TV show clip and bonus photos here.
In the Oddities segment, I talk about my work in journalism and coolhunting worldwide. On last month's Middle Eastern adventure, I got to fulfill a travel goal… visiting the famous sail-shaped Burj Al Arab hotel in Dubai.
My film team and I started at the Souk Madinat Jumeirah, a cluster of restaurants and shops near the Burj Al Arab. We thought we could get some traditional food and shisha here…
… but were sorely disappointed, as this turned out to be a Disney-Vegas take on an Arabian market. (Skip this place, and visit Dubai's gold and spice souk instead; photos and info here.)
On the bright side, we got a great "establishing shot" of the famous hotel, lit under a crescent moon.
We took a cab to one of the most expensive hotels in the world (the Royal Suite is $18,776 per night!). Inspired by the curve of a dhow (Arabian boat), the Burj Al Arab is considered the symbol of Dubai.
Regular tourists can't simply walk onto this island. You must be a hotel guest, or have a restaurant or bar reservation, in order to make it past the security gates. We chose the cheapest option (drinks at the Skyview Bar), which requires a minimum spend of $70 per person.
But it's worth it — this is Dubai, and the world's only (supposed) 7-star hotel! When we entered the lobby, my filmmaker Melissa exclaimed, "It's like Donald Trump on steroids." Designed by Tom Wright, with interiors by Khuan Chew, the concept is Arabian Technicolor Palace Dreams.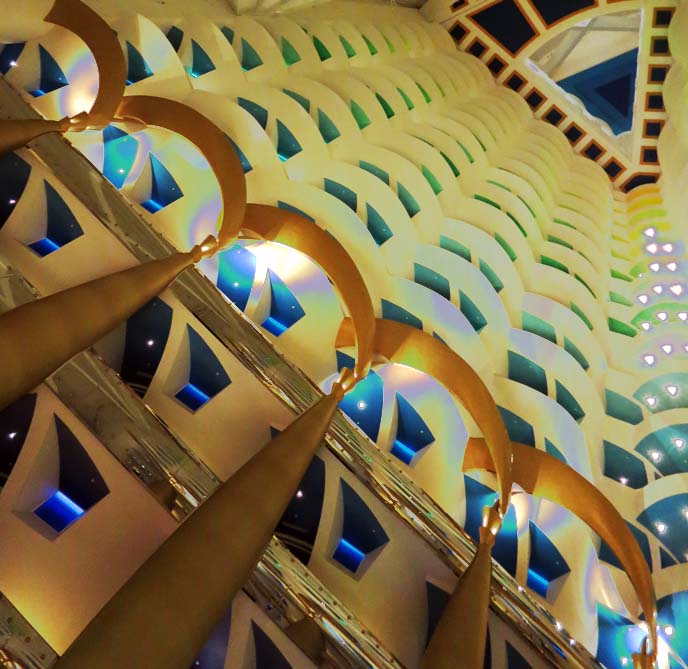 Take the elevator next to the aquarium, and look up. Vertigo.
In Dubai, brunches are big social occasions. Fridays and Saturdays are holidays here, and since alcohol is a no-no (unless you're in a hotel), brunch is a way to get decadent.
But we were here for cocktails. We took the elevator to the Skyview bar on the 27th floor.
"It's like a 90s music video," exclaimed Melissa. Circuit boards and cyber lights, and a grandiose view of the marina.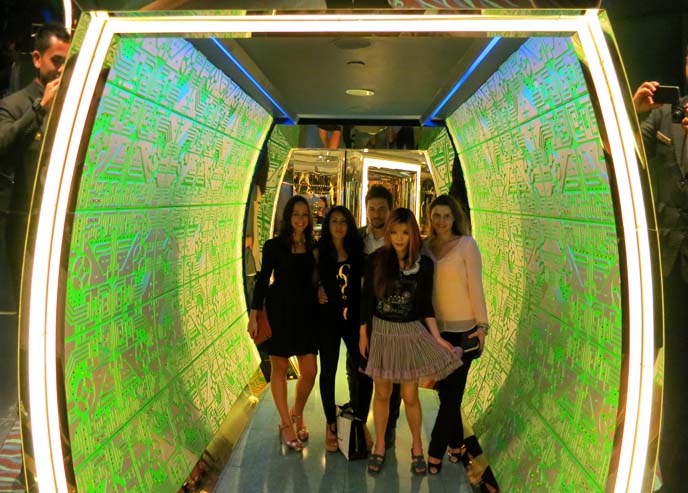 We enjoyed drinks with Barbara of Elle Magazine, and Georgina of Etoile La Boutique (I'll show you this fashion heaven soon). The cocktails were inventive — one had wasabi inside — and the bar's atmosphere was from another planet. (Consult the Burj Al Arab's website for reservations and dress code.)
I leave you with a few screencaps from my Oddities TV guest spot. My Goth-Victorian hairstyle looks a bit like mouse ears.
Watch the clip carefully, or you might miss the caption about my celebrity earless cat! You can see my TV reel and other appearances on my bio page.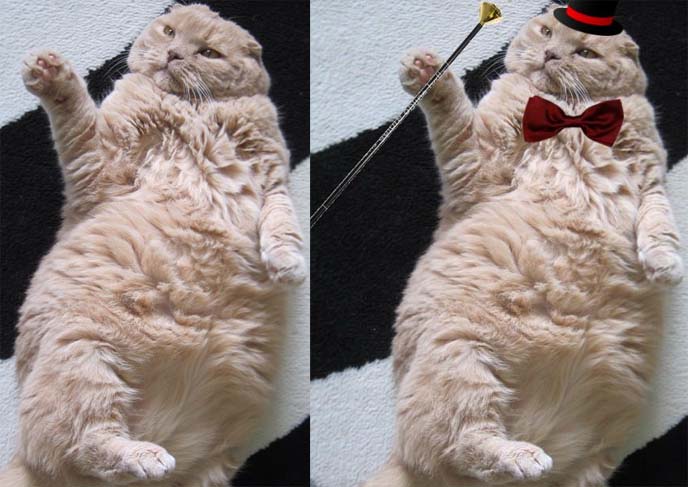 Have you heard of the Burj Al Arab hotel in Dubai? What do you think of the interiors, and do you think it deserves the seven-star rating?
PS: thanks Fashion Indie for interviewing me about personal branding, the reality of travel TV hosting, and how bloggers can get into television. I hope you find my advice helpful.