Cute animal cakes, Japanese patterned tights & Kyaru Pamyu Pamyu makeup: Shinjuku Studio Alta.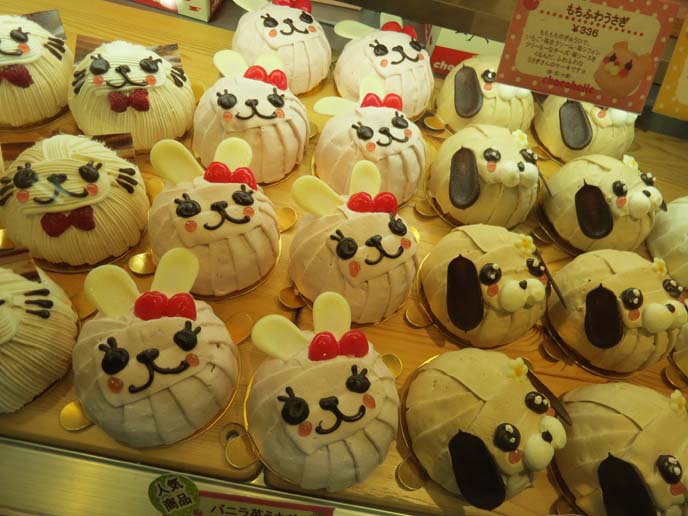 Kawaii bento-making isn't as popular as it was a few years ago, but cute decorated food is still all over Tokyo. What else is currently trending in Japan?
In this post, I re-visit Shinjuku Studio Alta, the gyaru-alternative shopping complex near the station's East Exit. Keep reading for neon-haired Japanese shop girls!
Let's start with cute cakes. These bunny, cat, puppy and teddy bear pastries are sold inside the Swimmer shop, in the basement of Alta. While Swimmer has a few locations, I believe this is the only one with kawaii baked goods. (Compare these images to the Swimmer Studio Alta photos I took in 2011.)
For those who enjoy cooking, these cherry and chocolate print aprons are a nice gift.
Swimmer is all about pastel, animal-faced pens and accessories for the home.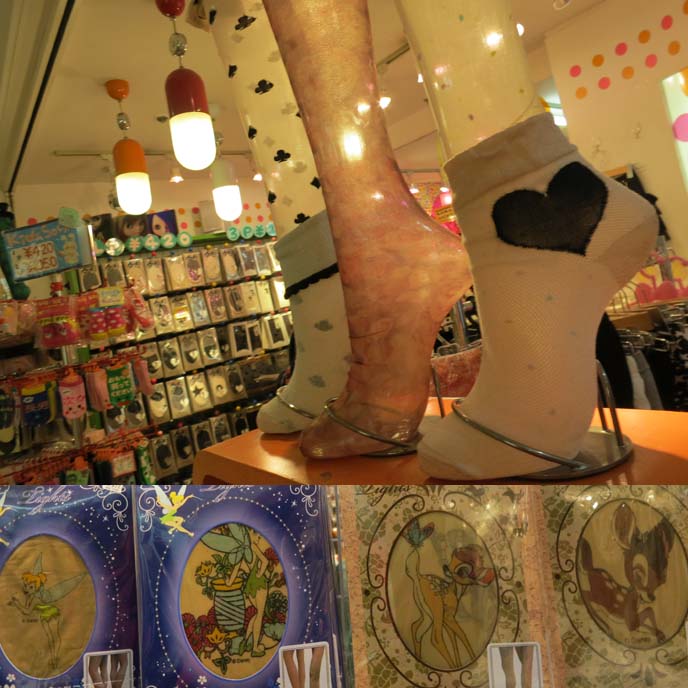 One of the biggest trends in Tokyo right now: patterned or tattoo tights. The prints are colorful and intricate; Disney even got into the action.
Pop star Kyary Pamyu Pamyu is everywhere, and her color contact lenses are big sellers.
Liz Lisa remains a favorite brand for girly types. (More photos of this brand in my Yokohama Vivre store pics.)
Cats will never go out of style. Not while Hello Kitty's in charge.
Scary meets cutesy in many of the accessories.
I always stop by Fernoppa. The shop girl is very friendly and her rock-Goth coordinates are impeccable. (See her outfit photo from 2011 here.)
Lady Gaga might go gaga at the studded bras, chokers, and giant leopard print bows.
Algonquins hasn't changed much, but it's not a bad thing. They've got their punky Gothic look down.
Quite a few stores sold large cross necklaces, and items with pentagram symbols.
Electro neon. The 1980s are alive.
One of the upper floors sells costumes and fabulous accessories. For some reason, the mannequins were dressed like LFMAO.
Impressive wigs. Wouldn't it be nice to have hair like on the right?
For more photos of Shinjuku Studio Alta, take a look at my previous shopping trip. Address: 3-24-3 Shinjuku.
Finally, a reminder that I have a La Carmina Tumblr. My posts are also translated into Spanish on my Tumblr en Espanol. Sigue (follow) the two Tumblrs for daily inspiration.
If you want to see more Scottish Fold cat photos like this one, I invite you to add our Facebook page.
I'm currently in Dubai and the Maldives: for a sneak peek at my adventures, add my Instagram, Pinterest, Twitter and Google Plus.
Thanks for reading and supporting!