Cover of Adone Magazine: Japanese street style issue! Girly gyaru Liz Lisa dress, Peace Now shoes.
I'm honored to show you my latest photo editorial, which made the cover of Adone Magazine, released today!
Huge hugs for my Tokyo-based team: photos by Said Karlsson and Hair by Kukukachoo.
"ADONE presents our newest issue: Street. We explore this theme with content that is original and not mass-produced, with a feature on the Punk style in this year's Met Gala and an interview with subculture queen, La Carmina." The issue is available digitally; you can read it via Adone's website.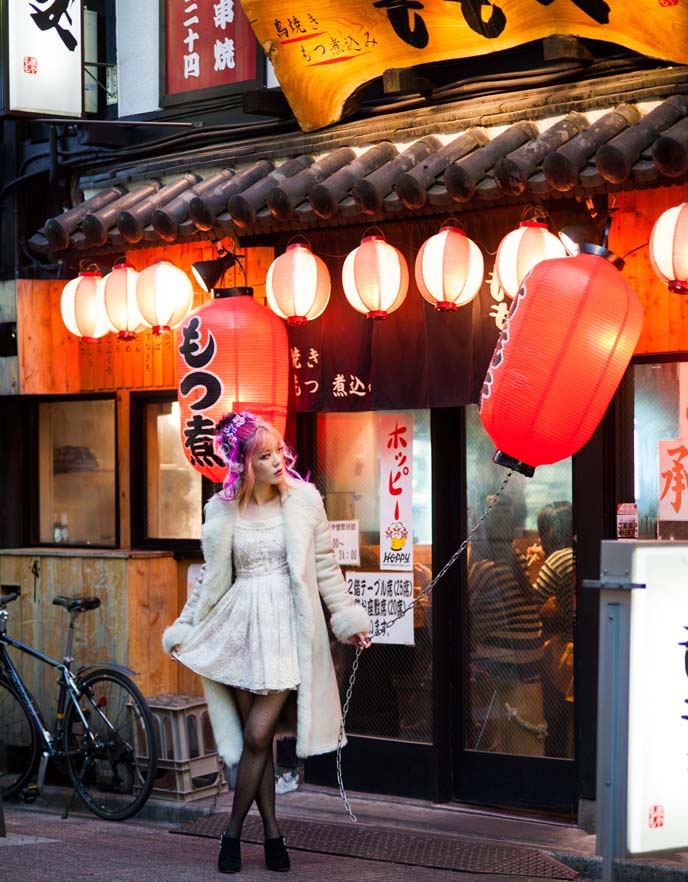 We shot these images in the streets of Nakano, an anime-culture neighborhood that's a five minute subway ride from Shinjuku. Said's photography comes to life as the sun is setting, and lanterns are glowing.
White lace dress: Liz Lisa, Japanese gyaru-romantic brand
Black heels: Michael Kors
White long coat: from ages ago, in Camden Market London
I loved working with Lulu Kukukachoo, a freelance professional hair stylist specializing in avantgarde, extensions and cuts. She made these hair flowers herself, out of colorful acrylic strands! Lulu's skilled at everything from basic cuts to editorial works of art. If you need a Tokyo hairstylist, I hope you'll reach out to Hair by Kukukachoo.
(Capturing a natural moment: I'm talking to Seby in these shots above.)
In front of Nakano subway station, north exit, with my ultra-cute Luxy Loli phone case.
Such fun to shoot in Nakano; there's anime, manga and video game culture everywhere. I peered into a crane game machine.
We darted into a Broadway retro video game center for this shot. My baby-blue lace dress is Liz Lisa x My Melody, bought in Shinjuku Studio Alta.
Lulu took a few behind-the-scenes shots. Said also runs Tokyo Faces, a Japanese street style photo-blog updated daily.
The rainbow mural, dotted with animals, made a nice backdrop for this outfit (notice my bunny-eared hoodie, by Peace Now).
Lacing up my Peace Now pirate creeper shoes. I'm still sad that this Japanese brand closed down.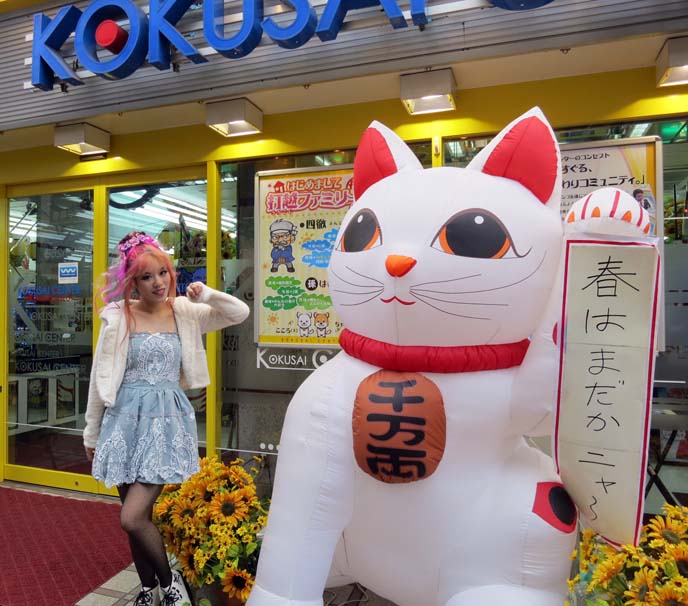 I leave you with a casual snap with an inflatable maneki neko, outside a Nakano pachinko parlor. Enjoy my full Adone Magazine photos and interview — kudos to my hair and photo team for the beautiful work!
PS: arigato to
– Heather On Her Travels, for interviewing me in a travel podcast. I shared my favorite food, activities and tips for visiting Tokyo.
– My Destination for the Big Blogger Interview. We talk about cats, costumes and keeping things cool on the road.
– Style In View, an addictive fashion search engine, for inviting me to curate a vintage alternative collection.
What do you think of my colorful-girly-pop look these days? Did you enjoy these street style images? I'll post more from this series soon, and unveil yet another magazine cover!