Alice in Wonderland theme bar: Taboo Hong Kong. Socialito Mexican restaurant, Caffe Habitu Central.
Hong Kong is foodie heaven — and there's much more to the local scene than dim sum. Spooky friend John Skeleton and I swung into Central's hottest restaurants and bars to get the scoop. Read on for tacos and tattoos!
Hong Kong doesn't have much of an alternative bar/club scene, but the recently opened Taboo (G/F, 16 Arbuthnot Road, Lan Kwai Fong, Central) is changing the story — Alice in Wonderland style. (2017 UPDATE – sadly, this bar is now closed!)
John: "Stepping from an old-fashioned apothecary lined with "poison"-labeled glass bottles through a keyhole-shaped portal, you find yourself in a world where everything is, quite literally, topsy-turvy. From the paintings on the wall to a fireplace and grand piano(!) mounted on the ceiling, Taboo will have you wondering just what that bartender put into your cocktail."
John: "And wonder you might, as the artisanal cocktail craftsmen employ a smoke-generator (for infusing their own twist on the "Old Fashioned") and bubble-maker to create a frothy foam, making the bar look a bit like a stylish version of Dr. Frankenstein's lab."
We enjoyed the molecular cocktails, but our favorite drink was the "Lucky Star." Flaming absinthe and spiced rum, garnished with a round slice of lime. They should re-name it the "La Carmina," no?
John: "For those feeling adventurous, one can descend from the white wainscotted upper floor to the black-and-red burlesque inspired lower chamber, where scandalous artwork and a shower for exotic dancers let you know that you have plunged into another world of decadent delights."
Hopefully, Taboo can fill the much-needed space for alternative and LGBT club nights. Come by, say hi to the bartenders for us, and order a "Lucky Star"!
Thoroughly buzzed, we walked to the nearby Socialito (G/F, Shop 2, The Centrium, 60 Wyndham St., Central).
John: "According to the establishment's Facebook, "Socialito" is "a Mexican slang expression used to describe a place where people get together to eat, drink, play and socialize." Take that, make it classy, add a dash of nightlife cool and top it off with a fantastic Mexican menu and amazing artisanal cocktails that will have you reeling by the end of the night, and you have Socialito, a hip restaurant with both an outdoor taqueria and candle-lit interior in Hong Kong's stylish downtown area."
Yes, we're eating Mexican food in Hong Kong, and it's as flavorful as anything I've had in Mazatlan. Outside, we sat on stools and inhaled soft tacos with deep, balanced spices. Inside, we were treated to tuna tostadas, and grilled salmon with green pumpkin seed mole.
John: "The "Don Old Fashioned" was a masterful twist on the traditional cocktail, replacing the whiskey/bourbon with Don Julio tequila and served with dissolved sugar, bitters, and a twist of citrus rind. Transforming into a nightclub after 11 PM, Socialito lives up to its title in providing a place for those so inclined to enjoy a hot night on the town. Muy caliente!"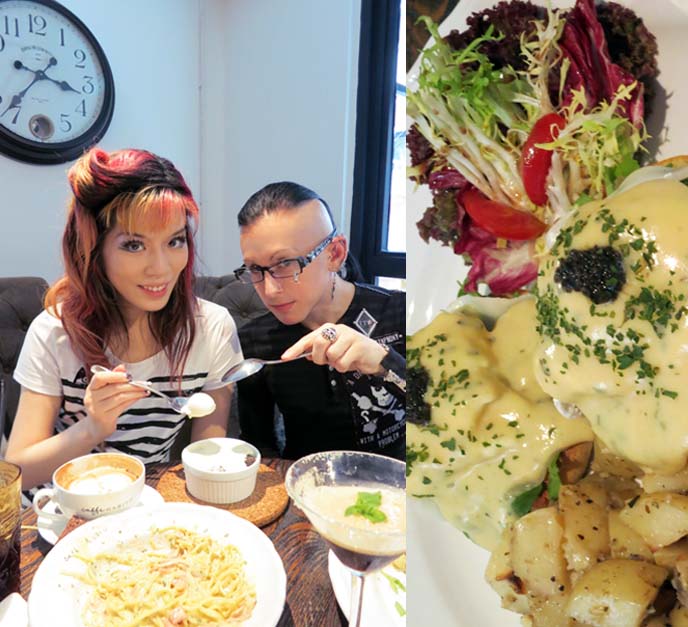 Enough food for one day? No way. I introduced John to my favorite Hong Kong cafe, Caffe Habitu. There are multiple locations, but the Lan Kwai Fong branch is the only one with coffee cocktails. (Room 101, Tak Woo House, 1 Wo On Lane, Central)
In a frantic city like Hong Kong, Habitu is an oasis. The warm boutique space is ideal for meeting friends or working (hooray for high-speed, unlimited WiFi). While unfussy, the Italian-style food is of highest quality. Caviar eggs benedict… warm chocolate lava cake enveloping a pear… and the best creamy pasta carbonara John has ever had.
The java and alcohol creations were a treat, and the imported coffee get a cute twist!
I'm posing with a Nepalese boy's skull, and wearing a T-shirt dress by Toro x mandycat, from K11 mall in Hong Kong. Note the cat face peeking out at the top. Mr Skeleton's naughty tee is by The Saints Sinphony.
Were you surprised by Hong Kong's food scene, and tattoo art? Which of the dishes made your mouth water the most?

PS: For updates and free goodies, I invite you to join my mailing list (below).