CUTE JAPANESE NAIL ART DESIGNS: BLING NAILS SALON, VANCOUVER CANADA. GLITTER BIO SCULPTURE GEL TUTORIAL.
I'm a nail art addict. If you've been following my blog or Twitter, you'll know that I love to create my own DIY designs.
But there's only so much you can do at home. For special occasions, I head to Bling Nails in Vancouver, Canada. Here's a step-by-step look at my fingernail transformation. (Bone hair clip and heart necklace gifted from SassynPunk.)
Did you know there's a huge variety of pro products and techniques? I avoid acrylic nails because they have to be filed off, and weaken the nail's surface. I like Bio Sculpture Gel: it's free of harmful chemicals, and keeps the underlying nail healthy.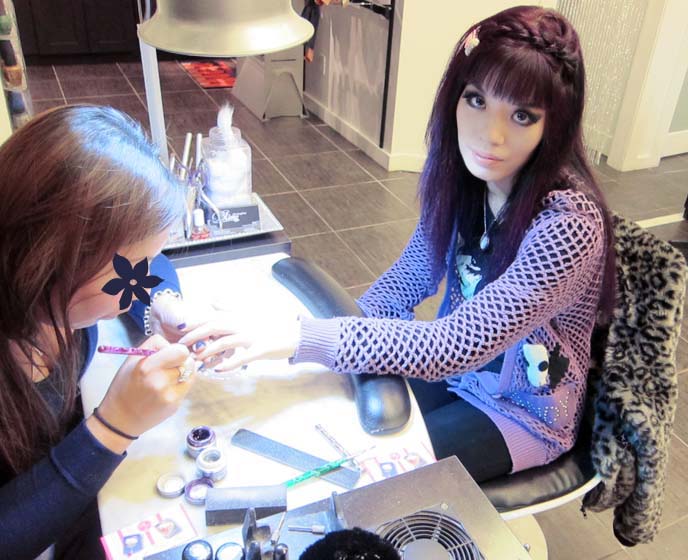 Bio Sculpture Gel doesn't chip off like regular polish, so your manicure is perfect for a month or more. To remove it, return to the salon and soak your hands in a special solution.
Purple skull sweater: Candy Stripper, from Closet Child Tokyo.
My nail technician (also wearing Bio Sculpture Gel) preps my nails and cuticles. She paints half of the nail purple, and the other half sparkly. I put my hands under a UV light for a few minutes, to set it.
Next, she carefully arranges gems on the nail, securing them with glue. A top coat for shine, and I'm done.
The process takes about an hour, and I ask a lot of questions along the way (I'm so curious about nail art techniques, and learn something new each time!)
A month later, my nails are still in A+ condition. You can see the growth at the bottom, but there's no chipping and the glossiness remains. Yah-tah-tah.
Have you ever gotten your nails done at a salon? Did you try fun designs, or long-lasting products like acrylics? How did you feel about the experience?
PS: I'm currently traveling around Italy (Modena with DNR, Rome, Florence for Luisaviaroma) — I invite you to keep track of my updates via Twitter.
Album of the Day: Nine Inch Nails – The Downward Spiral

❤ Smiled at this post? Please give it a Like (below) ❤