MEXICAN SKULLS & SKELETON ART: CATRIONA STATUES, CALAVERAS. MAZATLAN ART WALK, NIDART LEATHER MASKS.
Every sunny destination has a dark side. Case in point: I was in Mazatlan, Mexico for Day of the Dead.
The press trip included an Art Walk in the Historic District. Oh, the spooky art I encountered!
My favorite local gallery was Nidart, known for handmade leather masks. The curving forms and facial expressions are one-of-a-kind.
Secret garden in the back, framed by animal and devil masks.
What a treat to see the artisans at work. One of the journalists bought this Pirate, for only US $90.
Sunglasses: gifted from Erica Anenberg
Sundress: gifted from Sourpuss Clothing (note the skull and crossbones print! I also wore it in Venice, Italy)
Big sunhat: from a Hong Kong street stall
I pressed magenta glitter on top of my lipstick, for a candy-sparkle shimmer. I extended my liquid eyeliner outward, so that it peeks through the hole in the sunglasses.
Death is everywhere… in local galleries, on the wall of Angela Peralta theater. And she's never looked better.
Despite the dark themes, the art feels uplifting. The colors and active poses reflect the Mexican folk view that life and death are balancing forces.
This idea's expressed in the Catrionas, or elegant skeleton ladies. You'll see more in my travel videos and Dia de los Muertos coverage, coming soon.
At the end of the art tour, we took a much-needed stop for handmade sorbet. Guava and tangerine. Yum.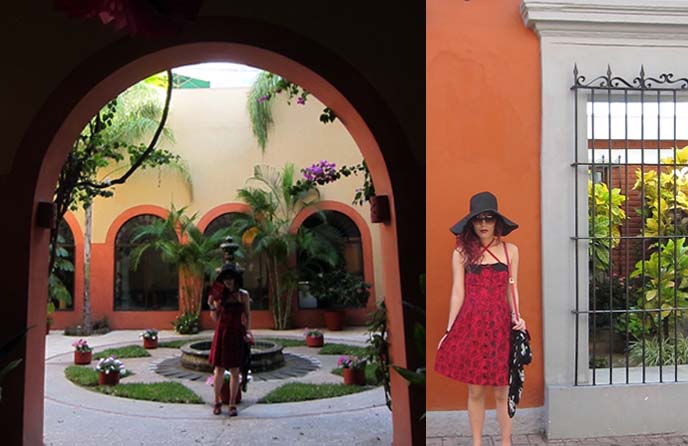 Have you ever been to Mexico? Do you collect art, or memorabilia of any kind? If so, what?
PS: I'm glad you enjoyed my holiday gift guide. Can you guess what my fat cat's getting for Christmas? Maybe another cat stroller if he's nice, or a crib if he's naughty…
Song of the Day: Morbid Fancy – The Incident
❤ Felt inspired? Then give the post a Like (below). ❤