CLUBBING IN ROPPONGI TOKYO: NEW LEX EDO, JAPAN VIP MODELS NIGHTCLUB. ALICEANDTHECAT MANGA DESIGNER & ILLUSTRATOR.
Notice anything different about my blog? I have a new banner (look up!), designed by my ultra-talented friend Alice and the Cat.
Last month, Seba and I presented a party at Roppongi nightclub New Lex, where Alice exhibited her artwork.
When I'm in Tokyo, I get "hair sets" at Kabukicho hair salons (which cater to hostesses and gyaru). If you're connected, prices are as low as $20 per style. The hairdressers use a ton of hairspray and are unbelievably fast-fingered — this up-do took less than 20 minutes.
Cyber Wa dress: Ozz On, from Closet Child.
Mary Jane shoes: Leche by Yosuke, from Marui One Shinjuku
Mistress Maya and I went to the party together. She's hot in pink, and brought along a little riding crop to dole out punishment.
With the artist, Alice. A giant poster of her work hung outside the club.
She also designed my new landing page, found at www.lacarmina.com. Don't you love how she drew my Scottish Fold cat Basil Farrow?
I love the energy of her Japanese manga-style drawings, especially the girls' flowing hair and sparkling eyes.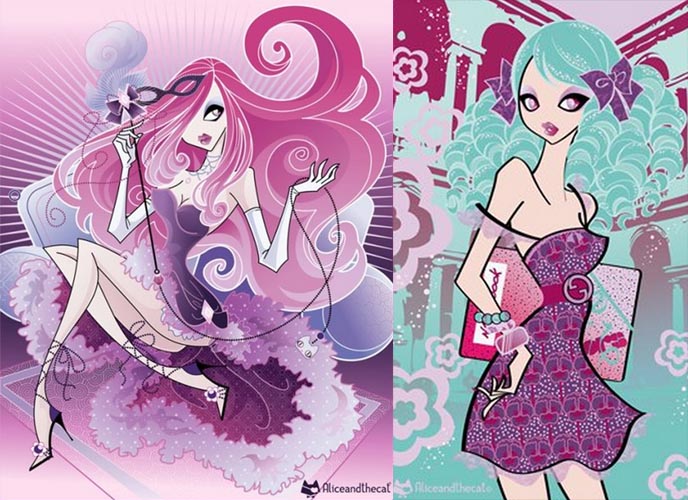 Alice is from Milan but currently based in Tokyo. She's open to projects and commissions; contact her if you have ideas!
Perhaps you remember these illustrations inspired by Seba and La Carmina.
With the lovely ImagePlay DJs, and New Lex owner Masuda.
New Lex is always busy and filled with models. It's one of the most exclusive clubs in Roppongi.
We had a crazy time in the VIP section… can't tell you exactly what happened, but boy-blood was shed.
Have you ever gone clubbing in Roppongi? What do you think of my new blog banner and landing page graphic? You can see more of Alice's artwork on her website.
PS: Thanks Zagat for naming my Death Cookbook goth cooking show one of the best on YouTube. And to Anime.com for reviewing my cookbook Cute Yummy Time.
Song of the Day: Cher – Strong Enough (Why didn't they have this song when we went to karaoke?)
❤ Smiled at this post? Please support with a Like (below) ❤