VENICE, ITALY ROMANTIC TOURISM: VISIT CANALS, GONDOLAS, VENICE BIENNALE ART ATTRACTIONS. SOURPUSS RED DRESS.
Venice, Italy can be frustrating. You build up a mental picture of suave gondoliers — and get pudgy tourists and Disneyland lineups instead.
But then you duck under a stone arch, and there's a crumbling Gothic church. Wander off on a side path, and you find a trattoria glowing with candles. The light shimmers from the water, the docked boats creak, and sigh — Venice still has its magic.
Having Casanova as your companion also helps.
La Carmina is wearing a "black heart" dress gifted from Sourpuss, and a wide-brimmed sunhat from Hong Kong.
Sebastiano is wearing a silk shirt stolen from Kira DNR's closet.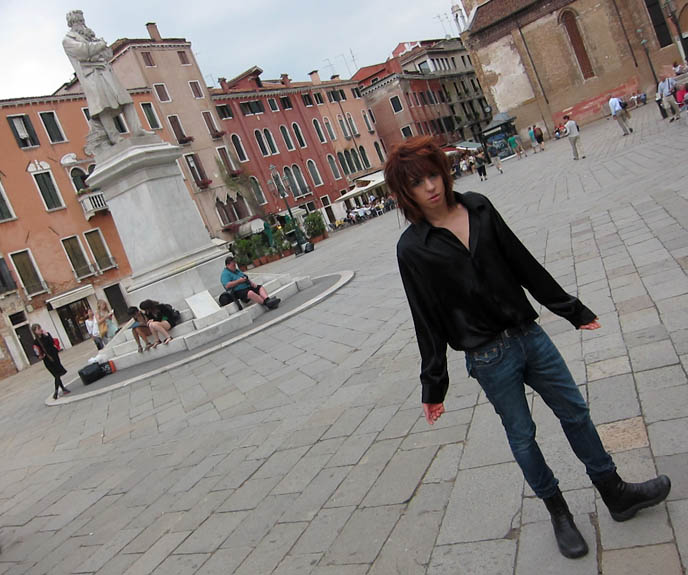 We're grateful to Hostelbookers for sponsoring our stay all over Italy. The hotel booking website put us in a large room full of character — we could hear the water outside our window. And the secluded location allowed us to avoid tourists the entire time. (More photos from our Hostelbookers rooms coming up.)
Our typical healthy meal: grilled fish, salad, rose wine.
Followed by an indulgence of Italian desserts. Tiramisu is a diet necessity!
The best way to know Venice is by walking wherever intuition takes you. We found an "interesting" clothing store.
Art galleries abound. Seba can't seem to process Marge Simpson as an odalisque. (It's too bad we couldn't attend the Venice Biennale, an impressive gathering of modern artists.
Travel tip: wear a big-brimmed hat, sunscreen, and bring along a can of mosquito spray. And dress up for Venice. The soft, flowing light is ideal for photos, and you've got to play along with the city's romantic mood.
Nothing in the world compares to Venice's canals.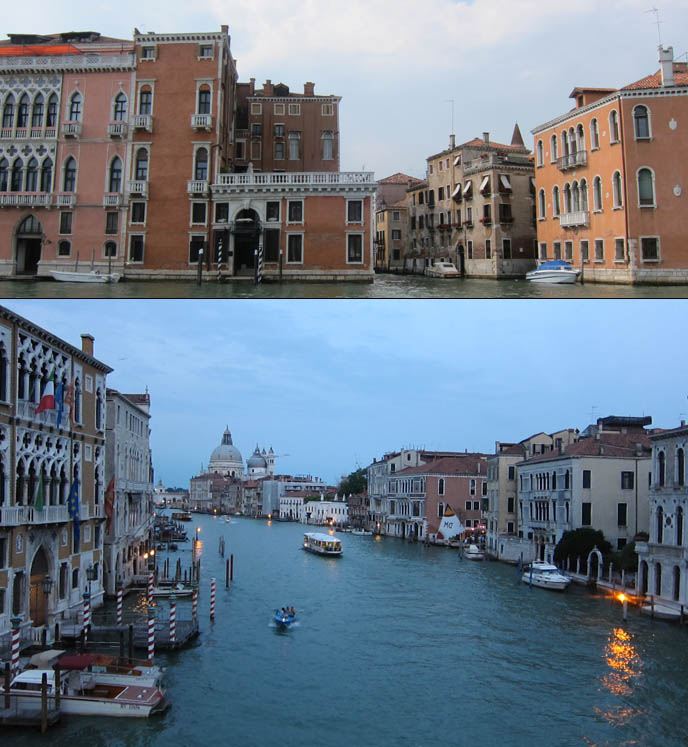 When the sun sets… indescribable.
Seba felt stuffed, but still, we shared mint gelato.
Our wanderings took us to San Sebastiano church! (The "O" must be for Sebastian-ooo.)
Someone please give his butt a push.
I didn't realize I was making the "small" hand gesture. Appropriate, for this naked statue.
Thank you, everyone, for your comments — I read and appreciate them all. Next, there'll be coverage of Milan, Rome, Modena, and more from Florence.
Have you been to Venice, or yearn to visit? Did you feel it was a commercial trap, or did you feel the magic?
Song of the Day: Nana Kitade – Kibou no Kakera (Powerpuff Girls theme song. Pandas are involved.)
❤ Squealed at this post? Please give it a Like (below) ❤