Category Archive for
Press
A devilish announcement: I have a new book coming out… about SATANISM! It'll be published October 25 by Ulysses Press / Simon & Schuster!
Late last year, I received a book deal for The Little Book of Satanism: a nonfiction guide to the history, culture, and practices of Satanism. My fourth book features a foreword by Lucien Greaves of The Satanic Temple, and will be released by Simon & Schuster on 10/25.
♥ PREORDER NOW — The Little Book of Satanism: A Guide to Satanic History, Culture & Wisdom is available for preordering on Amazon. My book is also available at Barnes and Noble, Bookshop, and other retailers worldwide. Canadians can find it via Chapters/Indigo or Amazon Canada.
♥ TO SUPPORT — Please keep reading to see the Baphomet cover art, contents, and more. And thank you for taking a moment to share this post on social media — I appreciate your help in getting the word out!
❤ What is the book about?
The Little Book of Satanism by La Carmina is an accessible overview of Satanic history and culture that aims to dispel misconceptions about modern Satanists. The book begins with a foreword by Lucien Greaves (of The Satanic Temple), and then introduces the Devil's conceptualization from his Ancient Near East predecessors to the Bible and beyond. I trace Satan's historic footprint through the centuries (the Knights Templar, Salem Witch Trials, Hellfire clubs, Aleister Crowley), to the birth of modern Satanism (LaVey's The Church of Satan, and TST). I also cover the meaning behind Satanic sigils, the Devil in art / literature / pop culture, Satanic rituals and holidays, the Satanic Panic, and much more. (Full details further below.)
❤ Where and when can I get your book?
The Little Book of Satanism hits bookstores on October 25, 2022 — it'll be available worldwide in both print and digital. You can pre-order my book now from Amazon, or get it from Kindle, Barnes and Noble, Bookshop, and other retailers worldwide, such as Canada's Chapters/Indigo or Amazon Canada. 
❤ How much does it cost?
Only $10.99 US for the digital version, and $14.95 US for the paperback. My book is available internationally at the links above, and can be preordered now. (Thank you for supporting!)
❤ Can you tell me more details about the book?
The following is the catalog copy for "The Little Book of Satanism: A Guide to Satanic History, Culture, and Wisdom" – by La Carmina.
Discover the fascinating history and culture of Satanism through the ages and learn why many Satanists today stand up for free inquiry and personal liberty.  
Satanism is too often misunderstood as a religion that makes blood sacrifices to an evil, horned Prince of Darkness. In reality, modern Satanists are nonviolent and nontheistic, and consider the Devil to be a meaningful metaphor for the pursuit of knowledge, reason, and justice.
The Little Book of Satanism details the "mark of the beast" in cultural and historic movements over the centuries, which have informed the sincerely held beliefs and practices of Satanists today. Written by award-winning alternative culture journalist and blogger La Carmina, this comprehensive guide includes:
♥ A foreword from Lucien Greaves, activist, spokesperson, and cofounder of The Satanic Temple
♥ Information on Satan's biblical origins, and his various names, appearances, and symbols
♥ Details on his age-old role as a scapegoat, from medieval witch trials to the 1980s Satanic Panic
♥ An overview of modern philosophy and practices, focusing on The Church of Satan, The Satanic Bible, and The Satanic Temple
♥ Examples of the Devil's influence on art, literature, music, and films—from Paradise Lost to Rosemary's Baby
This accessible book explains how Satanism developed in the context of social history while debunking lurid conspiracy theories about serial killers and ritual abuse. It includes a primer on various Satanic practices such as social activism, rituals, and holidays. In the spirit of the fallen angel Lucifer, be inspired by Satanism's affirmative values that courageously oppose arbitrary authority and champion nonconformity.
❤ Can I see the book cover design? Who made it?
Above is the cover art of The Little Book of Satanism! Lucien Greaves contributed ideas for the book cover design, including the block effect and a Baphomet with gentle eyes. The execution is by the Ulysses Press design team. Thank you to my Pirate – artist Naomi Rubin – for her in-depth feedback on the cover and layout.
❤ May I take a look inside?
Here's a sneak peek at the inner pages, which incorporate Gothic fonts and inverted pentagrams. The Little Book of Satanism is 144 pages long, and includes black and white illustrations (like Stanislas de Guaita's goat head in an inverted pentagram).
My book is in the catalog of major publisher Simon & Schuster, which put up a La Carmina author page here.
And here is the back cover copy, which invites you to discover the rich history of Satanism.
"Written by award-winning journalist La Carmina and with a foreword by The Satanic Temple cofounder Lucien Greaves, The Little Book of Satanism shines a light on the religion's affirmative values that oppose arbitrary authority and champion scientific rationalism and personal liberty."
144 pages / $14.95 / Preorder via Amazon or Simon & Schuster (various links to retailers).
My book deal was announced in Publisher's Marketplace and Publisher's Weekly book deals announcements, in the Religion section. Thank you to my literary agent and to the Ulysses team for making this project possible. The article says:
"Ulysses Traces Satanism's History. Casie Vogel, editorial director at Ulysses Press, bought world rights from Lindsay Edgecombe of Levine Greenberg Rostan Literary Agency to alternative culture journalist La Carmina's The Little Book Of Satanism. The book examines the history and culture of Satanism, including "lurid conspiracy theories about serial killers and ritual abuse, and showing why many Satanists today stand up for free inquiry and personal liberty," according to the publisher."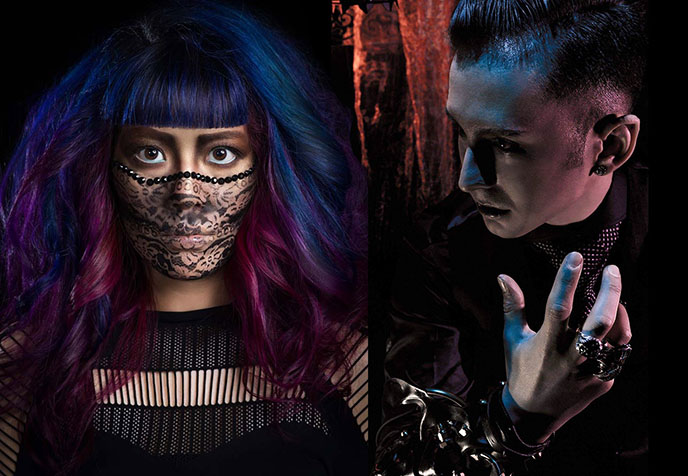 I wanted to give a special shout-out to my friend Dr John Skutlin (who wrote about Satanism in his Ph.D. dissertation) for his hours of support throughout every stage of the manuscript. I'm thankful for the time he generously took to give me in-depth feedback and edits — the book wouldn't have made it to the final draft without his expertise in these hellish matters! (And I'm glad we've been able to collaborate closely for over a decade now; we currently co-host Satanic Show + Tell on TSTTV.)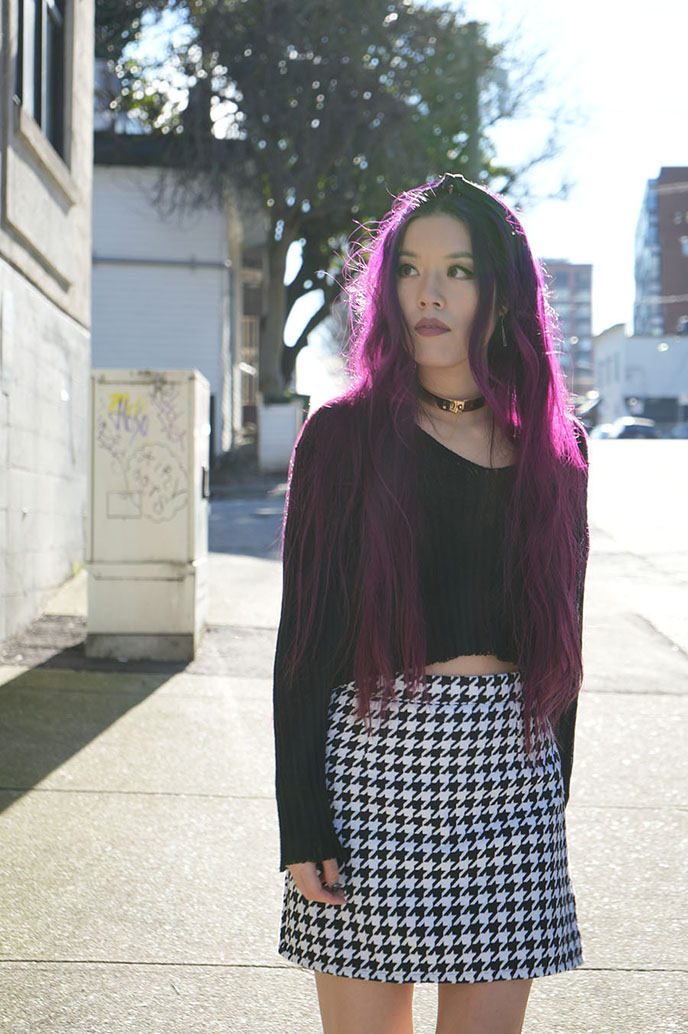 It's been a while since I've written a book, and it's a joy to be back at it. This will be my fourth published book — my previous two were about Japanese pop culture (Cute Yummy Time and Crazy, Wacky Theme Restaurants, published by Penguin Random House.) If you're curious, you can see my past La Carmina books here.
I've written extensively about Satanism since 2007, particularly about TST and the subculture in Japan — so I'm grateful for the opportunity to do a full-length book. My Satanic articles over the years have included:
♥ Fodor's Travel: Profile of The Satanic Chef.
♥ Inkstick Media: Interview with Lucien Greaves about The Satanic Temple's fight for reproductive rights.
♥ The Daily Beast Travel: The most devilish destinations worldwide.
♥ Roadtrippers Magazine: Inside the TST Salem, MA art gallery and headquarters, with Lucien Greaves.
♥ Tripsavvy: Travel article about how to visit The Satanic Temple HQ.
♥ Riot Fest:  Satanic Planet band feature.
♥ Audiofemme: Interview with the women collaborators of the band Satanic Planet.
♥ Unilad: La Carmina interviewed about the ongoing Satanic Panic.
One could say that I've been stepping on goat heads in pentagrams for quite some time now…
♥ I spoke about Satanism on various podcasts: La Carmina on Black Mass Appeal, Tea Room Dialogues, Satanic Study Hall, and Cemetery Confessions / The Belfry Network.
♥ I have over a decade of blog articles about Satanism worldwide, on my La Carmina blog. These include my firsthand reports of visiting The Satanic Temple in Salem, going to a Satanic disco party in London, hailing the Madrid Lucifer fountain, descending into Osaka's Territory shop and Kobe's IDEA Satanic bar, and more.
♥ I have a web TV show, Satanic Show + Tell, on TST TV. (My co-host Dr John Skutlin and I interview notable guests about their devilish possessions, from Lucifer gravures to kitschy horned puppets.)
To commemorate the book deal signing, Joey Wong shot these images of me in Vancouver, using my new Sony a7 IV mirrorless camera.
Outfit details: Knee-high leather boots by L'Atelier de Charlotte (this women-run indie company designs shoes in London, and constructs them in Spain.) Cropped black sweater and houndstooth skirt from Fashion Chingu (they carry over 1000 items inspired by K-dramas and Kpop idols).
Handwoven mandalay silk headband by Thread Tales Company. The gold necklace is a large Safety Chain Choker by Eddie Borgo.
I can't wait for you to read my new book, The Little Book of Satanism, when it comes out on Oct 25! If you have any questions about it, please leave me a blog comment. You can also connect with me on my @LaCarmina social media:  Instagram / Twitter / Facebook Page — and shop items from my wardrobe on Depop @lacarmina.
And you're welcome to check out my previous books from Penguin Random House: Cute Yummy Time (a guide to making meals look adorable) and Crazy, Wacky Theme Restaurants: Tokyo (exploring the bizarre world of Japanese maid cafes, cat cafes, vampire restaurants and more.)
PRE-ORDER The Little Book of Satanism on Amazon or Kindle or Barnes and Noble or through Simon & Schuster. Canadians can get it through Chapters/Indigo or Amazon Canada. It will be released October 25th, 2022.
The Little Book of Satanism by La Carmina drops 10/25/2022!
Thank you to all who made this dream writing project possible. Ave Satanas!
♥ Contact La Carmina: If you want to interview me about the book or have any questions, email me at gothiccarmina — att — gmail — dotcom
♥ And THANK YOU for preordering, and sharing my book news on social media (you can find me @LaCarmina). I'm grateful for your support over the years!
I've been kickin' it with The Satanic Temple lately, and have some devilish news.
On May 28, I'm hosting the Satanic Planet virtual album release party at The Satanic Estate! (Please join me — tickets are by donation.)
Hang with me on May 28th to hear the devil's music — Satanic Planet's highly-anticipated first album comes out that day. We'll be celebrating with special videos, musical previews, rituals and more.
Satanic Planet is the "dark musical soundscape collaboration featuring Luke Henshaw, Justin Pearson, Lucien Greaves, and Dave Lombardo." Tracks include Baphomet, Exorcism, Liturgy, Grey Faction… The debut album spans a wide gamut of Satanic soundscapes ranging from bone-chilling dissonance, to snippets of children's voices, to messages revealed when songs are played backward!
I'll be hosting the release party online – May 28, at The Satanic Temple's Virtual Headquarters (The Estate). I'll be doing a panel interview with Satanic Planet's members Lucien Greaves, Justin Pearson, and Luke Henshaw. You'll also experience a Satanic Unbaptism with Shiva Honey and more… My Tokyo Pirates Naomi Rubin and Yukiro (drag queen Die Schwarze Frau) are creating scandalously Satanic videos to four songs as well!
Get tickets now for the Satanic Planet album release event at The Satanic Estate (they're by donation) — and see you May 28!
To get you in the mood, here are some outfit photos featuring items from The Satanic Temple's shop. (Proceeds from merch sales go to their campaigns to uphold reproductive and LGBT rights, and maintain the separation of church and state).
I'm feeling cozy in my TST purple logo hoodie, which features the sigil of Baphomet (The Satanic Temple's goat head figure and pentagram logo) in my signature color. The adjustable hood and large front pockets make this hoodie both stylish and sensible.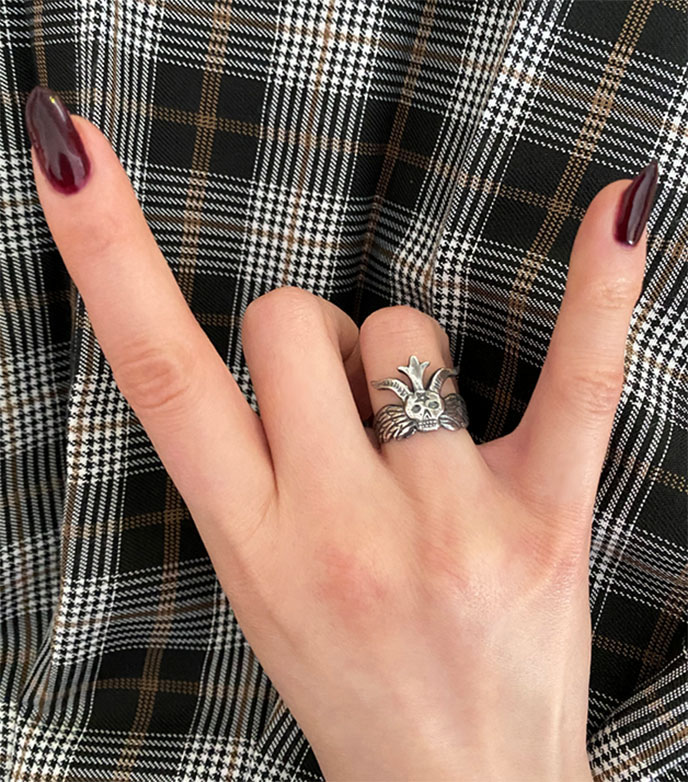 Giving the devil horns hand signal, in my The Satanic Temple Winged Crowned Skull Logo Ring. It's designed and hand made in silver by Kate Hockstein of Arcana Obscura. The ring comes in a range of unisex sizes, and has TST's Salem tombstone skull logo (it looks like the ones I saw in Salem's graveyard.)
I am also wearing a schoolgirl-style tartan skirt by Ninja Cosmico. platform sneakers by Anthony Wang Shoes, and a blue headband by Jennifer Ouellette,
I'm wearing Japanese-style socks, which can be scrunched down as Harajuku girls did in the 90s. These fun accessories are by Sock Dreams; all their legwear comes in a variety of sizes and colors.
The Satanic Temple Shop carries a variety of Gothic products, from candles to hot sauces and kitchenware, in addition to membership cards, certificate, and clothing. I'm rifling through my "I am a Friend of Satan" tote bag, designed by co-founder and spokesperson Lucien Greaves. (More TST fashion features to come soon).
Lucien Greaves also designed this TST Satanic Citizens t-shirt, which has 666 — mark of the beast — in 4-bit binary numbers. The shirt is printed on soft black, and comes in unisex sizing. As always, all proceeds support ongoing Satanic Temple campaigns.
For more about the band Satanic Planet, see my interview with LG for Riot Fest. And please join us at the Satanic Planet album release party at The Satanic Estate (tickets by donation, more info at the website. See you May 28!
PS: just wanted to share a recent interview I did with InsideHook. I'm passionate about researching how people around the world express themselves through alternative beauty and body modifications. I was interviewed about the art of adornment worldwide, for this article; we discuss neck rings, scarification, and other meaningful extreme body mods.