Category Archive for
Miami
Meet my tall new Floridian friend… You could say we made a Miami Connection!
To put it lightly, travel is confusing these days. Rules are in constant flux, and prices / busy periods are difficult to predict. Thankfully, with a little research and planning, you can take a sunny getaway to Miami, Florida — while staying safe and avoiding South Beach partygoers.
Welcome to my guide to having fun in Miami, Florida by coming in early March, before the spring break high season!
(Wearing a dress by For Love & Lemons; see more below):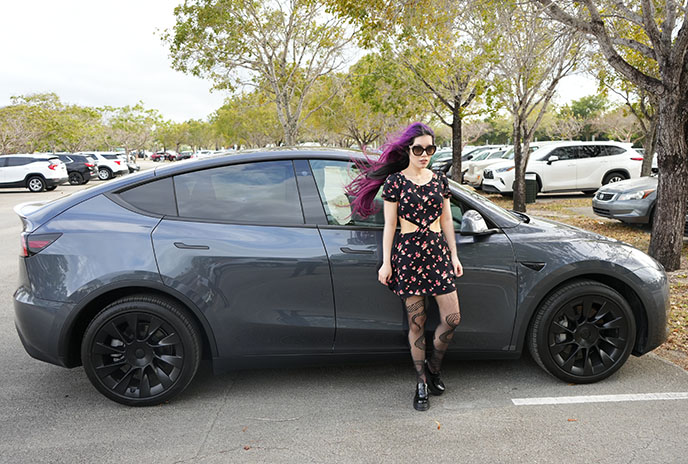 These days, high fuel costs are on everyone's minds. But I'll share a travel tip for getting around in a Tesla from TeslaRents! Read on to see how I got to test-drive an electric car for the first time, thanks to their seamless online rental service.  
And I'll take you inside my cozy stay at AC Dadeland Hotel. a recently-opened AC property that had plenty of free parking — letting me avoid the high fees and traffic of tourist-ridden South Beach.
Rules are always changing — but right now, to fly from Canada to the US, you must have a negative antigen test taken the day before your journey. I was pleased to discover the easy testing offered by Iridia Medical Clinic in Vancouver, BC. 
Booking an online appointment with them is simple and affordable. In addition, they offer a remote antigen option, which lets you get tested via telehealth! The kit (which I'm holding) has everything you need to do your own test via Zoom with an Iridia nurse. If the result is negative, you'll immediately get an official document in your email to show at the airport. This way, if you need a test before a flight, you don't need to stress about finding a foreign clinic or having delayed results. 
Vancouver's Iridia Medical has a variety of testing services for travel, business, or peace of mind (including PCR, rapid antigen, and molecular testing). They're quick and reliable, and also offer mobile or on-site testing. I enjoyed their chic clinic space and friendly customer service.
I went into the clinic for my nose swab (which only went in about an inch, so there was no discomfort). 20 minutes later, I had my antigen test results and was good to fly to Miami to hang with the animals.
I'd love for you to experience Iridia's effortless service — so they're giving you 10% off all testing! Just go to Iridia Medical Clinic's website and make a booking with promo code: LACARMINA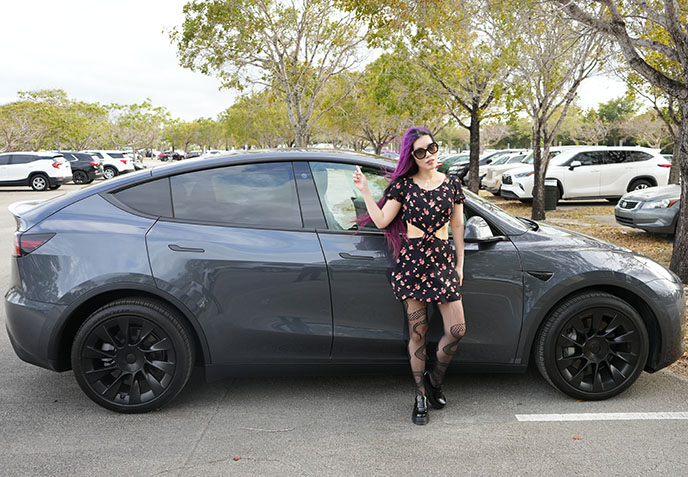 When I landed in Miami, I "went electric" for the first time — and rented a Tesla from TeslaRents. I'd like to have an electric car in the future, and TeslaRents gave me the opportunity to test-drive a Model Y for the first time. (They also have Model X and 3 Teslas for rent in Boston, LA, Vegas, NY, Denver, and Portsmouth in addition to Miami.)
Traditional car rental pick ups and drop offs tend to be a pain (long lines, and much paperwork and hassle), but TeslaRents has made the fully-online process effortless. Book an electric car from their site, verify your info with easy steps, and then simply go to its parked location for a contactless pickup/drop-off.
TeslaRents also does door-to-door delivery, which was an enormous timesaver for my short trip. TeslaRents drove the Model Y to my hotel at a specified, passed me the key-card, and I was ready to drive to the beach.
The driver texted me to let me know when they were on the way and had arrived. To return the Tesla, I simply parked it at my hotel, left the key inside, and texted them the location. In all my travels, a car rental had never been this easy.
I loved being able to test-drive a Tesla for a few days, and try out the touch screen settings and one-pedal driving. As someone who is prone to getting lost, the navigation system made it easy to get around a new city (the AI voice told me in advance to get into certain lanes for highway merges and exits). 
The TeslaRents customer service was also outstanding: I got fast and friendly replies both by email and text. When I couldn't figure something out, I received responses immediately from the team — something I've never gotten from a traditional car rental company. 
It turned out that I didn't have to charge my Tesla Model Y the entire time I had it (although the plug-in process is simple, and you must simply keep the charge above 20% before returning it). In this age of climate collapse and skyrocketing fuel costs, I was delighted to drive an electric car with zero emissions. Plus, there were no engine sounds, and the steering and safety measures were excellent.
TeslaRents is also committed to a zero-waste, paper free business approach, and gives back by donating to the Aashray Care Home for HIV Affected Children in Jaipur, India.
The Model Y's charcoal-colored exterior and sleek interiors matched my Gelish DIY manicure. My car was clean and well-maintained, and I was impressed by the customer service throughout the process.
Renting a luxury EV from TeslaRents is a great way to treat yourself during a vacation, and try driving a Tesla. The rates are very reasonable (with a variety of model options), making this an excellent option for an occasion such as a wedding or prom. Do keep TeslaRents.com in mind the next time you're looking for a car to rent in Miami and other major US cities!
Flying to Miami in early March lets you avoid the spring break crowd that descends upon the beaches later that month. In addition, I suggest staying away from the major tourist areas (like South Beach) during the weekends, as the streets will get clogged and noisy. 
Instead, look for a hotel in a central yet peaceful location, such as the recently-opened AC Dadeland Hotel. The chic property is right next to Dadeland Mall: in fact, there's a walkway that connects you right to the restaurants and shops. 
(Serpent fishnet tights from Sock Dreams. Dress by For Love & Lemons; click below for more dresses):

Since the AC Dadeland is located in the less-touristed South Miami, the rooms are large and quiet — and there's plenty of free parking. (In South Beach, hotel parking rates are $40-50 US per day!)  
I was fond of AC Dadeland's modern minimalist aesthetic, such as this artistic arrangement in the lobby. All of the furnishings are new, and the hotel will soon open a rooftop terrace with a swimming pool. 
The rooms had plenty of space and were clutter-free. Every morning, I went for the free breakfast at the second floor lounge. The European tapas-style spread included a variety of cheeses, fresh-baked egg tarts, yogurts, and fruit. You could also order eggs any style, and bring food upstairs in a takeout box.
Speaking of modern… AC Dadeland has teamed up with the robots! The hotel is now offering a contactless robot food delivery service for guests. Place an order, and a robot will pick it up and bring it to you. You can track its progress in real-time, and open the lid with a unique PIN. (Don't forget to say thank you very much, Mr. Roboto.)
While I didn't meet the robots, I enjoyed a relaxed dinner and drinks at AC Lounge. Loved the small plates such as nachos, and hand-crafted cocktails (try the signature AC gin and tonic, and smokey Manhattan).
I encourage you to stay at Miami's new AC Dadeland for new and comfortable accommodations, and perks like free parking and easy access to shops and dining. 
The hotel is near the airport and a number of top attractions — including Zoo Miami. It only took about 15 minutes to drive there and say hello to the pink elephant at the entrance.  
Zoo Miami is a leader in many conservation initiatives, and is accredited by the Association of Zoos and Aquariums (AZA) — meaning they meet the highest standards for animal health and welfare.  
Case in point… this Tiger King, who reigns over what looks like a southeast Asian temple!
Since Miami has warm weather year-round, animals from India, Africa, Australia, and other hot places are comfortable here.
On the left: a close-up of the tiger's cat-itude. On the right: I saw large green iguanas all around Miami, including at the zoo. They can reach up to five feet in length. 
In the Australia section, I said hello to a tree kangaroo and an adorable koala. Zoo Miami also contains environments dedicated to the Mission Everglades, Asia, Africa, and the Amazon and Beyond. 
The living spaces are spacious and well-designed. The chimps and orangutans seemed to be having fun swinging around the wood playgrounds. 
Zoo Miami is the only tropical zoo in the continental US. There are over 3000 animals on nearly 750 acres, so give yourself enough time to walk around everywhere — or arrive early to rent a safari cycle. Once again, early March is a great time to visit, as temperatures won't be overly hot.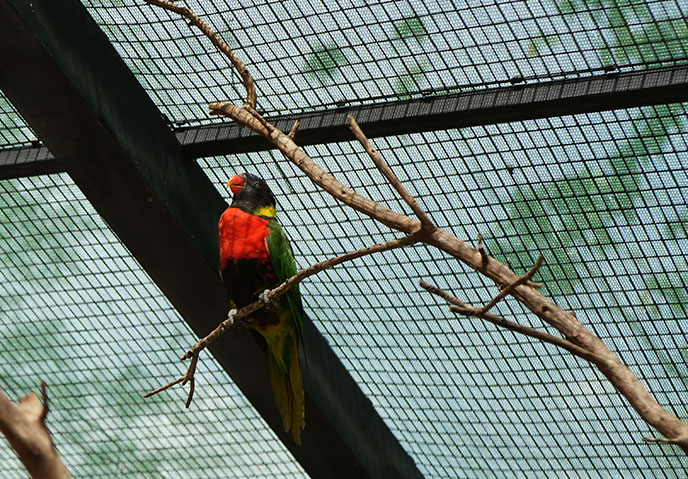 Zoo Miami also offers interactive animal feedings and encounters (check the website for times, prices, and details). The "parrots feeding" enclosure lets you feed the beautiful Australian rainbow lorikeets for $5.
I was a little too excited to take the ramp to the Giraffe Feeding Station — and say hello to these "tall bois"!
The giraffes are very polite. You can buy a "big salad" of lettuce, and they'll eat the leaves right from your hands.
What a treat to be able to see African safari animals up close, including elephants and zebras.
And don't forget to meet the more "alternative" creatures, such as this floofy-tailed anteater. Cheers to Zoo Miami for a fun outdoor day activity. 
After a long day of exploring, I was ready to eat. Fortunately, the AC Dadeland hotel is connected to Dadeland Mall, which is home to Aoki Teppanyaki and Izakaya.
I miss Japan so much… and stepping inside Aoki made me feel like I was back. The red gates and glowing lanterns hint at the Japanese cuisine on the menu, which is based on tradition but presented with a modern and playful touch.
What a treat to be greeted by owner Kevin Aoki himself! He showed me his vintage motorcycles and other collectibles from his worldwide travels. The red torii Shinto gates are inspired by Kyoto's Fushimi Inari temple, which we both love to visit. 
I sat at a family-style teppanyaki (iron plate grill) table, and enjoyed an umami-filled dinner with a show. The chefs dress like samurai in black uniforms and headbands, and cook the dishes with dramatic flourishes — such as drumming the ingredient containers, throwing and spinning eggs, and lighting up the grill with a flash of fire!
In my Instagram video from Aoki Grill, you can see how chef Alain prepares the infamous vegetable egg rice followed by shrimp, scallops, lobster and salmon. I also devoured the signature deluxe spicy roll, and Japanese whisky-based cocktails like a ginger old fashioned with absinthe rinse.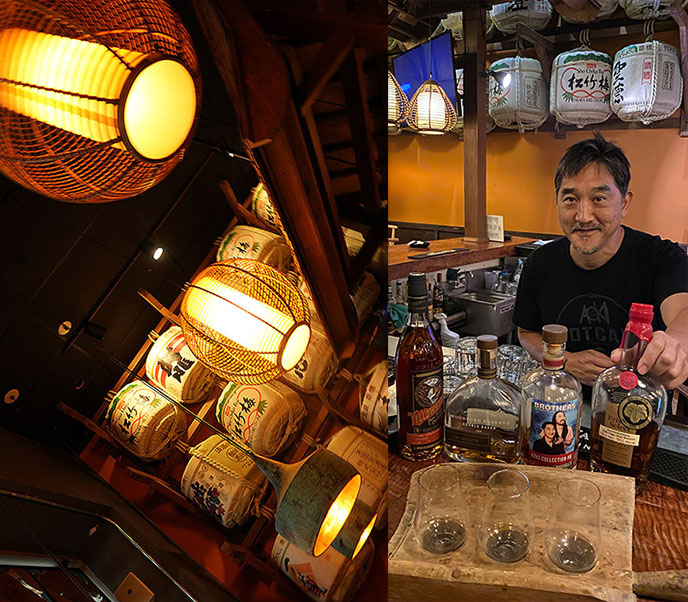 Miami's Aoki Teppenyaki also has a high-ceilinged wood bar area that made me feel as if I were back in Japan. It houses an enormous exclusive collection of whisky, each carefully chosen by Kevin Aoki himself. He poured us a flight of Aoki Collection Barrel Select bourbons, which included a bottle featuring him and his younger sibling, DJ Steve Aoki, on the Brothers label.
While many come for the famous teppenyaki (your choice of seafood, vegetables, and meat grilled with flair), Aoki also serves sushi omakase, and countryside Japanese comfort foods inspired by Kevin's visits to his grandfather's hometown in Wakayama. What better way to end the evening than at Miami's Aoki Teppanyaki and Izakaya (they have a location in Waikiki, Hawaii too).
With a bit of planning and clever choices (such as a well-located hotel, and a TeslaRents electric car rental), you can make an enjoyable getaway to Miami in March — and completely avoid the spring break shenanigans. I encourage you to travel now that we have a reprieve, as things can quickly get restricted again in unexpected ways… you never know what The Collapse will bring next. 
Have you planned any trips for 2022? More to come from Miami (check out my @LaCarmina Instagram for previews)… as well as a few new destinations in the next months!
Ready to ring in the New Year?
If you've been following my blog for some time, you'll know it's time for my annual Year in Review. This gives me a chance to reflect on the past 12 months, and share some bonus photos with you. So let's head straight (or gaily forward, as my friends would say) to the first half.
My site's focus and projects grew significantly in 2013. At this point, I'm traveling at least once a month to a far-off place, usually with my film team or a TV show. It's my passion to report first-hand on alternative cultures around the world.
Last January, I escaped the cold at Miami Art Deco Weekend. I caught up with friends and did this retro 1920s photoshoot with Mayleen G. Enjoy the Florida posts, including a Bettie Page runway show, in this category.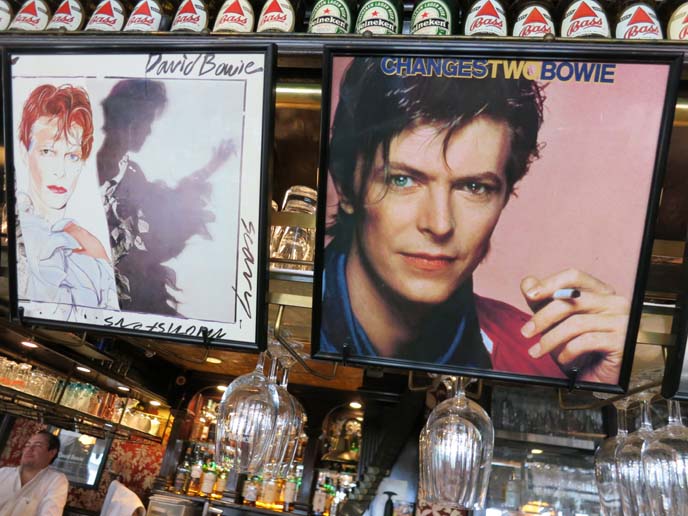 I'll never tire of going to Tokyo. I continue to be in Japan several times a year for television hosting and arranging jobs. Each time, there's something new to experience, like the David Bowie cafe, Alphonse Mucha exhibit…
… and King of the Pirates theme restaurant. Best of all, I get to have fun with my friends. (Interested in hiring us? Learn about our TV production and consulting services.)
Next, my filmmakers and I were invited to a very special place: the Maldives. We fell in love with eco-luxury resort Gili Lankanfushi, and I got to live out my Treasure Island fantasies. Here's our Maldives video and all the sunny photos.
We also landed in the Middle East for the first time. Dubai was a sci-fi wonderland, and I loved walking through the egg-like Grand Mosque of Abu Dhabi. Discover the Arabian peninsula's grandeur in these blog posts.
There's no need to jet to far-off places to have an adventure. I featured my home country – Canada – in a series about Montreal's Goth culture and Kinetik Festival. One of the highlights was bagel-tasting with Aesthetic Perfection's Daniel Graves.
It appears a lot of people read my site for the Hong Kong travel guides, which makes me happy. This city is full of energy and pop culture oddities, like cute food and giant floating ducks. (Intrigued? Then see my Hong Kong tips.)
I leave you with an image from Shinjuku's Hanazono Shrine. Shinto worshipers write wishes on these little wood plaques (called ema), and leave them for the kami to hopefully deliver.
On that note, do you have any New Years resolutions? What do you hope to achieve or improve in 2014?
I think we can all resolve to take care of ourselves, do meaningful work, and treat our furry companions like the kings they are! I'm shooting everything with DSLR now, so you can expect more images like the one above.
Coming up next: part II of my annual reflections.