Category Archive for
India
"Jai ho!" Do that Bollywood shake… because Yukiro and I made it to Jaipur, India! 
We were traveling with the ultimate Rajasthan tour expert, Janu Private Tours. Owner Mr. Janu is from Jaipur, and he knows his hometown like the palm of his hand.
With his signature enthusiasm, Mr. Janu took us through India's "pink city" filled with artistic marvels such as a peacock doorway, and a floating water palace.
Jaipur is part of the "Golden Triangle" route that many travelers take, when they visit Northern India. (New Delhi and Agra / Taj Mahal are the other points of the triangle.)
For those of you who love art, culture and palaces — Jaipur is a royal city that captures the imagination. Janu Private Tours took us on a day trip to the most famous attractions, such as the Hawa Mahal with its mysterious windows (above)…
… and even arranged for Yukiro and me to meet "hijra," the third recognized gender in India! These two non-cis beauties invited us into their home, and taught us the "tools of the trade" — including how to cup one's hands and make a loud clapping sound. Keep on reading to find out more about their fascinating way of life.
But first, an intro to Jaipur — nicknamed "The Pink City." With my rosy hair and matching Indian outfit, I felt right at home here.
To welcome the Prince of Wales (later King Edward VII) in 1876, Ram Singh II painted the entire city pink. This is traditionally an Indian color associated with hospitality, and also mimics red sandstone. To this day, the tradition has been preserved, and all structures inside the Old City are blush-colored.
While it's possible to travel alone in India, I highly recommend having a guide. India is a safe destination, but tourists can get scammed if they aren't careful. A local expert takes the stress out of the trip: they know how make the best arrangements for hotel / food / attractions, and figure out transportation within and between cities.
Our friend and guide Mr. Janu always had our backs. He and his drivers are fluent in English, and picked us up each day on time in a comfortable and well-stocked car. As the slogan on the rear window reads, "A good traveller is one who does not know where he is going, but has the trust it will be great."
His company, Janu Private Tours, provides travel experiences throughout the entire country. Guests can personalize a private tour, with an itinerary that suits their exact interests.
In our New Delhi intro post, I shared Janu's inspiring story of how he started out as a tuk-tuk driver who barely spoke English. With perseverance, he gradually built up his team to the success it is today. Janu Private Tours is now one of the leading local-run tour companies in the entire country, with a top TripAdvisor rating.
Janu is full of energy, and you can tell he genuinely loves welcoming travelers and offering them the best possible hospitality.
He took us to see his exciting new project: Janu has built a hotel, called "The Marigold Inn"! He worked on the local production of the hit movie, "Best Exotic Marigold Hotel," and it inspired him to create the real deal.
In one month, Jaipur's Marigold Inn will open its doors! You can soon stay in this pink hotel, which has every modern comfort, yet a community feeling. Congratulations to Mr. Janu on the grand opening, and I'd love to come stay here soon too.
Janu never fails to fulfill his guests' requests, no matter how offbeat they may be. Yukiro and I were curious about "hijra," the recognized third gender in India — and within a few hours, he had arranged for us to meet two of them in their home!
There isn't an entirely accurate English translation of the word… but for the most part, hijira are born intersex and/or don't identify as male or female. 
Perhaps you may be surprised to hear that Indian government has declared freedom of sexual orientation as a fundamental right, and gives residents the option to choose "third gender" on passports and official documents.
It's fascinating that Indian society is overall quite conservative, yet recognizes "hijra." The term dates back to the days of antiquity, and was mentioned in the Kama Sutra. Janu explained that Indians realized long ago that hijra were "born this way" — so instead of disparaging them for something they did not choose, they created a space in society where they could thrive. 
We had a chat with these two Jaipur ladies (hijra generally present as women), who welcomed us warmly and told us about their lives via translation. We learned that for the most part, hijra are identified at birth. They can choose to either grow up at home with their families, or in a community with others like them.
When they reach adulthood, hijra typically decide to live together in a community. In this case, the ladies share a house with the children and pets that they adopted.
Hijra are considered to be lucky, so they make a living by offering blessings. We learned that they lead auspicious ceremonies for newborns, and dance at weddings and other special occasions. I couldn't help but smile when our new friend gave us a blessing by wiggling her fingers near her temples, and wagging her head side-to-side!
Yukiro and I formed an instant connection with our new friends, who are cheeky, spirited and kind individuals. You can see us interacting in this video; they showed us how to clap!
They generously gave us two saris as a gift, which we wore to the Taj Mahal (that post is coming out soon). We're grateful to Janu for introducing us to hijra — I can assure you that no other tour guide would have been able to make this visit possible.
Now, let's see more of Jaipur's most fabulous attractions. This is Janu's hometown, so he knows all the little secrets of the city.
We struck a pose at the entrance gate to the pink city, with three magnificent arches.
I loved looking out the car window in India, and taking in sights that were strange to my eyes. Tuk-tuks zig-zagging everywhere, Sanskrit writing, Hindu shrines in the middle of roads…
… and how about a haircut, right on the sidewalk? There was a whole row of barbers who set up grooming stations, on a street in Jaipur!
Janu was excited to take us to Lassiwala, as they make the best lassi in Jaipur. Yukiro and I are fans of this Indian probiotic drink that can be served plain, or blended with salt, spices, or fresh fruit.
At Lassiwala, the drink is tangy and creamy, and served in a disposable clay jar. I would have to agree: this is next-level lassi.
We drank it in the alleyway, and took in more bizarre sights (a nest of electrical wires, a poster with Hindu swastikas and what looked like a Halloween pumpkin).
Onward to the Palace of Winds, Hawa Mahal — a magnificent arrangement of screened windows, set in sandstone. This facade was built so that the women of the royal family could watch festivals from the windows, while remaining hidden from the public eye.
What an imaginative work of architecture! The 5-story exterior looks a bit like a honeycomb, and features 953 small windows decorated with elegant latticework. In true "form follows function," the design also lets cool air in while keeping the ladies hidden.
Now to City Palace, built in the mid-18th century by Sawai Jai Singh II. This was the seat of the maharajahs, who ruled Rajasthan from Jaipur.
The entrance arch is guarded by two white carved elephants. (You'll see elephant rides being offered around Jaipur, but these hurt the animals — instead, please support an ethical elephant sanctuary like we did at Elefantastic.)
Across the way stands Mahal Mubarak Mahal, meaning the Auspicious Palace. The architecture is inspired by Islamic, Rajput and European styles, hence the distinct "fusion" look. Toady, it's a museum that holds art and textiles.
That day, I wore a "salwar dress" or Punjabi dress that I got in an Indian store. It consists of long, billowing pants with a tapered leg and drawstring waist, a sleeveless dress with a long slit down the sides, and a matching silky scarf.
It so happened that the green from our outfits matched the imperial door of the palace.
We're in the courtyard of Chandra Mahal. Photography isn't allowed inside, but you can imagine majestic throne chairs, lush carpets, giant fans made of feathers,and portraits of the royal rulers of Jaipur throughout the ages.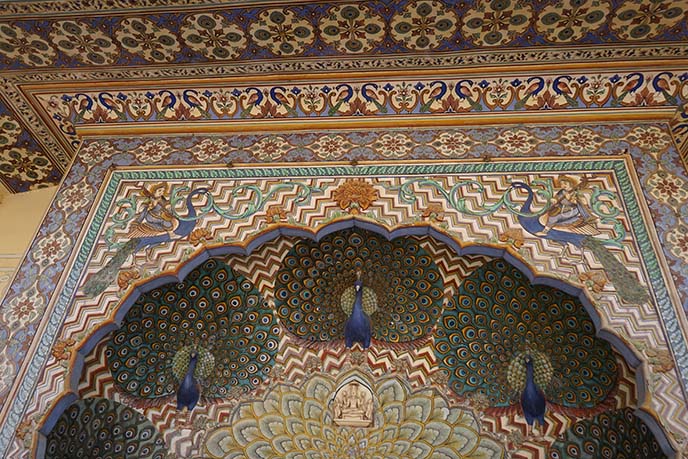 We were speechless when we saw the peacock gate at the entry of Jaipur's Chandra Mahal. There are four gates in total, each dedicated to a Hindu god or goddess and intricately decorated.
The four doorways represent the seasons as well. Yukiro is vogueing in front of the Lotus Gate, which has a vibrant flower petal motif to indicate summer, and is dedicated to Lord Shiva-Parvati.
We strolled through the Diwan-i Khas, or Hall of Public Audience, featuring a marbled floor and chandeliers. On one side stood two gigantic silver vessels, measuring 1.6 meters. Our guide explained that when Maharaja Singh II traveled to England for Edward VII's coronation, he insisted on only drinking Ganges water — so he brought it with him in the giant urns!
Time to visit another royal stronghold. Janu drove us to Amer Fort, located high up on a hill. This ancient settlement was revamped and developed by Jai Singh I.
Amer Fort is divided into four main sections, each with an entrance gate and courtyard. We went through the Sun Gate to Jalebi Chowk, the first main courtyard where the armies would have victory parades after coming home from battle.
Amer Fort is designed in a Hindu architectural style: lots of curving pillars and arches that resemble the lotus flower.
We visited each of the four levels and courtyards, each different and filled with opulent details. Just look at the decorative tiles captured in this mirror shot.
The fort overlooks Maota Lake and green hills. The visibility from all directions helped the armies spot invaders.
(A lot of tourists asked to take our photo… "No Thank You"! It was fun to point to my pink backpack with this font, by Stella Rose in collaboration with Print All Over Me.)
It's easy to feel like a royal queen of Rajasthan, when you're surrounded by such splendor!
There's so much to see in Jaipur, and we were able to make the most of it thanks to Janu. He knew I am fascinated by Indian astronomy instruments (remember my visit to Delhi's Jantar Mantar?)
Jaipur has an even more impressive collection of nineteen astronomical instruments, built by king Sawai Jai Singh II, and completed in 1734.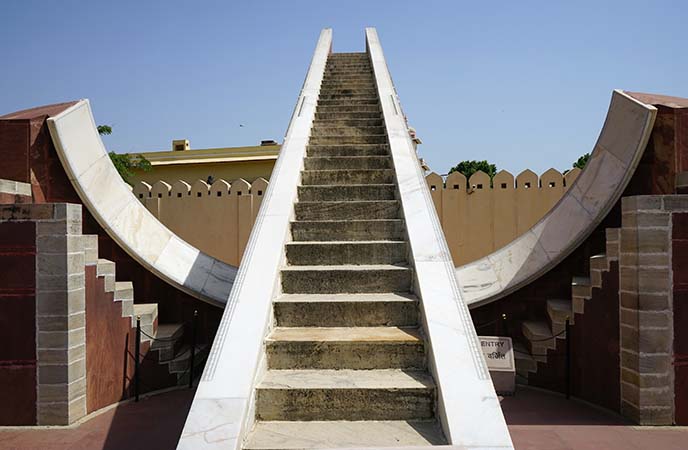 These strange looking structures appear to be built by aliens! In fact, they are designed to observe and measure astronomical positions.
Jantar Mantar Jaipur is an UNESCO heritage site. It contains the most advanced and best preserved instruments for measuring the stars, from this era. One of these is the world's largest stone sundial. 
Yukiro's rainbow umbrella lined up with the radiating lines of the sun dial. (In his car, Janu provides his guests with cold bottles of water, hand sanitizer, parasols, snacks, WiFi, phone chargers… everything you might need to survive!)
The function of each instrument is rather complex, and very advanced for its time. We learned that Jai Prakash Yantra is a sundial with marked marble, with shadows that can measure altitudes, azimuths, hours and declinations.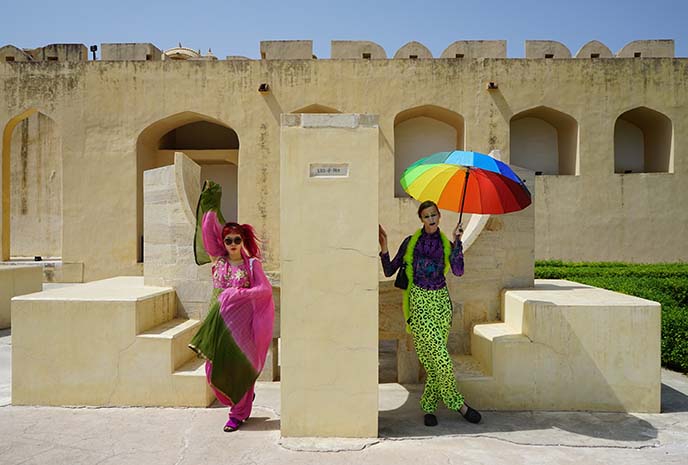 One section consisted of Rasivalaya instruments, which corresponded to signs of the zodiac. The mysterious curves and staircases are quite the sight to behold.
Yukiro and I are both Leos, and found this illustration under the arch of our instrument. The lion is the fiercest zodiac sign, that's for certain!
Is it a slide? A skate ramp? A stairway to heaven? None of the above: this is Vrihat Samrat Yantra, the world's largest "gnomon sundial," which has markings along the sides, and measures time with the shadow cast from the sun.
Jaipur truly is a city of imagination. We couldn't believe our eyes when we saw the Water Palace, Jal Mahal. This summer palace is only reachable by boat and appears to float on the surface of Man Sagar Lake.
This isn't Photoshop… Jal Mahal is real, and it's spectacular. The floating water palace was built in the 18th century by Maharaja Jai Singh II, as a royal summer retreat and party island. The building actually has five levels — four are submerged beneath the waters.
India's Floating Palace was abandoned when it began to leak, and remained neglected for 200 years. However, it's recently undergone some restoration, and visitors can travel by boat to see it once more.
It's amazing how much we did that day. We even stopped by Heritage Textiles to get custom-tailored clothing (you can choose a fabric, and have anything designed and sewn to fit you perfectly, within a few hours). The owner gave us a demo of hand-block printing, the traditional process of pressing designs on fabrics with rich natural colors that don't fade.
Finally, time to unwind at our palatial hotel Shahpura House. The staff treats everyone like royalty: when we arrived, this man in uniform held open the door, and the concierge hung orange floral garlands around our necks.
Janu always puts his guests in this regal manor, which hearkens back to the days of the Raj.
We enjoyed exploring this quirky nook, an outdoor pool, and a large breakfast hall (with Indian dishes prepared fresh to order, as well as an international buffet).
Shahpura House offers activities such as spa treatments and yoga lessons. At night, the rooftop bar has free musical / cultural performances for guests.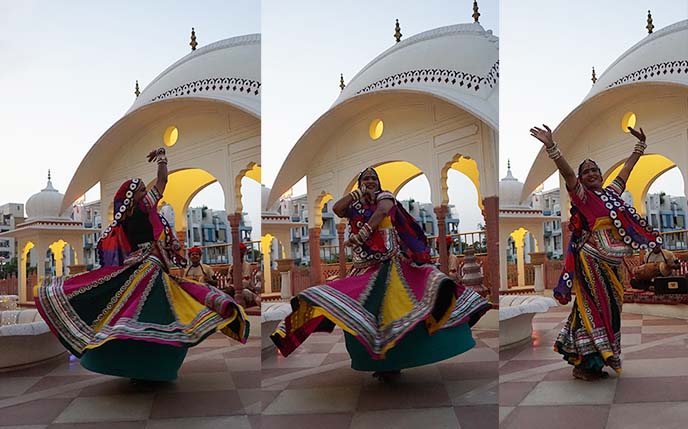 This dancer performed "bhavai," a folk dance popular in Rajasthan where the performer balances large numbers of earthen pots on her head.
Namaste Janu Private Tours for this eye-opening tour of Jaipur! This is a day that we will never forget — I feel like I'm still processing everything that I encountered, from the hijra subculture to the peacock feather gates.
Janu offers customized tours like this all throughout India, and will soon be opening his Marigold Inn in Jaipur. If you're looking for a travel experience as incredible as ours, reach out to Janu here — you'll be in the best possible hands with him.
Coming up next: the River Ganges of Varanasi, and the Taj Mahal at sunrise. India… what a country, right?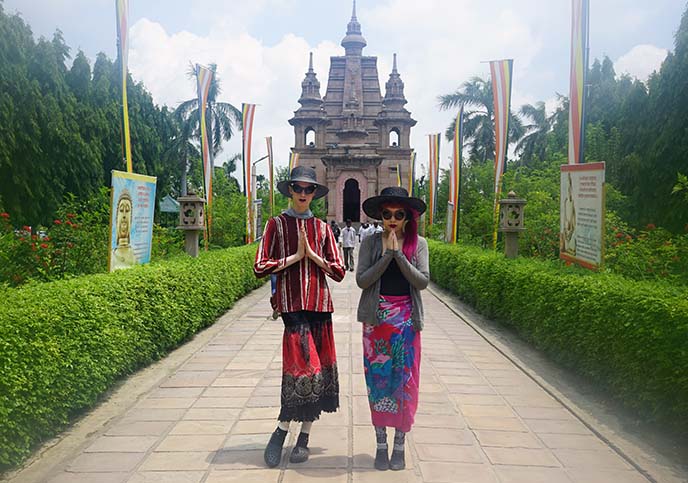 Namaste from the holy city of Varanasi!
India is large and diverse, with terrain ranging from snowy mountains to southern backwaters. Yukiro and I only got to see a fraction of it on our trip through Rajasthan and the Golden Triangle.
However, we absolutely had to make a detour to Varanasi, also known as Kashi or Benares — the famous spiritual destination on the River Ganges.
India was stress-free for us, since we were travelling with Janu Private Tours, one of the most trusted tour companies. Janu and his team can arrange customized itineraries for any part of the country, tailored to your specific interests. They connected us with their outstanding partner, Experience Varanasi Tours, for this portion of our journey.
Even for experienced travellers like ourselves, Varanasi is an intense destination. Picture tuk-tuks weaving through bumpy roads with horns blaring, inches from the beggars and holy cows in the streets. There's dirt, noise, difficult sights — and it's incredible, what a city of adventure! 
I was "all in" and wanted to experience the more challenging aspects of India. However, I was concerned I'd feel nauseous from the various smells and pollutants: dung, rotting fruits, garbage, fumes from the traffic…
Anyone who travels with me knows I'm very sensitive to smoke, pollen and other air debris. I didn't want to wind up ill and unable to see the colorful city life (such as random monkeys!).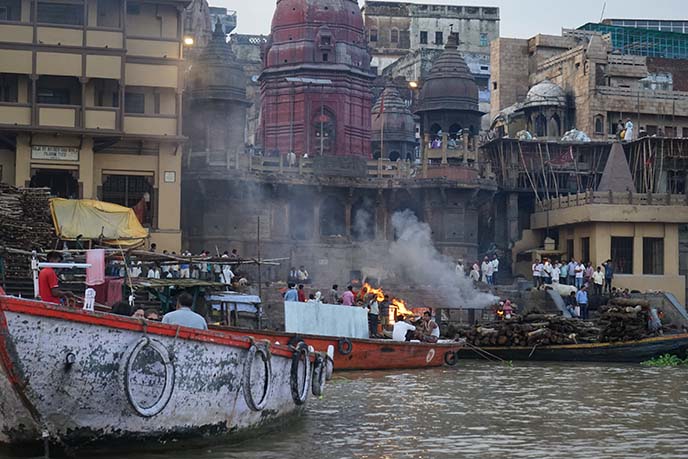 For example, I was keen to see the cremation pyres on the banks of the Ganga (which I'll show you in the next post). However, the image shows how thick the smoke can be.
To make sure we were prepared for anything, Yukiro and I got original Respro® masks! Made in the United Kingdom, these masks are equipped with professional-grade technology to filter out pollution. (Plus, they have a cyber-Goth-Industrial look!)
Respro® offers many types of pollution masks, geared to specific needs such as allergies, urban cycling, industrial filtration. Their FAQ section has info on the differences and how to choose the right size (you can also email them, as their customer service is terrific).
The team suggested The Ultralight™ Mask for our India travels. This mask is made from lightweight, air-permeable mesh material and has two POWA™ elite exhalation valves: ideal for facial ventilation in hot, humid climates.
Plus, the design is fashion-fab: Mad Max meets The Walking Dead apocalyptic chic! It's an essential item for desert festivals such as Burning Man and Wasteland Weekend, for both the look and the functionality.
The Respro® mask attaches in the back with Velcro, and has a changeable Hepa-Type™ PM2.5 filter (the white portion inside). These Cinqro™ Urban filters have activated charcoal cloth plus a particle filter layer to protect you from exhaust pollution.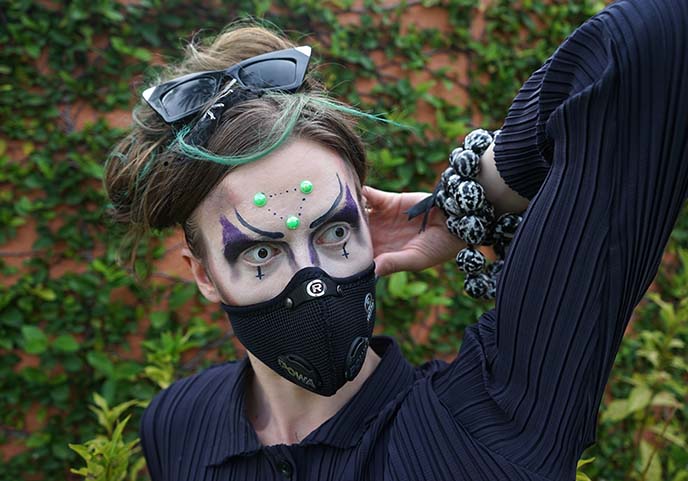 Here's a close-up of The Ultralight™ Mask. The black shell, made of of breathable 4-way stretch fabric, is easy to wash. It has a malleable nylon nose clip for a secure fit around the bridge.
But what if the mask doesn't match your outfit of the day? Respro® has dozens of skins in various colors and patterns, letting you refresh your look!
I always change around my hair color and clothes, and this Petal Mixed Neoprene outer-shell was a perfect match.
Cube Pattern 1 was a stylish choice for this green monster. It's easy to switch over the skins over the filter and valve.
I'm very glad I got a Respro® mask for my travels. If you're in a high-particulate area, run or cycle in urban areas, or have medical condition such as asthma or allergies… these pro masks are a lifesaver. (And the ninja warrior style is A+!)
Now, we're fully equipped to explore Varanasi. As you can see, I'm covered up from the sun and mosquitoes, and I wore old clothes and shoes that I later threw away. 
Janu Private Tours linked us to our local guide, Kunal Rakshit of Experience Varanasi Tours. He's a thoughtful and intelligent guide, born and raised in this city. Kunal listened to our goals for the trip (to learn about the spiritual culture), and delivered exactly what we were looking for.
We were interested in Hinduism, so he took us to the new Kashi Vishwanath temple, dedicated to Lord Shiva. The large structure is located inside the green acres of Banaras Hindu University, where Kunal studied. We weren't allowed to take photos inside, so imagine priests and worshippers performing "puja": praying, offering fruits and flowers, and pouring milk over statues as a rite.
Varanasi is a sprawling city, and the traffic can get congested. We were grateful to have our driver Ravi, who knew exactly how to navigate these tricky streets. He drove us to another part of the city to see a Hindu temple dedicated to the goddess Durga. 
The temple was bizarrely located next to a small amusement park. Hmm, not sure why Yukiro wanted to take a photo in front of the Gaylord local ice cream stand…
The rickety rides were decorated with garlands of flowers. Love seeing these unexpected pockets of local life.
Once again, we weren't allowed to take photos inside Durga Kund Mandir — but here's a shot of the outside. You have to take off your shoes before entering all of these temples; since the floors can be wet from the offerings, we brought a change of socks and shower caps from the hotel, which we wore as foot-covers!
Also known as the Monkey Temple, this 18th century temple to Durga is painted entirely in red. It sits next to a pond, which was earlier connected to the river Ganges. We enjoyed seeing the statues of Hindu goddesses, and watching locals make offerings. 
Why is there a lion at the entrance? Durga, also known as the goddess Devi or Shakti, is depicted as a fearless warrior riding a lion or tiger. The goddesses of the Hindu pantheon tend to be fierce fighters; Durga is a mother figure, yet combats demonic forces and carries weapons in her multiple arms.
O Kali, you are the patron deity of the Goths! Kunal took us to see a shrine for the goddess Kali, who is depicted with black skin and her tongue sticking out. She conveys death, destruction and that which is "forbidden" — living on the cremation grounds, and destroying evil forces.
Notice the skulls on either side of Kali: human and probably monkey.
If you look closely at the photo of Kali, you'll see that the metal goblets in front of her are decorated with swastikas. We also saw this "swastika rangoli" (with four dots in the arms) in this colored sand mandala at Varanasi Airport. In Hinduism, the swastika represents goodness and auspiciousness; I discuss the symbol in more depth in this post. 
Outside, we were perplexed to see this orange-faced figure in a cage. Kunal explained this is Hanuman, the monkey faced God who is a worshiper of Lord Rama. On the tile above, there is a picture of Rama and the words 'Jai Shree Ram.'
Kunal also took us to Kashi Vishwanath Temple, which very few tourists get to see. This is one of the most famous Hindu temples dedicated to Lord Shiva, and stands on the western bank of the holy river Ganges. You'll have to bring your passport with you to enter, as security is tight. Once again, no photos: you'll have to come here for yourself, to see the two domes covered in gold and rituals of this sacred temple. 
Varanasi is not only important to Hindus — it's also a sacred place for Buddhists. Ravi drove us to Sarnath, in the north-east part of the city. This is where Gautama Buddha first taught the Dharma after his enlightenment.
I'm standing in front of Mulagandhakuti Vihara, the Sri Lankan Buddhist temple at Sarnath. The Buddha spent his first rainy season meditating here.
(I had to take off my shoes again, but all the Buddhist temple floors are clean and dry. My pink backpack by Print All Over Me, designed by Stella Rose.)
Sarnath is a holy spot of Buddhism, as the Buddha gave his First Discourse here after attaining nirvana at Bodhgaya. In the Buddhist texts, this event is known as the dharmachakra-pravarttana, or "Turning the Wheel of Law."  At Sarnath, Buddha also laid the foundation for the order of monks and nuns, or "sangha."
The Mulagandha Kuti Vihar is a temple and monastery built in the 1930s by the Sri Lankan Mahabodhi Society. The golden altar is lovingly maintained, with leaves and flowers in a minimal, symmetrical arrangement.
All around, the walls are covered in pastel frescoes by Japan's famous painter, Kosetsu Nosu. His images depict the life of the Buddha: his birth, journey to enlightenment, teachings, and death.
This panel shows the story of Angulimala, the evil bandit who killed people and hung their fingers around his neck in a garland. Through compassion, the Buddha helped Angulimala see the error of his ways and become a follower of the Dharma.
In Sarnath, there are also Tibetan and Japanese Buddhist temples. A sleeping sandalwood Buddha rests inside Nichigai Suzan Horinji Temple, with a traditional design that made us feel as if we were in Kyoto.
Next to it, there's a new Lord Buddha temple. The gates are topped with the wheels of the dharma. The circle represents the one-ness of the teachings, and the 31 spokes represent the realms of existence from ancient Buddhist cosmology.
Look, another lion! In Buddhism, they are guardians and symbols of the bodhisattvas.
Under the blue skies, the temple had a futuristic feeling.
The temple is flanked by wet fields of grass, where water buffalo make their home.
Did you know the Buddha loved to disco dance? Just kidding — this statue shows him after his birth, when he took seven steps and then raised his arm towards the sky, with the other pointing at the Earth.
(My black sun hat by Lack of Color.)
We're standing in the spot where Lord Buddha gave the first sermon to his five disciples. At Deer Park, he taught the Four Noble Truths by addressing the nature of suffering, its cause and its end.
Before his enlightenment, the Buddha practiced asceticism. He gave his first talk to five of his former spiritual comrades, as he knew they would be able to understand the Dharma quickly.
These statues represent this event, which led to the founding of the sangha community. Buddhism spread quickly from then on, especially since Sarnath was a center for the arts, and many influential kings and merchants lived in Varanasi.
We did some yogic poses amidst the archaeological ruins. Behind us is the cylindrical Dhamek Stupa, which is almost 45 meters high and marks the spot of the sermon. It was built in stone and brick, in the 3rd century.
We saw the bases of other structures and stupa (where ascetics were buried, before Buddhism). The Deer Park where Buddha gave his lecture still is filled with these friendly creatures, as you can see.
Many thanks to Janu Private Tours and Kunal of Experience Varanasi for the outstanding journey! We were glad for their expert knowledge, and passion for showing travelers the real India. If there's one destination that warrants a guide/driver, it's India. We wouldn't have seen and learned nearly as much, without their guidance.
There's still more to come from Varanasi… we'll visit the ghats and cremation grounds on the River Ganges (where our Respro® mask came into great use).
Do you share our interest in Hindu and Buddhist philosophy? Would you visit this holy city one day?