Category Archive for
India
As any Goth can tell you, there's beauty to be found in death and decay. Traveling in India, Yukiro and I came face-to-face with these aspects every day– especially in Varanasi, on the River Ganges.
In my first post about this holy city, we visited Buddhist Sarnath and Hindu temples with Experience Varanasi tours. Now, we'll join holy men at the banks of the Ganga, the famous river that flows throughout India.
Many parts of India are quite developed (especially Mumbai and New Delhi). However, Varanasi still feels like an ancient city, teeming with citizens and spiritual pilgrims. Life revolves around the River Ganges: every day, you can see dozens of men bathing in the holy waters.
The Hindu cremation ritual also takes place on the steps of the Ganges. I hope you'll keep an open mind as we dive into this aspect of Indian culture (don't worry, there are no graphic photos of the bodies). If you're anything like us, I'm sure you will find these ceremonies riveting.
Yukiro and I arranged our India trip with Janu Private Tours. It made the world of difference to travel with our own private guide, car, and driver: we were able to see multiple cities in a short time, and never worry about the logistics. Mr. Janu and his guides were always on hand to answer our questions expertly, and with a smile.
Even for super-experienced travelers like ourselves, Varanasi (aka Kashi or Benares) is a challenging destination. It's sensory overload: people and tuk-tuks everywhere, cows and garbage in the streets, and yes — you'll encounter excrement at some point! It would have been very stressful if we had tried to come here and get around on our own.
Janu can arrange tours anywhere in India, and he linked us with Kunal Rakshit of Experience Varanasi for this final portion of the journey (since we had to fly one hour from Delhi). Kunal met us at the airport, and from the start, we knew we were in the best possible hands. He's a gentleman, with a kind and thoughtful demeanor that was exactly what we needed for navigating this intense city.
Kunal is a great listener, and customized the tour to exactly match our interests and goals. As we drove through the city, he struck a great balance between delivering interesting information, answering our questions, and just letting us soak it all in.
Our driver, Ravi, was an expert at navigating through the "free for all" streets. We got off to walk through Godowlia Road, which is for pedestrians only and leads to the riverfront. Don't expect a peaceful stroll: motorbikes honk and zip by you, cows block your path, and vendors come up to sell you goods. (But oh, what a way to dive into the heart of Varanasi, and live in the moment!)
We were surrounded by captivating sights, smells and colors. Kunal explained that these are pilgrims who journeyed to Varanasi; they wear orange, bear flowers, and paint their foreheads. Notice that all of these young men are barefoot!
In Varanasi, you'll come across all sorts of unexpected scenes. We were glad Kunal was there to explain everything. For example, holding hands is merely a platonic, friendly gesture in India. (Although the government did establish the freedom of sexual orientation and the third gender, as I discussed in the Jaipur post.)
What's the deal with the cattle everywhere? Cows are considered sacred by Hindus: they provide life-sustaining milk, and drawings show the gods and goddesses living inside a cow. As a result, "holy cows" roam freely in India, and can often block your path.
Elephants also have special status, and one of the Hindu gods — Ganesha — has the head of an elephant. What better place than Varanasi to wear my pink Lord Ganesh raincoat by Print All Over Me? (You can print a rain jacket with any type of design, or choose one from the site as I did.)
While you'll certainly experience culture-shock, India is a safe country. Simply take precautions and be aware, and you won't run into any difficulties.
For example: I didn't get stomach sick at all! Our guides always recommended delicious Indian restaurants that prepared food carefully, as foreigners are not accustomed to the local water. We ate extremely well here, even though we avoided street food as a precaution.
Varanasi can be a shock to the system, but it was one of the top moments of our entire trip. I've traveled to 60+ countries, and I can genuinely say there is no place quite like this.
Yukiro and I enjoyed observing the fashion of the Indian women around us. Many come to Varanasi to visit Hindu temples, and take part in festivals and rituals.
This is an incredible city of spiritual power. We encountered holy men or "saddhus" who have renounced the worldly life. There are 4 or 5 million sadhus in all of India. Some wander naked, some take on pledges to never sit down, or other ascetic feats. I read about one renunciant who has held up his right arm for over 35 years!  
Many people will stare or approach you. Simply say no thank you and move on, and you won't run into any issues.
It was fun to point to this message on my backpack from Print All Over Me, designed by Stella Rose Saint Clair!
We reached the ghats, or steps leading into the Ganges river. I saw a man petting and feeding a cow, and putting a garland around its neck… they sure are treated like royalty here.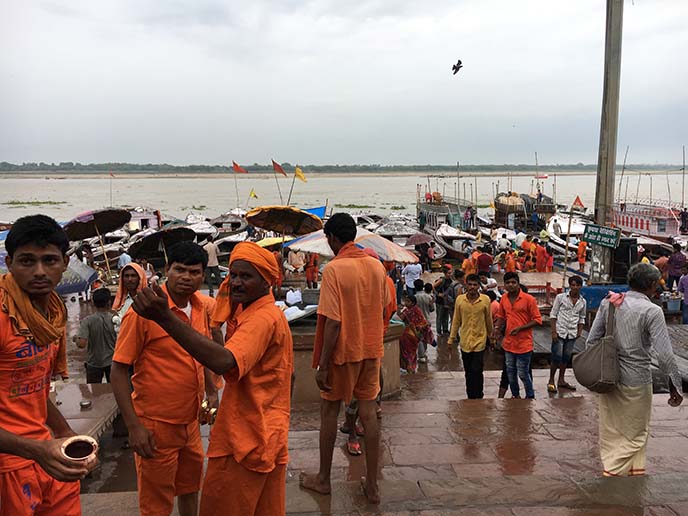 The Ganges is the most sacred river to Hindus, and it is worshiped as the goddess Ganga. You can understand how meaningful it is for these orange-clad pilgrims to journey to these waters.
I put together some clips of Varanasi / Kashi / Benares in this video, to give you a better sense of the colors and chaos.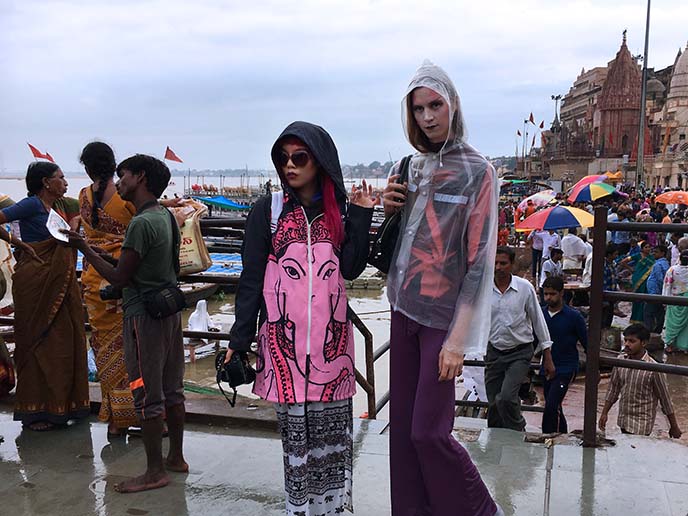 There's a palpable energy here. (We covered up our limbs to avoid mosquito bites, and wore raincoats as there was briefly a light drizzle.)
Look up, and you'll see a radiant painting of Shiva in blue. The story goes that Lord Shiva turned blue because he drank poison to save creation from destruction. In India, blue-colored skin is also interpreted as the aura of a spiritual body.
Yukiro and I enjoyed getting to know our new friend, Kunal Rakshit. Born and brought up in Varanasi, he completed an MBA and worked in finance before starting Experience Varanasi. As a guide, he aims to show travellers the essence of the local culture.
It's fascinating that Hindus consider the waters of the River Ganges to be purifying. At the same time, this has unfortunately become one of the most polluted bodies of water on the planet. Untreated sewage is pumped into the river, and bodies are burned and released into the waters.
About 400 million people live by the Ganges, and use it on a daily basis for bathing, washing, cooking, and more. If you grow up here, your body is accustomed to the contents of the water — and you won't get sick. (We even saw a man scoop his hand into these brown waters, and drink from it!)
However, the increasing bacterial count and pollution levels are a major concern. Prime Minister Modi is leading a "Clean India" initiative to improve sanitation, but it's difficult to change long-time behaviors.
As I mentioned before, simply be aware, keep an open mind, and take precautions — as foreigners are not used to the bacteria in these waters. We were careful to use hand sanitizer and wash our hands, and didn't end up getting ill.
When you're in Varanasi, it's an absolute must to hire one of the rowers to take you on boat ride along the Ganga. Since we were with Kunal, the rowboat was already arranged, and we didn't have to haggle over prices and hours.
Our rower did an impressive job of navigating the water currents, which can get strong. Kunal helped us buy these these offerings of flowers and candles as well, so that we take part in the local ritual.
You've got to love Indian ingenuity… It looks like someone's math homework was recycled to make this pretty offering! We made a wish and placed it into the waters, for the goddess Ganga to carry away.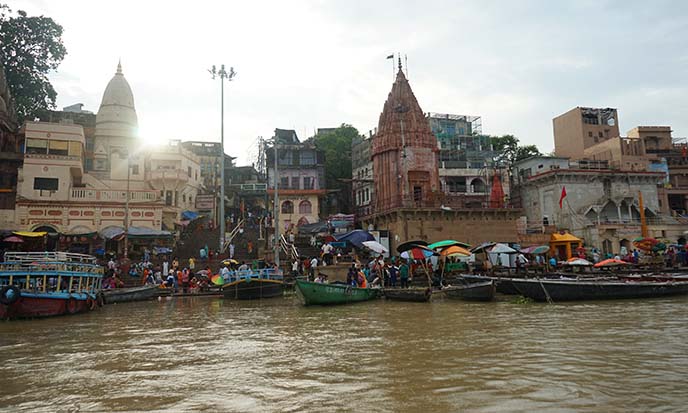 The boat took us to Manikarnika Ghat, one of the oldest in Varanasi and dating back to at least the 5th century. This is where bodies are cremated, and the remains are put into the River Ganges.
We were able to take photos from afar (out of respect), and then pull up a little closer to see the cremations. We were glad to have Kunal with us, to speak with us about what we were witnessing.
We saw groups of men carrying a body wrapped in cloths down to the banks, on a bamboo stretcher. The chief mourner pays the mortician for the holy fire. The body is set onto the wooden pyre and burned in the flames, while the mourners perform other rituals.
The area is heavy with smoke and ash, but it blew in the direction away from the waters so we could watch from the boat without trouble. Kunal discussed the significance of Varanasi as a place for liberation from the cycles of birth and death. Many come to the Great Cremation Ground, or Mahashmshana to die, as many believe this results in "moksha" (release). Others bring ashes here and place them into the holy waters.
Death is hidden in Western culture, but it's up close and personal in Varanasi. It's not easy to see the Hindu cremations, but I encourage you to put aside any reservations and experience this ceremony for the dead.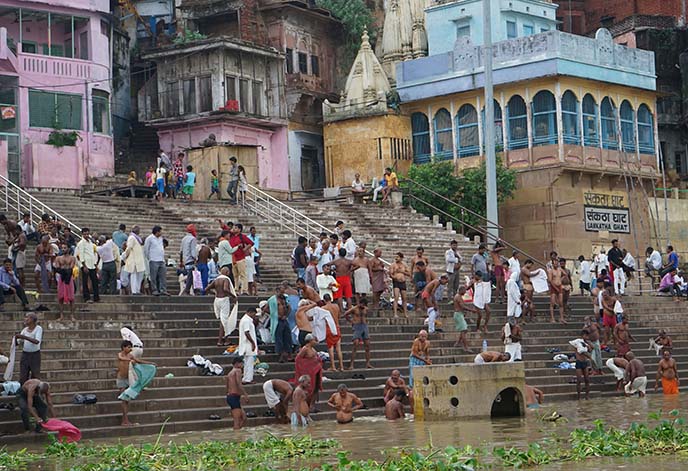 After, the "chief mourner" bathes publicly among many others, in another part of the River Ganges. Washing in these waters helps to cleanse and purify one's karma. 
As the sun began to lower, our rowboat reached the Dasaswamedh ghat where the "aarti ceremony" takes place every sunset. As you can see, many others from all over India have come here to witness it too.
The aarti ceremony is a devotional to the goddess Ganga. Of course, there are other gods and goddesses in the Hindu pantheon that are worshiped here too. These black and white posters show the "lingam" of shiva, and Kali (goddess of death) with her outstretched tongue. And Varanasi is the permanent abode of Lord Shiva.
Tip for those of you allergic to mosquitoes, like me: there are so many of these little buggers at dusk, especially by the water. Make sure you cover up entirely, and spray yourself with DEET (the natural stuff simply doesn't work). Yukiro and I used copious amounts of Bens 100 mosquito spray and remarkably, we didn't get bitten that night.
Rather than jostle with the crowds on shore, we could watch the aarti performance from our private boat. We saw young priests take the stage, and chant invocations to the Mother Goddess Ganga. They then held up incense, candelabras of fire, and peacock feathers, moving them to the rhythm of the beat.
Our boatman brought us back to the main ghat, and we walked back to our car in a daze. Varanasi at night is straight out of a lucid dream. What goes on in the mind of this dreadlocked holy wanderer, skin smeared with ashes from the pyres?
What can I say but… Holy cow! Varanasi is a destination that blew my mind — and that's hard to do these days, considering how much I travel.
Namaste Janu Private Tours for showing us all these enthralling aspects of your country. If you come to the holy city on the Ganges, please reach out to Kunal at Experience Varanasi to take you around. He was an outstanding guide; we were glad for his deep knowledge and calming personality, especially when we saw challenging places such as the funeral pyres.
And that's all for the land of Vishnu and Shakti, until I return again. For more, you can revisit our entire journey with Mr Janu (through Delhi, Utter Pradesh, Rajasthan) — all my India travel stories are here. 
And… this is how you Taj Mahal in style!
Yukiro and I always travel fabulously, but I think we took it to the next level at the iconic mausoleum in Agra, India.
However, don't expect to swing by at any time for photos like these. Visiting the Taj Mahal takes preparation, and a reputable local expert can help make the most of your visit.
Janu Private Tours, our brilliant guide throughout India, took care of all the arrangements for this perfect sunrise tour of the Taj.
Read on for travel tips on how to make the most of your visit to India's most famous landmark, the Taj Mahal. We'll share locations for taking the best photographs, and the story behind this romantic monument.
Be sure to read on to the end: there's a bonus tour of Fatehpur Sikri palace, and Mad Max driving shenanigans in India!
The Taj Mahal is located in Agra, one of the three prongs of the "Golden Triangle" route (along with New Delhi and Jaipur, which we also visited.)
Mr Janu and his team at Janu Private Tours have organized thousands of trips, and know how to help travelers get the best possible experience at the Taj Mahal. 
Unlike most tour companies, Janu customizes all itineraries, and provides a private car, driver and fluent guide for their clients. We arrived in Agra in the evening, ate dinner at a delicious Indian restaurant, and got a good night's sleep at our 4-5 star hotel.
The next morning, our local guide Deepak was waiting for us in the lobby at 5 am, as sunrise is the best time to visit the Taj Mahal. A lady at the hotel helped us put on these saris, using only three safety pins each — amazing.
Entrance fee, access and hours: The Taj Mahal is open daily from sunrise to sunset, except on Fridays.
We took a short walk from our hotel to the outer entrance of the Taj. Deepak helped us purchase our entry tickets for the Taj Mahal (1000 Indian rupees fee for foreigners, in cash). Then, we rode a golf cart-style shuttle to the entrance of the monument itself. (At sunrise, there are only a handful of visitors — not counting the monkeys!)
What to pack for visiting the Taj Mahal? I suggest that you bring mosquito spray, a bottle of water, a handheld fan, money in India rupees, and your phone / camera.
Do you know the love story behind the Taj Mahal?
Shah Jahan, the fifth Mughal emperor, was devastated by the loss of his favorite wife Mumtaz Mahal (she died giving birth to their 14th child). He was determined to build a magnificent mausoleum in her loving memory, which was completed around 1653. Shah Jahan spared no cost: the project would have cost around $830 US million today.
As we walked through the gate and glimpsed the famous dome, Deepak told us about the Mughal architecture of the Taj. The complex is a masterpiece of refinement and symmetry, with perfectly proportioned lines radiating out in the four directions.  
Pretty much everyone tries to get a photo in front of the long reflective pool. However, it's impossible to get clear shots like these, unless you come at dawn. 
It's well worth waking up before sunrise to put on something special, and take unobstructed photos like these. After all, visiting the Taj Mahal is usually a once-in-a-lifetime experience… you might as well "work it"!
As you can see, there are only a handful of visitors right when the doors open at sunrise. It also helps to come to India in the off season (we were here in early July, just after the high heat and before the monsoon rains).
I looked over at the meticulously arranged gardens, with the number of trees and partitions chosen according to numerology. For example, the division into four quarters symbolises the four flowing rivers of Jannah, or Paradise.
What should you wear to the Taj Mahal? It's always a good idea to cover your shoulders and knees out of respect to the local culture. If you decide to enter the mosque, then you'll have to cover your head as well.
Many women wear saris to the Taj. Our (third gender) hijra friends from Jaipur gave us these phenomenal saris from Rajasthan, as a gift. The bright colors and light, flowing fabrics were perfect for the weather and occasion.
As you walk closer to the white domed roof, you'll come across this second reflective pool, with a white bench in front. This is "the" famous photo spot, with a southern view of the Taj Mahal.
Be prepared for local photographers to approach you, and offer their services. We responded with a polite "no thank you," since our fantastic guide did double-duty as a photographer! Namaste Deepak for all these images.
Here's another look at the architectural symmetry — isn't the effect peaceful? The image of the Taj Mahal can be recognized worldwide: four minarets framing the tomb. The long pool perfectly reflects the mausoleum. 
Shah Jahan commissioned the best artisans to build the Taj Mahal, sourcing fine materials from all over India and Asia. The beautiful white marble and gemstone facades are carefully maintained today, as you can see from the scaffolding.
I read about a travel Instagrammer who visited around the same time, and got in trouble for Photoshopping out the construction… Fierce poses require no editing!
Yukiro and I loved seeing the lovely saris and styles worn by Indian women at the Taj. Notice that the group of women have red henna in the part of their hair. Such a unique beauty statement, which reflects their regional customs.
When you reach the platform of the mausoleum, you'll be asked to take off your shoes. You can wear socks inside, or put on shoe covers that are provided (that's what we did).
From a distance, the white marble of the Taj Mahal looks plain. Up close, you can see the intricate decorative elements: Persian calligraphy, and floral motifs made from inlaid gems.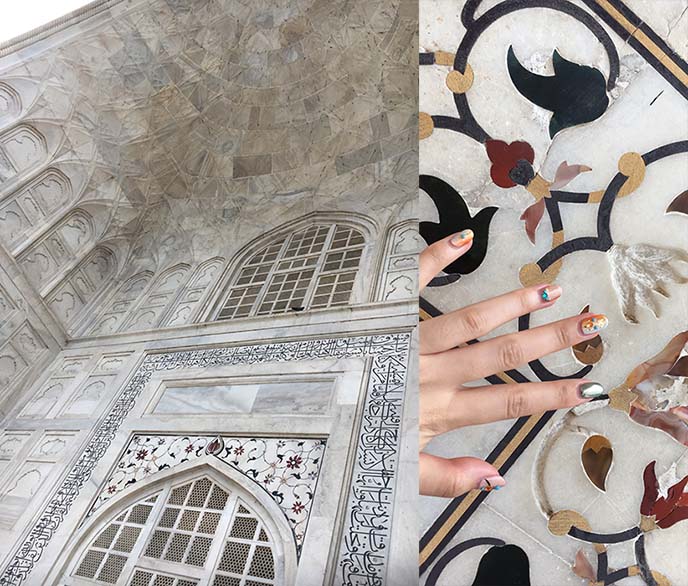 The designs are understated and minimal, yet bursting with detail. I ran my hands over the remarkable marble carvings, which are precisely inlaid with gemstones like jasper and jade. 
Visitors aren't allowed to take photos inside the mausoleum, which is designed in the shape of an octagon, and decorated with fine gems and lattices. You can walk around the tombs of Shah Jahan and his wife.
The emperor wanted to build a matching Black Taj Mahal (how Gothic!) for himself. However, the spending had gotten out of hand — and after some family conflicts, his son Aurangzeb put him under house arrest at Agra Fort. When he died, Shah Jahan was buried next to his wife, forming the only non-symmetrical aspect of the monument (since her tomb was designed to be in the center).
Be sure to check out the two red sandstone buildings that flank the Taj Mahal. These are a mosque and guesthouse, designed for balance.
Even Yukiro looks tiny under one of the Taj's four minarets. In the old days, the mu'adhin would climb up this tall tower five times a day, to give the call to prayer — quite the cardio workout!
Muslims come to the mosque on Fridays, as the complex is open for prayers between noon and 2pm.
Deepak pointed out a spot across the Yamuna River, where the emperor had planned to build his Black Taj Mahal (basically, a Goth version of the UNESCO site!)
We highly recommend that you come to the Taj Mahal with an expert guide, as we did with Janu Private Tours. You'll get so much more out of the visit: Deepak answered all our questions about the history and design, took care of the logistics, and helped us take photos from all the best angles.
I developed a deeper appreciation of Indian architecture, after this trip. Just look at the harmonious detail above — the lines, arches, spires.
Such a joy to see this incredible work of devotion, and one of the New Seven Wonders of the World.
Sometimes, famous landmarks don't live up to their reputation. This is not the case with the Taj Mahal. We both agreed that this was one of our favorite moments of our India journey.
Since we had so many great photos, I did some psychedelic edits for fun.
As you probably know, many Beatniks and Hippies were heavily inspired by Indian culture. In the 1950s to 70s, they traveled the "Hippie trail" overland from Europe through Turkey, Iran, and Afghanistan. Most had the goal of reaching India, or sometimes continuing all the way to Asia. With today's political climate, this route is now impossible…
On the bright side, flight prices are historically lower than ever, and online resources (like travel blogs!) make it easy for travelers to find information about India.
If you're an alternative or female traveler, be prepared for lots of curious (but good-natured) attention from locals. We usually say "no thank you" when people ask to take photos with us, but made an exception for the Indian Army Officers that guard the Taj Mahal.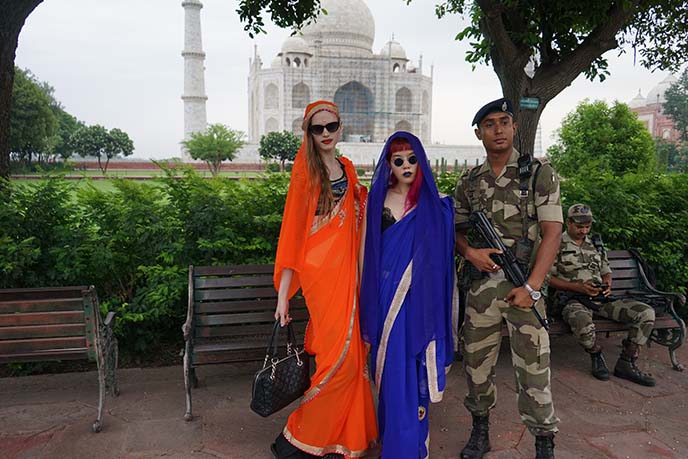 Security levels were strong everywhere we visited in India. If you take regular precautions, you'll have nothing to worry about when you come here.
Timeless, futuristic, the Taj Mahal is a work of genius. The translucent white marble even glows under moonlight!
Namaste Janu Private Tours for making this a visit we will never forget.
If you're visiting Agra, there's another palace you must check out: Fatehpur Sikri. This royal city was founded in 1569 by the Mughal Emperor Akbar, and was the capital of the Mughal Empire until 1585 (due to lack of water in the area and political conflicts).
We "royal ladies of Rajasthan" felt right at home here, since that was the purpose of the palace — to house the emperor's three royal queens. One was Muslim, one was Hindu, and one was Christian. The Hindu consort, Jodha Bai, was his favorite since she was the only one who bore him a son.
Fatehpur Sikri has a playful vibe, as the emperor enjoyed playing games and living the high life. We toured the various buildings, decorated with carvings that reflect the religions of his three wives. 
I leave you with some photos taken during our drives between cities in India. We enjoyed spending time with Mr Janu, and he was always happy to explain the unusual sights we saw on the road.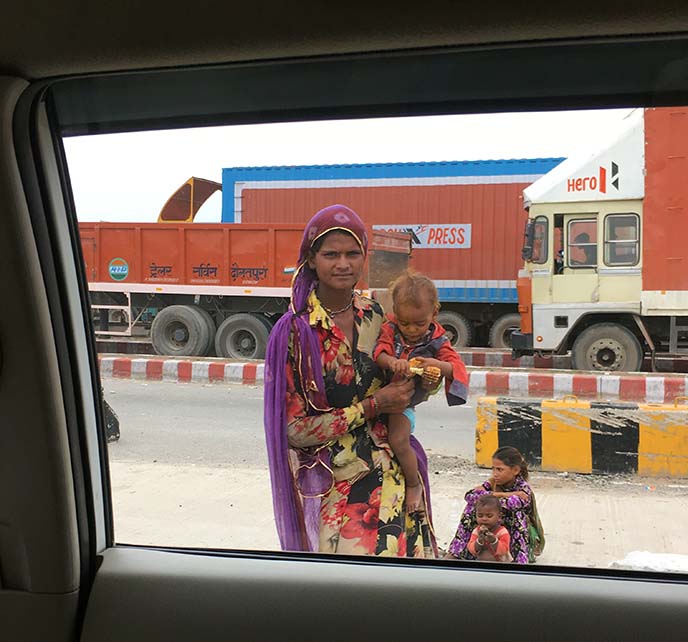 At one of the toll crossings, this female beggar and her child came to the window. (It's advisable not to give money or food to beggars in India, as this exacerbates many problems including child abductions and abuse. Instead, I encourage you to donate to a reputable charity that helps those in greatest need.)
Indian driving is notorious for being a free-for-all. Mr Janu's drivers are experts who never honk the horn or make risky moves. However, that can't be said for everyone you'll encounter… This looks like a scene from Mad Max: Fury Road!
Indian traffic and road conditions weren't as crazy as I thought they might be. Still, sitting in a lotus position on top of a car takes nerve! (Yet he looks as relaxed as a Vipassana meditator.)
"Witness meee!" "I am awaited in Valhalla!"
When we saw this sight, we could only say one thing: "Holy cow." Cows are sacred among India's Hindus, and treated with great reverence.
This means that cattle are well cared for, and if they decide to sit in the middle of the road… all you can do is inch your way around them, or wait until they move along! (This one was our favorite since he appeared to have devil horns.)
We're so grateful to Janu Private Tours for showing us the beauty of Agra, and for the unforgettable tour of the Taj Mahal. 
I hope you enjoyed this very special travel story. You can follow our friend Janu on Facebook and Instagram as well, to learn more about how he can show you the best of India.