Seville, Spain top photography spots! Setas de Sevilla architecture, Hotel Dona Maria, 5 Senses food & flamenco.
Here we go again, into a rough winter… I'm all-the-more thankful that I was able to experience Seville, Spain in November before things started to shut down again.
Located in Andalusia (south of Spain), Seville is a magnificent historic city that bears the Eastern imprint of the Moors. And it turned out to be one of the best places I've visited for photography!
In this travel diary, I'll show you some of Sevilla's most Instagramable photo spots — including the terrace of Hotel Doña Maria, overlooking the famous Cathedral.
We'll also explore the impressive architecture through the ages, including the Setas de Sevilla wooden "parasol" at golden hour.
The ancient cities of Seville, Cordoba and Granada make up Andalucia's "Golden Triangle." Southern Spain has a different feel from Barcelona and other regions. This is the birthplace of tapas and flamenco, and you can sense the Arabic influence in the art.
(I've previously visited Granada and the Alhambra; this time, I completed the triangle with Seville and Cordoba.)
I experienced the best of the culture thanks to Sevilla City Centre, which has a "5 Senses" customizable tour package for visitors. Our concierge was wonderful at arranging experiences for us over What's App — including tapas restaurants, a flamenco show, transfers, and more. (5 Senses also provides bookings at our hotel, Dona Maria.)
Outfit of the Day: Wearing a Strathberry East/West purse, Fantasmagoria Goth top and skirt, and hat from Tenth Street Hats.
I loved staying at boutique Hotel Doña Maria ––  as soon as you walk into the lobby, you know you're in for an immersive and luxurious experience. The stately hotel is located in a former 19th century palace, and filled with classic Spanish art.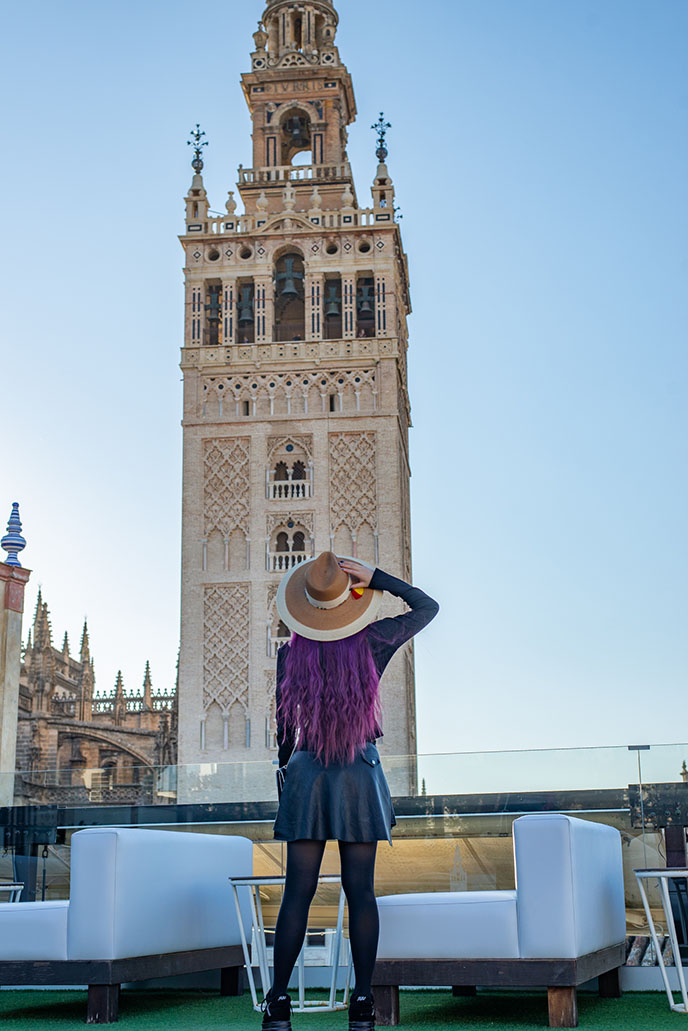 And it's impossible to beat the location of Hotel Dona Maria — right in the historic centre of Sevilla. Step out onto the fourth floor terrace, and you've got picture-perfect views of the Cathedral of Seville and La Giralda belltower!
Hotel Dona Maria's rooms have a charming royal feel, while being updated with today's amenities. I enjoyed the daily breakfast that included dark grain bread rolls, cheeses, eggs, lattes and fresh OJ.
Rooftop snaps, featuring my Gothic long sleeve top and pleated skirt from Fantasmagoria, and a sunhat from Tenth Street Hats.
Quite fittingly, my Strathberry East/West bag was handcrafted in Spain, from ethically sourced Spanish full grain leather. See more of their fine handbag designs below:

Details from the Hotel Doña María terrace, which includes an outdoor pool. Unlike cookie-cutter chain hotels, accommodations like these have unique, artistic touches, and convey the character of the city.
Anyone can come to the hotel patio bar to take Instagram photos, and enjoy a drink while taking in the stunning cathedral. This tall tower was the minaret of the former Almohad mosque, when Seville had Muslim rulers.
(Photos by Joey Wong.)
Exit the doors of Hotel Doña Maria, and you're right in the action. This is the Fuente Farola fountain, with devilish red gargoyles and a wrought iron lantern. Seville's most captivating sights are within strolling distance from here.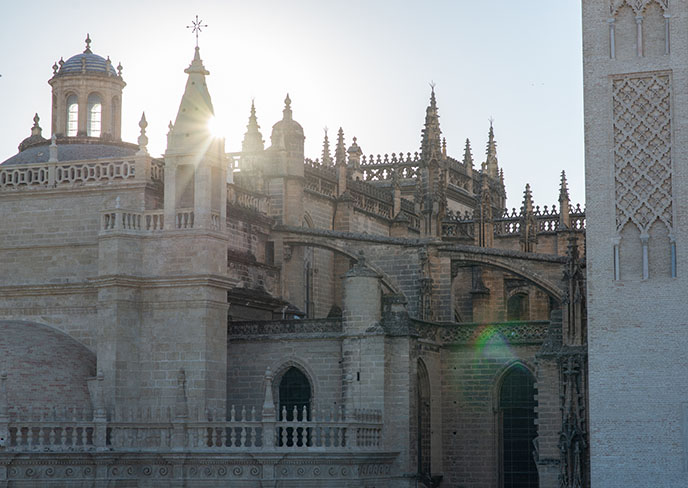 Also steps from the hotel: the Catedral de Sevilla, which was rebuilt in a Gothic style in the 16th century. The cathedral is gigantic (it has the longest nave in Spain), and preserves some of the Islamic architectural features of its previous incarnation as a mosque.
Wander around, and take photos in from of the many tall arched doors in the Old Quarter. Seville's Eastern vibe reminded me of Morocco, which was one of my favorite destinations of all time.
Seville is lined with orange trees — the color and fragrance add to the "5 senses" experience of being here. The Moors planted naranja amarga trees everywhere because they were considered to bring good fortune. Just don't try to eat one of these bitter oranges: they're inedible, and used for perfumes and medicinal oils.
Almost two years of lockdown has resulted in very long purple hair. It felt unexpectedly freeing to experience a different culture, surrounded by Spanish-speakers and centuries-old architecture, after all this time at home.
Seville isn't only known for its ancient buildings. Behold the avantgarde Setas de Sevilla, also known as the Metropol Parasol. Designed by German architect Jürgen Mayer and unveiled in 2011, Las Setas stands 85 feet tall and is the largest wooden structure in the world.
The lower level is an open-air public plaza. I saw groups of friends and skateboarders hanging out beneath the giant mushroom-like roof, which is inspired by the shape of ficus trees, and the vaults of the Cathedral of Seville. 
Ascending to the upper levels is a must. You can get timed entry tickets through the Setas de Sevilla site; I recommend going right before Golden Hour / sunset, to capture glowing portraits like these,
A ticket gives you access to the outdoor viewing platforms, as well as the Feeling Sevilla immersive short film. The wide-screen footage captures the energy of the city with operatic singing, passionate dancing, and even the scent of orange blossom.
You can see a video clip I shot with permission here. The tall purple hooded cloaks are capirote, a conical hat costume worn by Catholic penitents.
Metropol Parasol has a 360º viewing platform, with pathways that curve around and give you different scenes of Seville from above.
The light changes as you meander on the footbridge walkway. Bring a camera up here, and snap away.
Love the contrast between Setas' contemporary organic forms, and the ancient spires of the city.
The wooden "parasols" frame the towers of Hermandad del Valle (Museum of the Annunciation Church).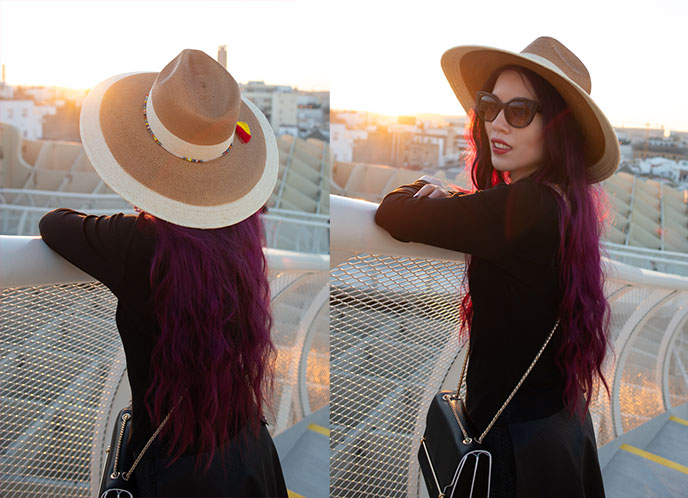 The sun sets over my Tenth Street Hat. this Strathberry East West crossbody bag, and Fantasmagoria Shop Goth clothing.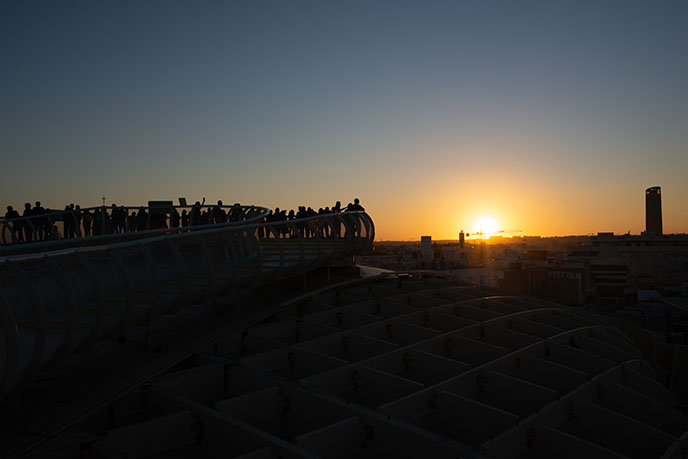 After dark, Las Setas de Seville glistens with an Aurora light show. The colors change and dance over the architecture; see the effect in my Instagram video.
Seville is an incredible destination for photographers thanks to the brilliant light quality, art and street life.
No matter where you wander, you'll come across public courtyard fountains, clusters of orange trees, colored old buildings…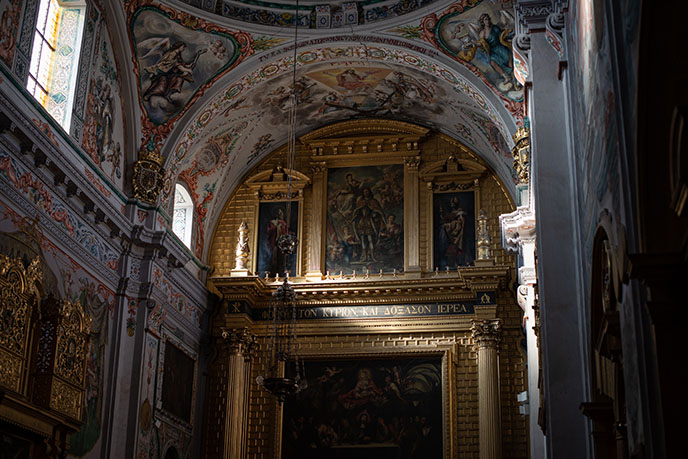 Many of Sevilla's churches are free to enter (the larger ones have ticket fees). Pop in to see the dramatic religious altars and chiaroscuro art.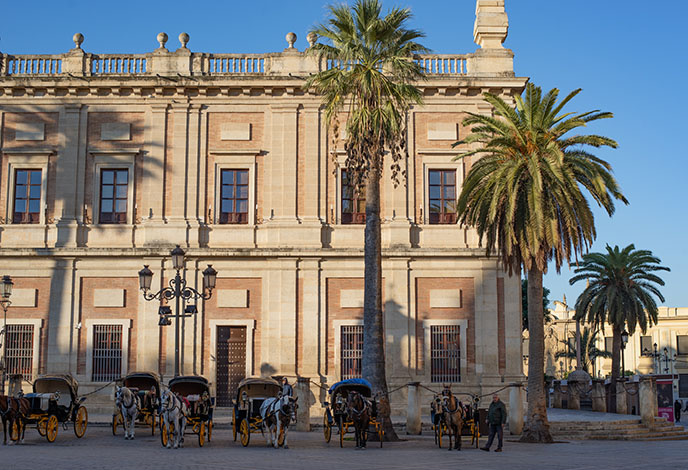 Sevilla City Centre helped me make the most of my trip with their 5 Senses Package. The bookings are customizable to your interests, and include top accommodations, tours and activities. For instance, "Sevilla con los 5 Sentidos" provides hop-on hop-off bus tickets, and airport or train transfers in a Mercedes car. Since your concierge handles all the logistics, you can settle back and enjoy the experience.
Seville 5 Senses let me get a taste of traditional flamenco, at Centro Cultural Casa de la Memoria. The lively one-hour show included dance, singing and guitar in an intimate theater. Everything is located near our hotel, Dona Maria, which is also one of their partners.
The sensory immersion continued with tasting menus at highly-rated tapas restaurants, such as Torres y Garcia. Seville is known for its tapas culture, or leisurely meals of small shared plates. Above: patatas bravas with mint aioli and ground chilli, paired with white Albarino Spanish wine.
I tried the local spin on gazpacho, called salmorejo, for the first time. The cold and creamy soup is also made from tomatoes, but includes bread and has a thicker texture. Of course, I had my fill of sangria and tinto de verano, and anchovies galore.
These are a few of my favorite things… Can't get enough of Spanish sardines and anchovies. (I took home quite a few cans of fish!)
I also had to try Amontillado, a dark sherry wine from this region. The drink was immortalized by Gothic writer Edgar Allan Poe in his 1846 story, "The Cask of Amontillado."
Thank you to Sevilla City Centre for the bespoke tour experiences. You can book your own 5 Senses journey through their website, or by emailing info@sevillacitycentre.com.
I hope you found my Seville photography location suggestions helpful. For the best lighting conditions, go early in the morning (so there aren't many tourists around), or aim for golden hour before dusk.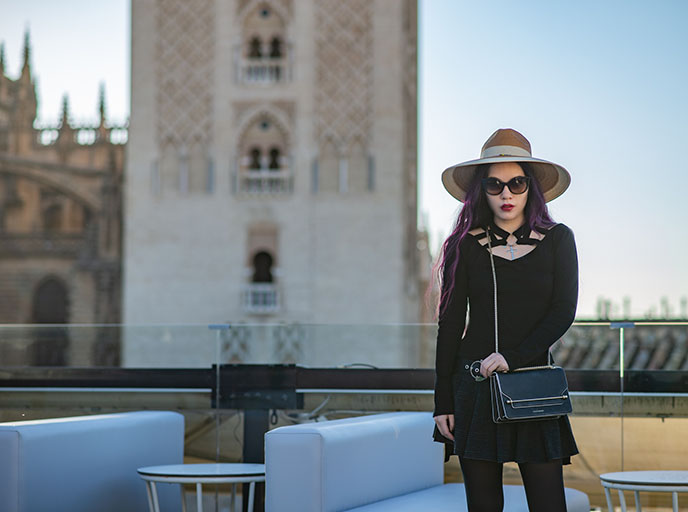 Back to my home base, Hotel Doña Maria Sevilla — can't get enough of this view from their terrace. Very glad I stayed with them in this central location.
This is only the first dispatch from Seville… Much more to come, as well as a day trip to Cordoba. (You can see my previous Granada travels here.)
Wishing you the best for Festivus, Sol Invictus or whatever you celebrate — Do what thou wilt!
(More Spanish Strathberry bags like mine below):