Goth guide to Paris! Visiting the Catacombs skulls, Pere Lachaise Gothic vampire cemetery, Cantada II absinthe bar.
Kiss Me… if you want to get Purged!
Can you tell I'm already in a Halloween mood? I'm relieved that scary season is back — I always feel most "me" at this dark time of year.
To celebrate, I'm sharing my Gothic travel guide to Paris, France — including a visit to the Catacombs and famous Pere Lachaise cemetery.
And I also have a fun announcement… Blumhouse Productions is flying me to New Orleans, to be part of the Purge TV show and report from the set!
I'm sure you've heard of Blumhouse, as they've released some of the most terrifying horror movies in recent years. I'm a huge fan of The Purge, Paranormal Activity, Get Out, Insidious, Split, Happy Death Day, and the new Halloween (with music by John Carpenter, godfather of synthwave!)
Right now, Blumhouse and USA Network are filming season 2 of  The Purge TV show (one night a year, society becomes lawless — so you can pillage, kill and Purge to your heart's delight). They're flying me to New Orleans, where the series is being shot, to go behind the scenes. I'm also going to be in an episode, as an extra: you'll see me in a big finale scene.
(I got so excited about this opportunity that I decided to cosplay as Kimmy, the evil candy girl from "The Purge: Election Year!" She wears this bloody "Kiss Me" mask as she wreaks havoc. I took a plain white masquerade mask, and covered it in white caulking, paint… and real blood?)
Ready for the Commencement? You're invited to follow along my Instagram @lacarmina to see my horrific adventures in New Orleans, with The Purge TV show!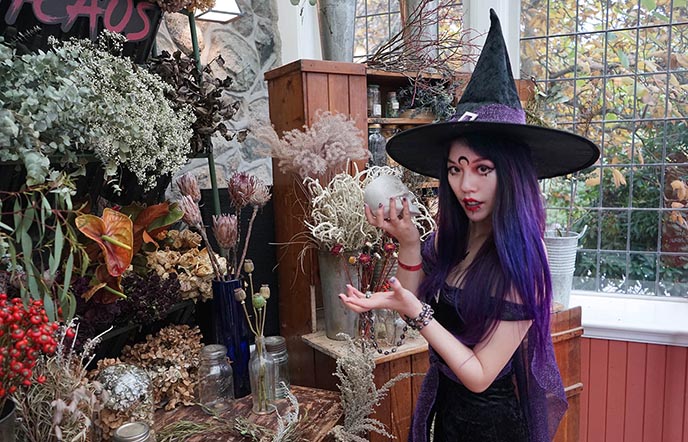 I'll also be visiting Boston and Salem, MA — center of the 17th century witch trials. Can't wait to get my Witch on, in one of the most Gothic places in the world. Keep your eyes peeled for stories from Salem, a place I've wanted to see for years. (Photo from last year's Netflix Spellman House for the Chilling Adventures of Sabrina TV show.)
And I have two more trips coming up in October… I'll reveal more soon. This is going to be the best Halloween ever, muahaha.
Until then, I'm thrilled to release my Gothic travel guide to Paris, France! 
Let me take you to the darkest, spookiest places in the city, including The Catacombs of Paris. (I know many of you have been asking me to cover this ossuary, for years.) We'll encounter thousands of human skulls and bones…
… and hunt for bats and vampires in Père Lachaise Cemetery. (Above is a devilish winged symbol I found on a tomb.)
Finally, we'll unwind with a glass or several of absinthe, at Cantada II — the heavy metal absinthe bar that Anthony Bourdain visited. 
Let's begin our Gothic tour of Paris with a stroll through Père Lachaise Cemetery.
The Paris Tourism Board connected me with Jacques Sirgent, vampirologist and author. He also curates le Musée des Vampires, a collection of obscure vampire objects, and runs walking tours that show the darkest aspects of the famous graveyard.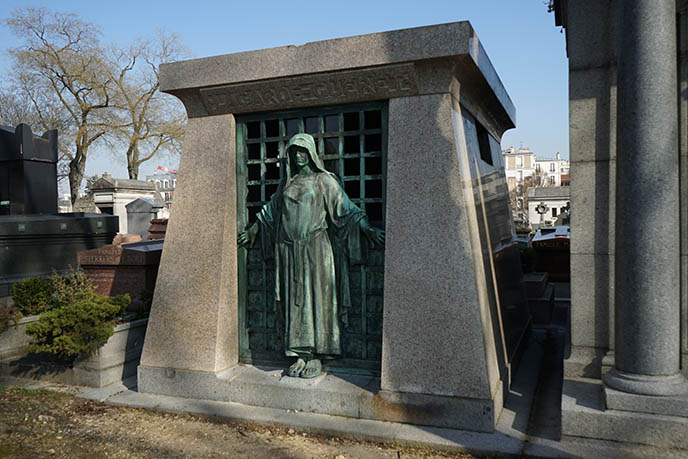 Père Lachaise Cemetery opened in 1804, and stretches over 110 acres. The burial ground is named after Louis XIV's confessor, and is the final resting place of many famous artists — including Melies, Proust, Moliere, Ingres, and Jim Morrison.
Jacques Sirgent knows every corner of cemetery, and has uncovered its most haunting secrets. He showed us desecrated graves — like this one, with Jesus' arms removed — and places where he found the remains of twisted, occult rituals.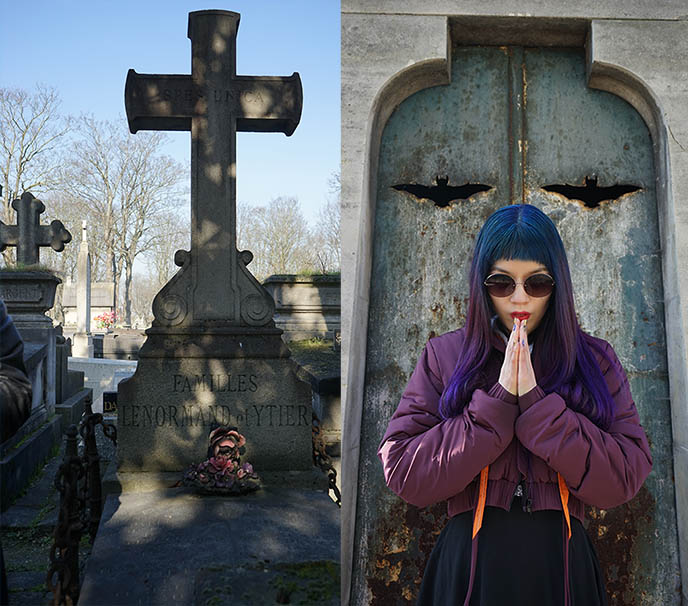 Pere Lachaise is a Goth wonderland. We wandered past decaying flowers under stone crosses, and mausoleums guarded by bats.
(My silk cropped jacket is by Charli Cohen).
Jacques pointed out dark details, such as this figure with what appear to be horns and batwings. The 19th century French mausoleums are beautiful to behold.
Don't miss the grave of Oscar Wilde, featuring a 1914 sculpture by Jacob Epstein. This winged deity in motion is inspired by Wilde's poem The Sphinx. (Officials had to put up a glass barrier, as too many people were kissing the stone).
Jacques told us tales of his strange discoveries and theories at Pere Lachaise. He suggests that this coffin-shaped grave for Leduc is linked to Vlad Tepes, the real Count Dracula. Fittingly, it's marked with bats, always in the dark, and has no cross.
(I'm wearing a Jolie dress by Parisian designer Valfre.)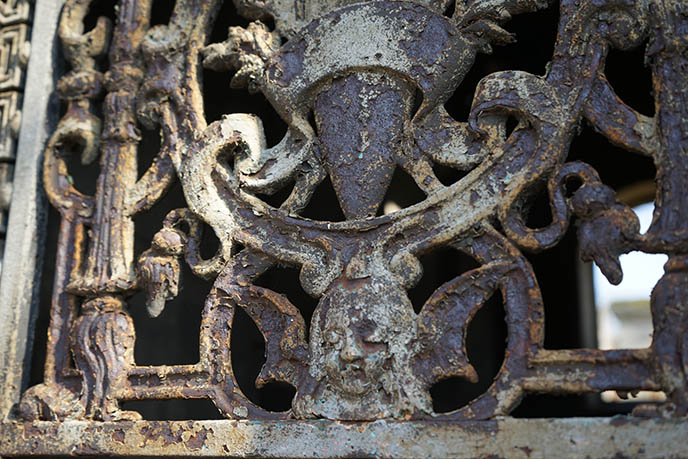 If you're visiting Paris, be sure to wear your finest mourning garments, and hunt for bats and vampires at Père Lachaise.
For a more morbid attraction, you've got to make a pilgrimage to the Catacombs of Paris!
The catacombs can only hold 200 visitors at a time; book a ticket online in advance, or arrive at off-hours to avoid waiting in a long line. A head's up: you have to walk down 131 steps, and up 112 at the end, so the site may not be accessible for everyone.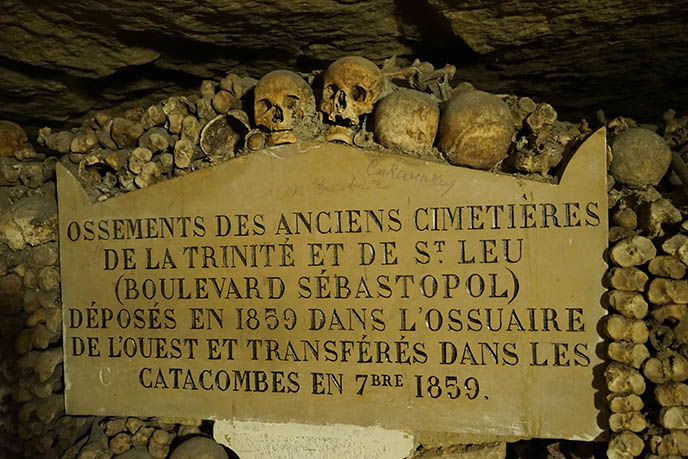 It doesn't get any spookier than this subterranean collection of the dead. The Paris Catacombs hold the skeletal remains of more than six million people!
In the late 1700s, Paris' cemeteries were over-crowded, and rotting corpses were spilling out. As a solution, officials unearthed, blessed, and stacked mounds of bones in the city's former limestone mines.
The Goths of the 19th century enjoyed hanging out in this bone repository, as you can see in the drawing above.
As you creep through the Catacombs, you'll be surrounded by tall stacks of skulls and bones. I felt quite at home among the dead, but the "dry random bits" at the top made me shiver.
"Dem bones" are rather artfully arranged. Just when you think you've reached the end of the tunnel, you'll step into yet another passage filled with femurs and crania.
I learned that only a small area of the Catacombs are open to the public. Some urban explorers known as "Cataphiles" illegally sneak into secret entrances, and hang out in the dangerous restricted zones.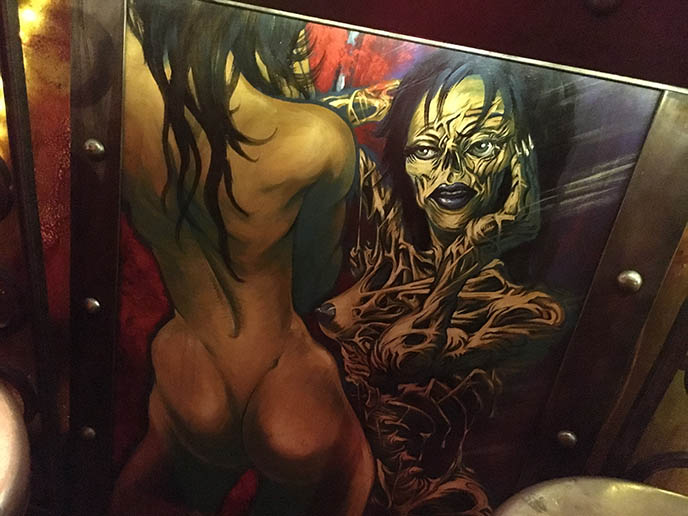 The ghoulish theme continued that evening at Cantada II, a heavy metal absinthe bar in the 11th arrondissement.
I learned of Cantada II from Anthony Bourdain's Paris episode (RIP). With blood red walls, and creepy zombie / monster art everywhere, this was my kind of place.
Cantada II has dozens of absinthe bottles from around the world, which you can order on the rocks, in a cocktail, or served with a flaming sugar cube and water drip from a vintage vessel.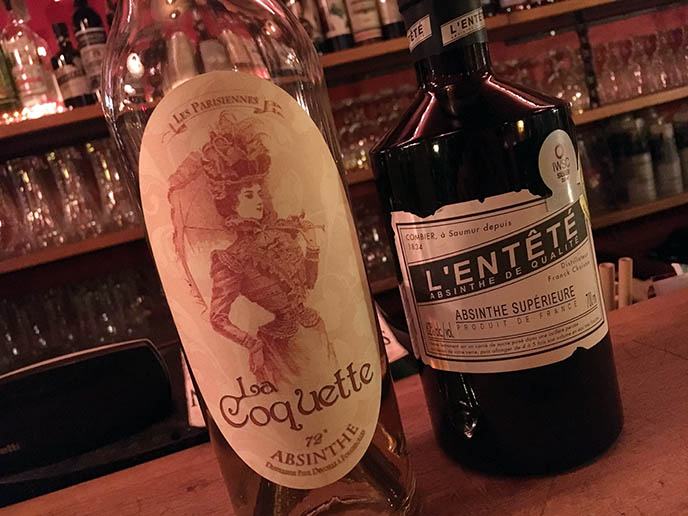 Don't expect a ritzy fin-de-siecle environment: Cantada II blasts heavy metal music, and draws in a gritty alternative crowd.
Since I was in Paris, I stuck to French absinthes including La Coquette, and L'Entete. Everything is well priced, and there are beers and spirits as well.
Creep past the viking skeleton, and enter a crypt that doubles as a performance space. You might encounter burlesque, pole or tribal dancers at "Cabaret du Neant," or hipster singing hard rock karaoke.
So happy I got to experience Cantada II absinth bar, and all these spooky sites, while traveling in Paris.
Since I'm in a Halloween mood, we'll end with a few "batty" outfit posts that I hadn't shared on the blog. Sourpuss Clothing sent me this Gothic bat baseball tee, faux fur leopard print jacket, and black mini-skirt.
I paired it with a bone-shaped hair clip, Jeffrey Campbell platforms, and a Miffy purse from Hong Kong. (The Miffy lamp is from Mr Maria.)
This Sourpuss faux fur cheetah print jacket is a vibe, no? Love animal prints, and the motto on their long-sleeve top: Support your local working stiff, Monster Mortuary!
Release the bats… and bunnies! Here's the head-to-toe look, which is perfect for fall weather (so happy it's no longer so hot outside). Hail Miffy, my favorite cute mascot, as you well know.
This summer, I didn't go anywhere without this Lack of Color bucket hat.  The cotton-canvas material is light and foldable, and the black color matches everything. It's perfect for taking along on a day out, and can be worn with the brim pushed up or down.
What I wore to see Perturbator in concert. Top by Turboluv, a synthwave / outrun / retrowave clothing label. The pharoah leggings are by Cryptic Apparel.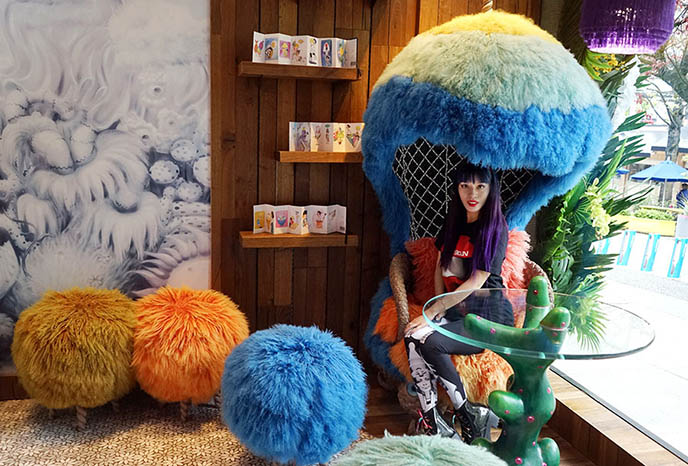 I paid a return visit to the Laurence and Chico cafe in downtown Vancouver. This time, I got to sit in a different fuzzy critter chair in the whimsical high fashion cafe.
I also checked out Hail Mary's Vancouver, a kitschy theme bar with sacrilegious cocktails and Virgin Mary decor all over.
Adieu to Paris for now… here's a final look at the Arc du Triomphe, lit up at night.
I hope you enjoyed my spooky, alternative guide to the city. For other tips (including museums, where to stay, and what to eat), you can consult my first Paris travel article here. A bientot, Paris.
"This is not a test." I'm truly off to get Purged!
Check out my Instagram @lacarmina posts and stories starting today, to see what I get up to, on the set of The Purge TV show in New Orleans. It's going to get bloody… and you're going to love every second of it.