I stayed at Tokyo's Godzilla Hotel! Gracery Shinjuku, Japanese theme hotel review, Akihabara Washington.
Skreeeonk! Watch out, Tokyo. It looks like Godzilla is taking over the city once again.
Did you know you can stay at a Godzilla monster themed hotel: Hotel Gracery Shinjuku? Only in Japan, of course!
Let's kick off 2017 with a roar. I'll take you inside Gracery Shinjuku, a wonderfully idiosyncratic hotel in the best possible location. (Godzilla's claw points over Kabuki-Cho, the host club and nightlife district where most of the Goth / alternative events take place.)
● You can book a discounted room at the Godzilla hotel here, using my special link.
On the terrace of the hotel is a towering Godzilla statue — it doesn't get more epic than this. The monster even moves and roars, with flashing eyes!
Where is this bizarre Japanese hotel located? From Shinjuku station's East Exit, walk towards Kabukicho and go down the street near Don Quixote. Look up — you'll see the Hotel Gracery sign, and Godzilla atop a skyscraper!
It makes sense that he's towering over Toho Cinemas, which releases all the Japanese Godzilla movies. (Address: 1-19-1 Kabukicho, Shinjuku-ku, Tokyo, Japan.)
The hotel has 30 storeys, which meant I had these soaring views of Shinjuku from my window. Gracery's rooms are simple yet spacious, which provides great value (prices are around $100 a night). I spent over an hour soaking in the large bathtub, using the free red bath salts that I got when I checked in.
For fans of "dai kaiju"… There's a Godzilla room that you can rent. Keep reading to see photos of the "monstrous" interior.
Hotel Gracery only opened in 2015, but already, it has become a Shinjuku landmark — thanks to the Godzilla perched menacingly over its ledge.
I'm wearing a Long Clothing Infinity Clip skirt. See more from this designer below:

If you're a guest of the hotel, you can access the terrace where Godzilla lives… that is, if you dare.
Hotel Gracery's convenient location makes it a perfect hangout. John and I invited our friends to join us for drinks and snacks at "Café Terrace Bonjour," located on the eighth floor.
The cafe is guarded by a life-sized version of the monster, similar to this 1995 Godzilla statue that you can put in your home.
The relaxing lounge has an adjoining outdoor terrace, and large selection of snacks and cocktails. There's even a Godzilla cake that you can bite into.
However, my friend Caro (who runs a Gothic baking blog) brought her own homemade spooky sweets for us to share. These are marshmallow ghost cookies are made with white chocolate and absinthe, in colors that match her green liquid lipstick. 
Everyone grabbed a ghoul to eat. By the end of the evening, they had vanished into thin air.
(Many of us are wearing Killstar, Long  Clothing and other Gothic styles that you can get on this site.)
In the evening, Godzilla awakens at the top of each hour (6pm, 7pm, etc). For a few minutes, he shakes his head and his eyes flash like lightning. The creature bares his pointed teeth and spits out fog — or rather, his secret weapon of "atomic breath."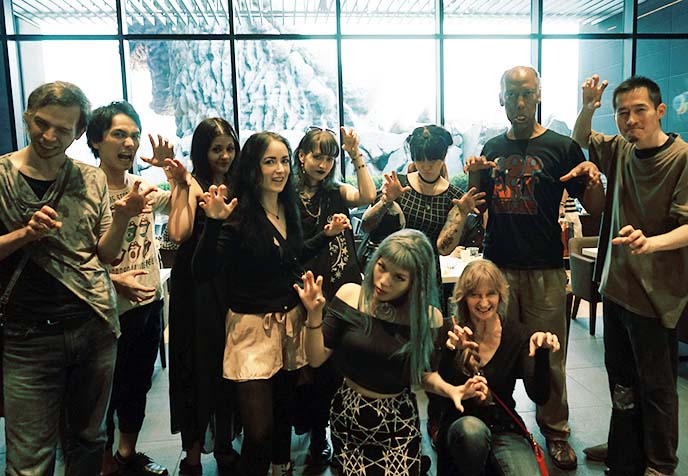 We did our own impression of the scary beast. I think Goths and Godzillas get along rather well together.
Beneath the behemoth, there are carvings of Godzilla from his films over the years. The monster's design changes every time they release a movie, such as with the latest "Shin-Godzilla."
Some of the depictions are more goofy-retro than frightening.
The sea-monster tries to take a bite out of my Strathberry of Scotland midi leather tote, which I decorated with a Devilish 666 bow.
For those who aren't familiar with "Gojira," (ゴジラ), the monster first appeared in Ishirō Honda's 1954 film, Godzilla (more info here). He's a raging, gigantic prehistoric sea monster whose powers were awakened by nuclear radiation.
Japan's Godzilla quickly became a legend, and his name is now known all over the world. To this date, he's the star of over 20 films, as well as video games, manga and spin-offs featuring his allies, rivals and juniors.
John, Atsushi and I are fans of Godzilla, even though he's destroyed Tokyo over and over. My skirt is a Long Clothing Infinity Clip design; find more from this label at:

For super-fans, Hotel Gracery has two special suites dedicated to Godzilla! One gives you the perfect view of Godzilla's head, from your window.
The other, called "Godzilla Room," lets you get immersed in the monster's universe. Everything is decorated playfully, such as trick walls that reveal art in black light, and a mega-statue that greets you when you enter.
The suite's windows have decals of his frenemies such as Mothra, who appears to be spreading his wings over Tokyo.
High five to Gracery Shinjuku, for the creative Godzilla room decoration. Would you be able to sleep with his scaly hand on the wall, looking like it's about to grab you?
One of the walls is decorated with his movie posters, from the 1950s to today. I enjoyed seeing the concept evolution over time. (Photos by John S and me.)
SpaceGodzilla came down from the stars. Such a creative window design — from this angle, it looks like he's about to tear this skyscraper out from the ground. 
The Japanese love their home-grown monster, and even named this Godzilla road after him (leading from Meiji-doori to Hotel Gracery).
I always recommend that travelers stay in Shinjuku, since it's close to everything. Hotel Gracery is in the best possible location: near Decabarz (the alternative Goth club), Golden Gai, host clubs, bizarre theme restaurants, cat cafes, and all types of delicious food. In the area underneath the hotel for example, there's takoyaki, okonomiyaki, sushi, and Krispy Kreme.
Hotel Gracery did a spectacular job in executing the Godzilla theme. There's impeccable attention to detail…
… and tributes to the "kaiju" all over the lobby, such as this mural leading up to the elevators. 
Fans of Godzilla, King Ghidara and Mothra — you've got to check out this unique hotel.
While in Tokyo, I got to rest my head at yet another theme hotel, Washington Akihabara. (Japan's Washington Hotels are under the same umbrella as Gracery.)
Located in the "otaku" district of Japan, this is the only hotel in the world with a room dedicated to train aficionados. One of the walls contains a glass case, filled with miniature re-constructions of railway stations. (Above, can you spot No Face?)
Washington Hotel is once again in a convenient location: a 1-minute walk from JR Akihabara Station. (Address: 1-8-3 Kanda Sakumacho, Chiyoda, Tokyo)
Train fans can reserve Room 1304, which has a huge train track with professional levers. You can borrow one of the hotel's model trains, put it on the rails, and use the gears to make it whizz around at different speeds. 
Above, you can see a blue and green train looping around on opposite tracks. The model set includes the city's landmarks, including Tokyo Tower.
Once again, the rooms are clean and spacious, and excellent value (book a room for under $90 here). Hotel Washington also has a terrific included breakfast: I ate my fill of hiyayakko (chilled soft tofu), pickled vegetables, tamago and miso soup every day.
You can also find out more about Hotel Gracery Shinjuku and book a room here (you can request the Godzilla suite).
Have you watched any of the Godzilla movies? Would you stay in this eccentric theme hotel?
Coming up – a travel video and more posts from my JR Rail Pass trip through Japan. If you're planning to come in the spring for cherry blossom season, it's a great idea to get one of these unlimited passes, which let you ride the rails at a fraction of the cost.