Giuseppina Magazine cover model! Shanghai street fashion malls & graffiti art murals: M50 Moganshan Lu.
Death stare… That's me, on the cover of Giuseppina Magazine! 
I'm honored to be featured in Issue #27 of Giuseppina (available here), with an editorial spread and interview. I've been a fan of this leading alternative / Gothic fashion magazine for a long time.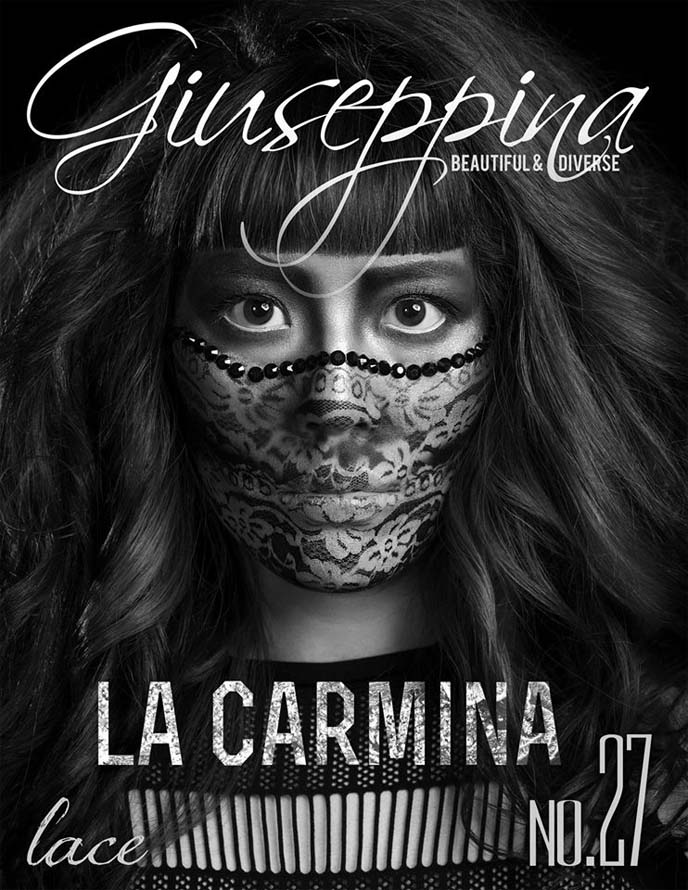 Above is the cover! My almighty team created these images to fit with the "Lace" theme of the current issue. We were inspired by an elegant, Gothic, Japanese moodboard.
Photographer: Joey Wong of Joey Wong Photography
Makeup artist: Jennifer Little of A Little Artistry
Hair stylist: Stephanie Hoy of Stratosphere Hair salon, Vancouver
Model and styling: La Carmina
I love how it all came together. A fog machine added to the witchy, spooky feeling of this shoot.
I'm wearing a lace cape by Black Milk Clothing (they also make the stretchy leotard, seen below). The leather pencil skirt and corset top are by Hong Kong's Erbert Chong. 
Jennifer Little of A Little Artistry keeps on raising the bar, each time we work together. She airbrushed over lace fabric, to create this ninja-like effect.
Stephanie Hoy of Stratosphere Salon made my hair come alive with dark blues, purples and magentas. If there's a hair-color-Zen-master, it would be her.
Photographer Joey created this eerie effect by shooting into the mirror. It has a The Shining type of vibe, don't you think?
(I'm wearing a top by Teale Coco.)
Everyone got creative with the "lace" theme. We wanted the look to be Gothic, yet a departure from what usually comes to mind.
A million thank yous to Giuseppina Magazine for the cover feature, and to my creative team for their outstanding work! (You are welcome to Pin / share our images, if you kindly link and credit back.)
To see more of these modeling images, and read my interview, you may order a copy of the issue. 
Speaking of photography — I've decided to share some of my Shanghai iPhone snaps with you. As you know, I now travel with professional photographers, and we strive to keep the image quality high in all of our works.
However, there are times when I leave the big DSLR cameras behind. I relish these moments of wandering at leisure, and capturing sights like these on my iPhone.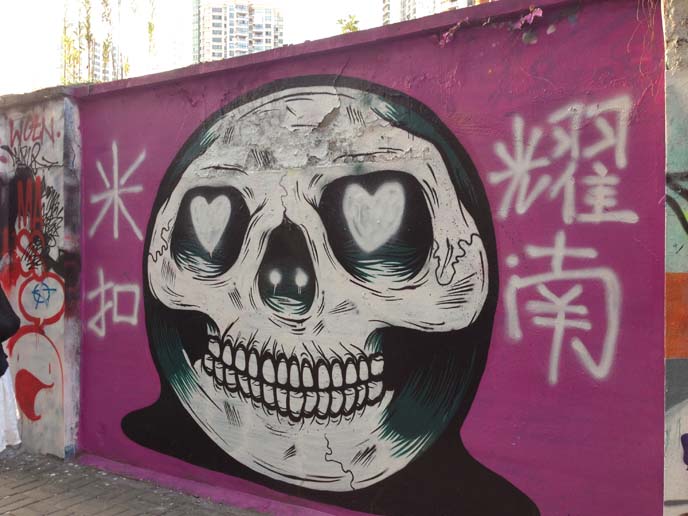 On my last day in Shanghai, I went to M50 or Moganshan Road by myself. Strolled around, met with local friends, and snapped away at inspiring murals (like this skull one above).
I hope you enjoy this casual iPhone diary of street art and fashion in China's biggest city! 
M50 is known as one of the coolest districts in Shanghai. It's home to contemporary art galleries and a long wall of street art, which anyone can contribute to.
Address: ask your taxi driver to go to 50 Moganshan Road (Chinese: 莫干山路50号). Cab fares are cheap in China, and the streets in this area are a bit confusing, so it's better to just pay for a ride.
Moganshan Road stretches along a crumbling wall, and every possible space is covered with street art. I took photos of my favorites, like this one of Street Fighter Chun Lee.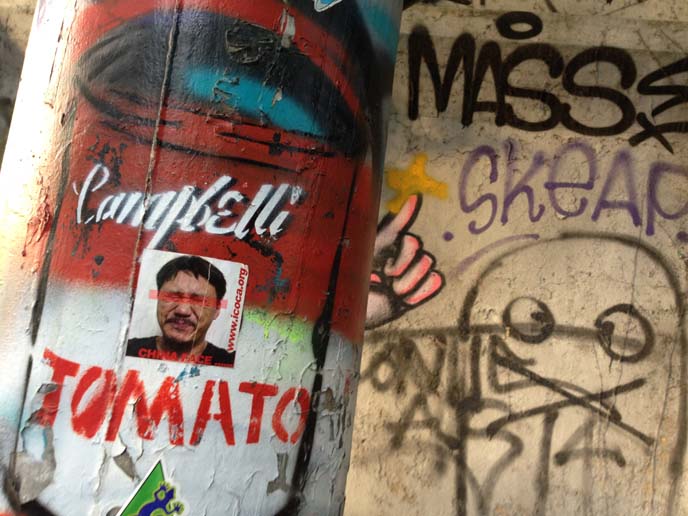 The works are an assortment of graffiti, sketches, and painstakingly-made paintings. The messages are a peek into the minds of the artists. I wonder what China Face and "Campbelli Soup" represent.
Every time you visit M50, the colors and images change. It's a constant work in progress. A fellow visitor handed me a silver market, and I added my fold-eared cat to the wall.
About 15 years ago, this district was a run-down industrial area. Shanghai artists flocked here, drawn by the cheap rent, and opened up studios.
Today, this area has over 100 art studios, which are free and open to the public.
I met up with my local friends, Andrew and Storm, who were adding art to the famous Moganshan wall. Using stencils, masking tape and spray-paint, they created this intergalactic work.
Want to see their street art in action? I took a short video of them making the mural; see it above and on VideoFy Me.
This art district reminded me of Woodstock in Cape Town, where local artists also brought color and creativity to decaying buildings.
Unfortunately, the property is owned by a Chinese developer, which has threatened tear it down. Parts have already been demolished, despite pleas. Hopefully they won't tear down this wall, as it's one of the few public spaces for expression, in strict China. 
I could have spent hours in Moganshan Lu, exploring the contemporary art galleries and studios. I was most impressed by this solo exhibition by Qiu Shengxian.
His painting style is known as "Mother and Son" because he fuses classical Chinese motifs with contemporary fashion and styling. The result: arresting, alien-like portraits like these.
Look closely. The red jackets contain a subtle pattern of Buddha heads and demons, all drawn by hand.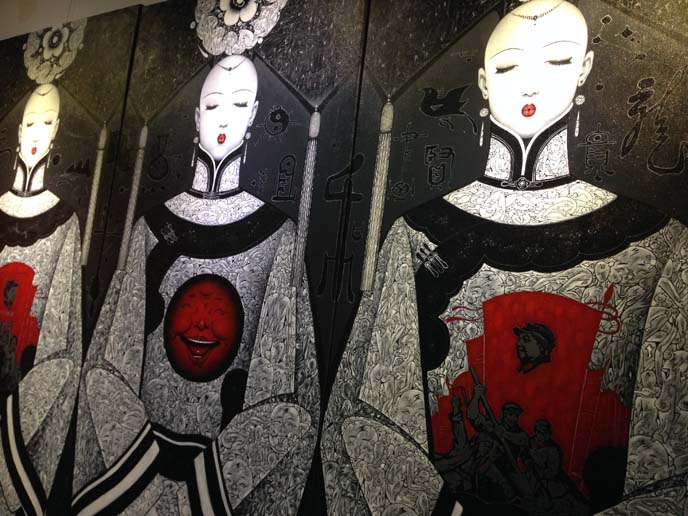 Ancient Chinese empress meets The Fifth Element. No wonder local artists like Qiu Shen Xian are gaining notice worldwide.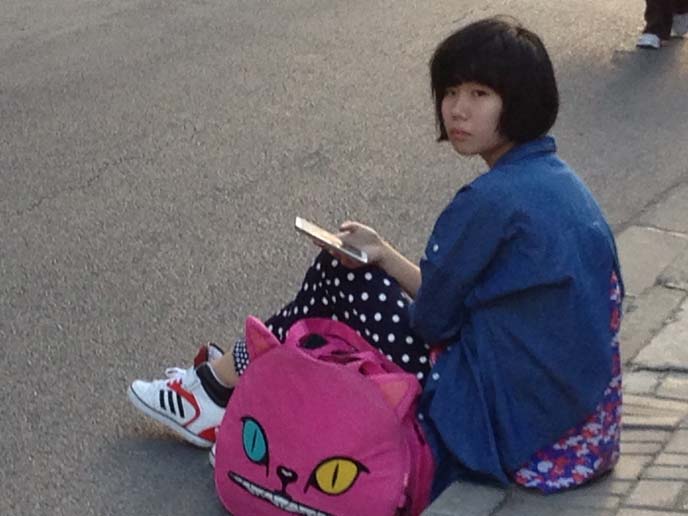 As I waited for a taxi, I took this snap of a Shanghai hipster girl, sitting with her pink cat bag and texting on her phone.
What else should I do on my free day in Shanghai? Shop, of course!
I walked from Cachet Hotel (where we stayed) down West Nanjing Road, and went into whichever boutiques drew my eye. Such as Snoopy, dressed in A Bathing Ape (BAPE) camouflage, and the silver cone-heads in the window.
I passed a lot of luxury brand stores, similar to the feeling of Fifth Avenue in NYC, or Ginza in Tokyo (not my cup of tea). Finally, I came across something intriguing: a smiley face, and three golden lions perched on a tall pole.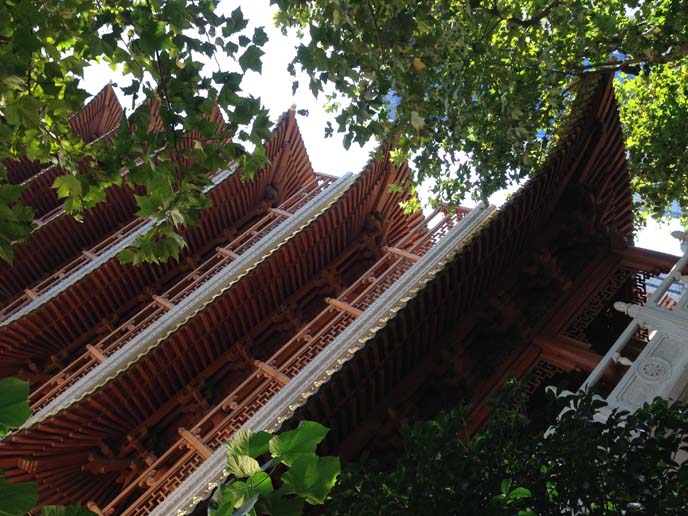 They are guarding Jing'an Temple, a of worship that was built almost 800 years ago. After a devastating fire in the 1970s, the Buddhist temple was rebuilt, and remains a popular site today.
❤ Continue reading this post, to see photos from the Miffy store, Gladnews and more Shanghai style. ❤
Across the street, I saw two girls dressed in traditional Chinese robes… and a shopping mall called City Plaza. (Address: 1618 Nanjing Xi Lu, near Wuning Lu. 南京西路1618号 久光百货, 近华山路)
My gut told me to go in. And it was right. Look who I found on the second floor… Miffy!
This is one of my favorite brands, Miffy x TwoPercent. The clothes are always cheeky and poppy — like the cardigan with Miffy sitting on a moon.
Above, the bunny hovers on a cloud! I love this Miffy lamp, by Mr Maria (buy it here). Remember I own the big floor version of the Miffy lamp? (They have a smaller one too.)
I took home this X-mouthed purse. I had to. Right?
The Miffy shop has a location in Hong Kong too — here are photos.
I had fun browsing the other brands inside City Plaza mall. There's a nice mix of artsy, cute, indie Chinese fashion, like these garments by Angie Wu.
The mall also has a Japanese food area and toy shops. How sweet, these lucky cat statues. One has a crescent on his forehead, like Luna from Sailor Moon.
I saw some cute mascots that appear to be unique to China. This is Alilo Hunny Bunny, an interactive child's toy.
The Chinese streetwear scene reminds of M50: a mix of bright colors and cute faces.
I had never seen this label, Lalabobo, anywhere else in Asia.
Everyone thinks that Tokyo is home to the funkiest fashion, but just look at the streetwear in Shanghai.
The mall did carry some Japanese brands, including my favorite rock label, Gladnews.
I smiled at this tattooed Gothic Snow White.
A three-eyed monster? This is Devilnut, yet another bizarre Chinese streetwear company.
The designer draws upon influences that range from hip hop… to Edward Munch's Scream. Yes, the monster's tattoo reads "2Pac" and "Thug Life."
I'm endlessly intrigued by how China draws upon outside influences (like hiphop culture), and expresses it through fashion.
Cuteness rules, everywhere in Asia. A grinning character welcomes customers to this Shanghai sneaker shop.
Despite the historical tensions between China and Japan (which remain today), the Chinese have embraced Hello Kitty.
This store offers a variety of Sanrio clothing and accessories.
Here's a t-shirt for those of you with nut allergies. A peanut with fanged teeth!
My advice for shopping in Shanghai: skip the high-end international brands that you can find anywhere in the world, and take a walk on the weird side at City Plaza. For better or for worse, Chinese streetwear is truly in a category of its own.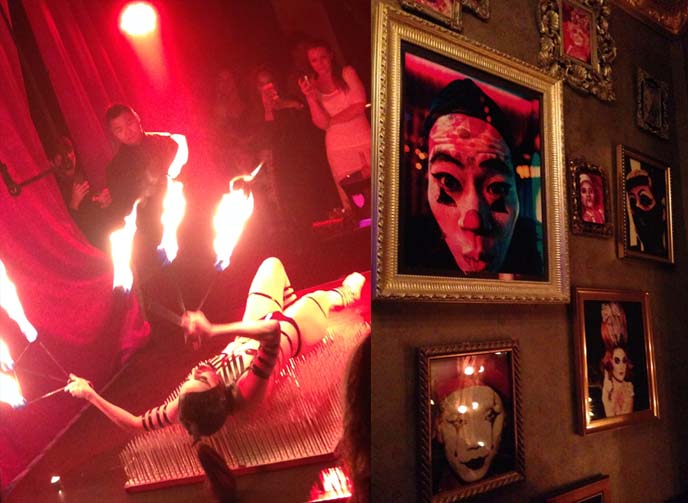 How about nightlife? There isn't much of a Goth or alternative clubbing scene in Shanghai. However, I enjoyed dancing to nu-disco at Cirque le Soir, a party with a twisted circus theme. 
When we walked in, we saw a peep-booth, a stand for cotton candy and popcorn… and two little people in fetish masks, dancing on the bar.
(Address: 4/F, 22 Zhongshan Dong Lu, near Jinling Lu. 中山东路22号4楼, 近金陵路. Cirque le Soir also has events in Dubai and London.)
We partied with clowns on stilts, and watched edgy performances by acrobats and fire-dancers. Here's a video of the fire dancer, twisting and dropping to the sounds of Jefferson Airplane.
I hope you enjoyed my on-the-go iPhone images of my travels in China. For more food and shopping recommendations, check out the rest of my Shanghai travel guides: including the French Quarter, Sherlock Holmes cafe, and avantgarde restaurants.
What do you think of my Giuseppina Magazine cover? Issue is available in print and digital.
You're welcome to save these images to Pinterest or post them on social networks — just link back and credit, please! Thank you.