Tel Aviv's coolest fashion boutiques! Israel vintage & vegan clothes, Super Mario Nintendo nail art.
Let's continue my indie shopping tour of Tel Aviv! In part 1 of my TLV Style Tour, my guide Galit Reismann introduced me to a mad hatter and jewelry designer. Now, we'll discover the sweetest twee and vintage fashion in Israel.
(Details of my Very Metal dress and Goth cross tights are in this outfit post.)
We began with a walk through the fashion-centric Noga district. Small clothing shops and cafes huddle next to pastel street art featuring eyeballs.
Galit took me to Roni Kantor's studio, which doubles as a boutique. I was charmed by Roni's retro-chic designs, especially her reconstituted vintage dresses. This one perfectly matched my hair color.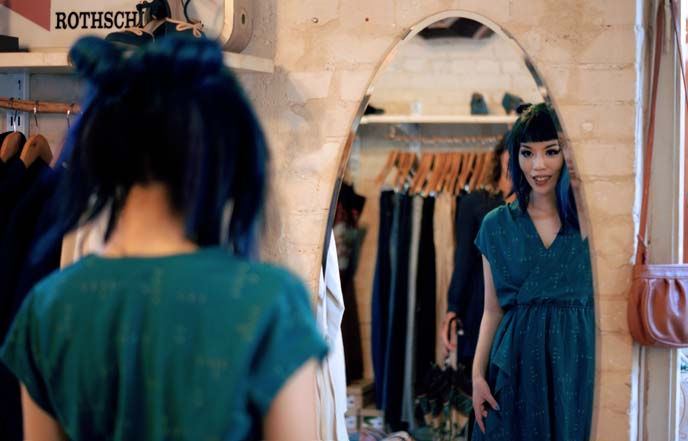 I was right behind her mission of upcycling and respecting living creatures. Roni is particularly loved for her vintage-inspired shoes, made from vegan leather in a family factory.
Galit, Roni and I twirled parasols for the travel video, which my team is working on now. In the foreground, you can see Roni's darling footwear collection.
(Photography by Eric Bergemann and Melissa Rundle, who were hosted along with me on this press trip.)
Then, we took a short walk to Pioo Pioo, a gem of a boutique near the nightlife-centric Rothschild Boulevard. Try saying the name out loud. It mimics the sound of a laser gun!
I instantly felt that designer Mor Bauer and I are kindred spirits. Absolutely loved her colorful rocketship dress with fringe at the bottom, creating the movement of a blast-off. Her rainbow jewelry would feel at home in Harajuku or Shibuya.
Mor's tailoring is beautiful, and she uses fine materials like silk. The jacket's striped interior reminded me of Beetlejuice.
Her clothes can be dressed up or down, suiting a variety of personal styles.
The boutique is decorated with retro rainbow toys, an extension of Mor's whimsical taste.
I particularly liked her grapes-and-leaves headbands, and fun embellishments like a baby's head on a zipper.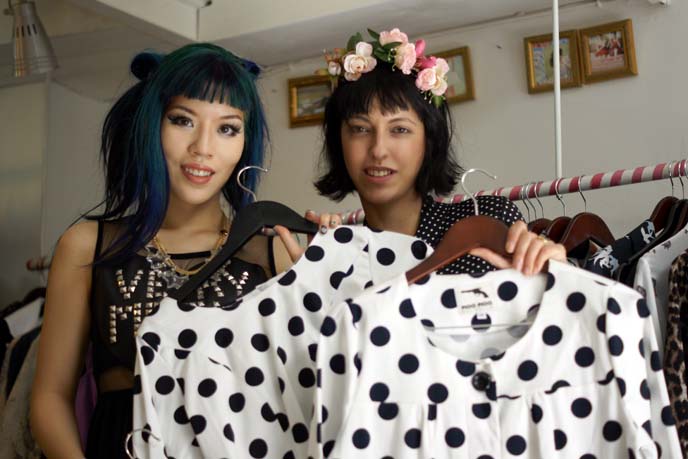 Flower crowns, polka dots and crop tops.
Mor wore this creation when she walked down the aisle. Two unicorns are better than one.
She'll custom-make clothing for you, and specializes in sewing romantic, lacy wedding dresses.
I felt so much at home, at Pioo Pioo. Thanks to Galit for the custom fashion tour (find out more on her TLVStyle Facebook), and hugs for all the talented Israeli designers I met!
Here's a bonus photo of my Nintendo nail art, by Glam Nail Studio. I asked for green and blue designs from the Super Mario universe, to match my hair. See if you can spot Boo, Luigi, a Koopa turtle shell, mushrooms and a POW block in there.
Do you ever wear vegan or vintage fashion? What do you think of the unicorn dress and Nintendo nails?
PS: I wrote a guide to alternative Japan for the Sunday Times Travel Magazine, one of the world's leading travel publications. My plush cat Basil Farrow is blocking my byline…
You can pick up the April issue about "Hip Cities," in stores now. Looking forward to writing more for this UK-based magazine.
PPS: have you seen the photos of this fuzz-face on my @lacarmina Instagram, including a video of him jumping and wahh-ing?
Have a cute week!