Dubai Travel Photos: futuristic space alien city! Famous skyscrapers, skyline, Arabian spice souk.
Decisions, decisions. Shall I head towards Dubai or Abu Dhabi? Don't worry: my travel filmmakers and I went to both Middle Eastern cities, and will be sharing the footage with you soon.
I've been fascinated by Dubai for a long time. The Arabian emirate (one of the seven making up the UAE) is like a Jetsons space-age city rising out of the desert. The city is oil-rich, and invests in ritzy building projects to keep tourism and finances flowing.
What's emerged from the sand? A city of the future, with skyscrapers straight out of a science fiction novel. Everywhere we went, we saw more mega-towers under construction.
The Dubai Metro stations resemble gold alien pods, and the subway stops have names like "Internet City" and "Business Bay."
There's a feeling of possibility in Dubai; the sense that anything you imagine — a peninsula shaped like a map of the world, a mall that resembles an Egyptian pyramid — can be brought to life. I can't thank Fairmont The Palm Jumeirah hotel enough for hosting us here.
Cat tshirt and leopard print skirt: Banana Fish, from Closet Child Tokyo
White rabbit clock bag: Amavel, from Shinjuku Lumine
Not all of Dubai is high-tech and touristy. You can relax on the beach, or drive about an hour out to experience the sand dunes. (Think Lawrence of Arabia.) Some tourists try "dune bashing," or speeding up and down the mounds in a thrilling car ride.
My crew wanted to capture Dubai's traditional side, so we rode the green metro line to Al Ras station, and walked a few blocks to the spice and gold souk (market).
Above: Japanese kawaii is everywhere! While we were filming, the store owner came out and demanded five dirhams (about $1.50) for the privilege.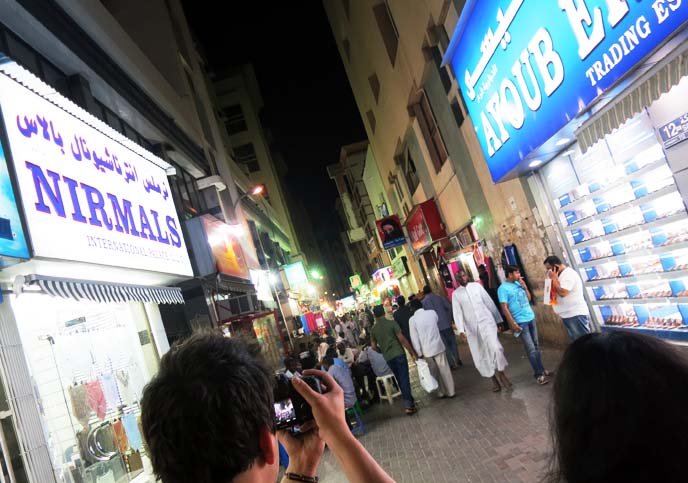 Travel filmmakers Eric Bergemann and Melissa Rundle were enthralled by the marketplace lights and action. When I saw the shop sign for "Nirmals," I couldn't help but think of Garfield sending Nermal to Abu Dhabi. (Apparently, there are lots of stray cats in the United Arab Emirates…)
Shop windows glittered with gold jewelry. At every step, local vendors called out to us: "Sir, would you like to buy a gold watch?"
The spice souk is one of the least touristy parts of the city. In other areas, such as Dubai Marina, you feel like you're in Times Square.
One of the vendors spoke to me in excellent Japanese! I was intrigued by the black kohl eyeliner, herbal teas, and bizarre remedies for sale (like a yellow rub for eczema).
The spelling may be off, but the spice selection is spot on. On the shelves, you can see shisha (or hookah): a traditional waterpipe for smoking flavored tobacco.
What's the dress code for Dubai? The city's cosmopolitan, and there's no need to wear a headscarf. However, it's a good idea to dress on the conservative side (cover your arms and legs), especially in traditional neighborhoods.
This mannequin is wrapped in a keffiyeh, or headscarf worn by Arab men. The colors and meanings vary; you can read more about male headscarves in this Wiki article.
I wish our photos could convey the scents and energy of the Arabian market!
Coming up next: we dive into the modern side of Dubai, with photos inside our Fairmont hotel (located on Palm Island), the Burj Al Arab, and one of the world's largest malls.
Doesn't Dubai remind you of an alien city? Do you have questions about traveling here? Leave me a comment, and I'll try to help you out.