Hong Kong fashion bloggers panel at Dragon-i, Social Media Week! Kusuri designer raincoats, cute kawaii Jpop clothes.
I love meeting fashion bloggers around the world — there's strength in numbers!
At Hong Kong Social Media Week, I took part in a panel about the business of style blogging. My top and raincoat are from a brilliant new brand: Kusuri Enterprises.
Designer Lauren Bitar launched Kusuri in February 2012. Her clothes have a Jpop influence, and the angel wings represent flying away from the mindless life of a drone to realize your full potential.
My pin-up hair is by by Emma Woodall of Toni and Guy Hong Kong. My roots were showing, so she got creative and extended the darkness with hair color spray!
Everyone went nuts over the wings on my Kusuri Bodhi Coat. They're detachable, as is the hood. The raincoat's material is sturdy and well-stitched, and cast a translucent silhouette as I moved.
Beneath, I wore Kusuri's sweet, custom-printed racer tank. The cut is flattering and ideal for layering. I finished the look with her Day to Night purse with metal chain.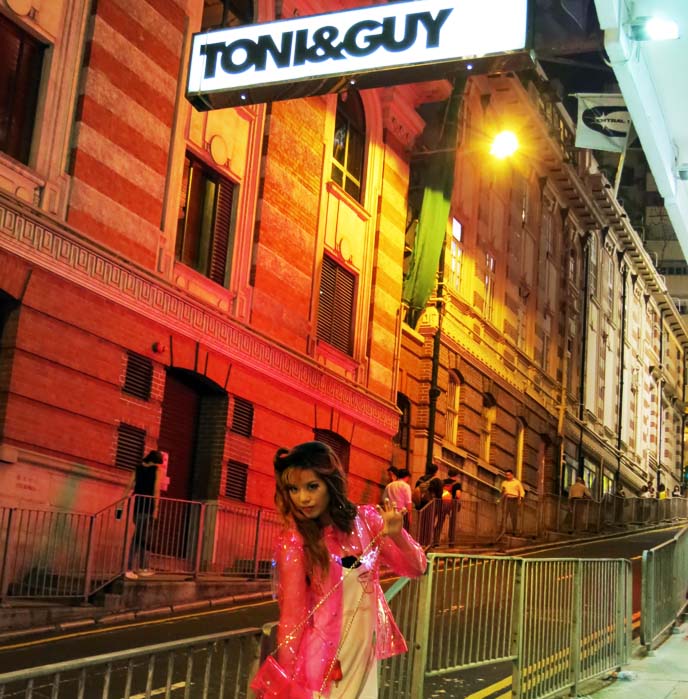 On the famous Wyndham Street in Lan Kwai Fong, Central. Onward to the panel at Dragon-i.
I spoke at HK Social Media week with fashion insiders: JJ Acuna, Cindy Ko, Rina Harianand, Kiri Sinclair, Geneva, Jasmine Webster, La Carmina, Olly Finding.
We discussed blogger-brand relations, such as how to find a good fit for both parties, negotiate, and monetize. Professionalism and meaningful content always come up on top.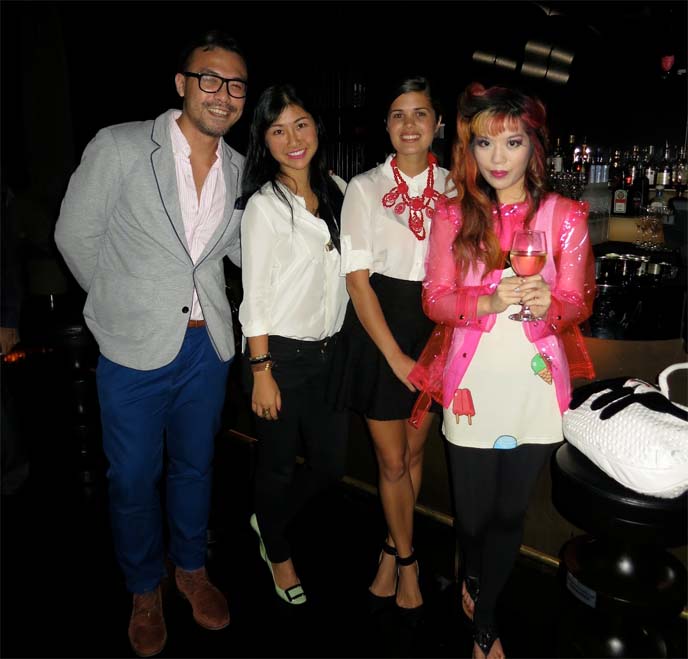 After, it was wine time. (Above 3 photos by Mischa Designs)
Special thanks to Jasmine Webster (far left) for inviting me to take part, and moderating a successful night.
But wait! There's more Kusuri designs to share. My yellow raincoat matched the giant happy face at Times Square in Causeway Bay.
You can find Kusuri at NYC's Trash and Vaudeville, and LA's Happy Six on Sawtelle Blvd. Designs are also available via the official site and Karmaloop.com's Kazbah.
I wore a soft, green Kusuri jacket to the new Hysan Place mall. Excited to see her next collection, which will launch in January. (The bag is Hyoma, from my beloved I.T / Izzue store.)
I ran into a Frankenweenie display. The new Tim Burton film is a must-see.
Tons of Hong Kong food adventures with John Skeleton to come.
Have you explored Hong Kong's fashion scene? Are you intrigued by Kusuri Enterprises's poppy designs? PS: these are older photos, my hair color is now violet as seen on TV!