SHEER, CHIFFON CAPE DRESS BY UNIF. FASHION BLOGGERS MODELING IN FRONT OF FLORENCE'S DUOMO: LUISAVIAROMA.
NY Fashion Week is utter madness! For a sneak peek at my outfits and escapades, follow me on Twitter.
Let's continue the Italy coverage. Why is Luisaviaroma Firenze4ever's motto: "It's Magic?" Because there's no better word to describe a moment like this.
For day 2 of my Styling Lab, I wore a Unif black stretchy dress with long, sheer cape sleeves. (Ah, it's only $76 on this site!)
Posing up high with Seba, I spread my arms and felt like I was flying.
The silver pointer ring added dramatic flair. The lace tights (similar to these) are my own, and the creeper shoes are very La Carmina, no?
Hair by Aveda; makeup by MAC. Such a feeling, to model in front of Florence's Duomo.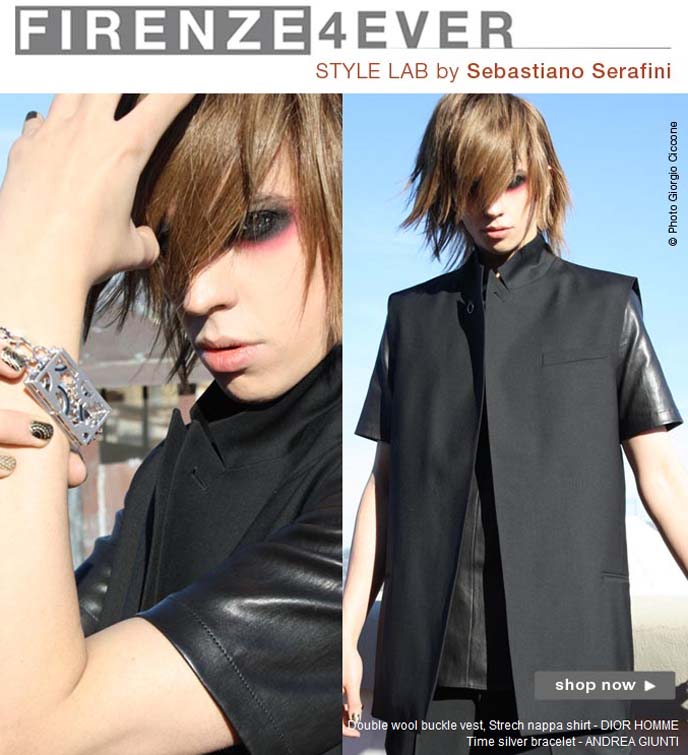 Sebastiano Serafini's photos were featured in Luisa's newsletter.
My hair has a Barberella vibe, curled and pinned to the side.
I love Seba's clockwork-steampunk silver bracelet, by Andrea Giunti.
Gorgeous architecture (and the male model's not bad either!).
This is one of my favorite photoshoots to date — how about you? Do you like our makeup and hair choices, and how our style's evolved over time?
❤ Inspired by this post? Please support with a Facebook Like… ❤