STUDIO ALTA SHINJUKU: GYARU YOUNG WOMEN'S DEPARTMENT STORE, SHOPPING MALL. LIZ LISA, JAPANESE DOLL EYELASHES.
Let's continue our Tokyo shopping trip. I took photos inside Studio Alta, the Shinjuku department store for gyaru / gal / youth street fashion.
From Shinjuku Station east exit, walk straight and you'll find Alta. There's lots of colorful, electro fashion here.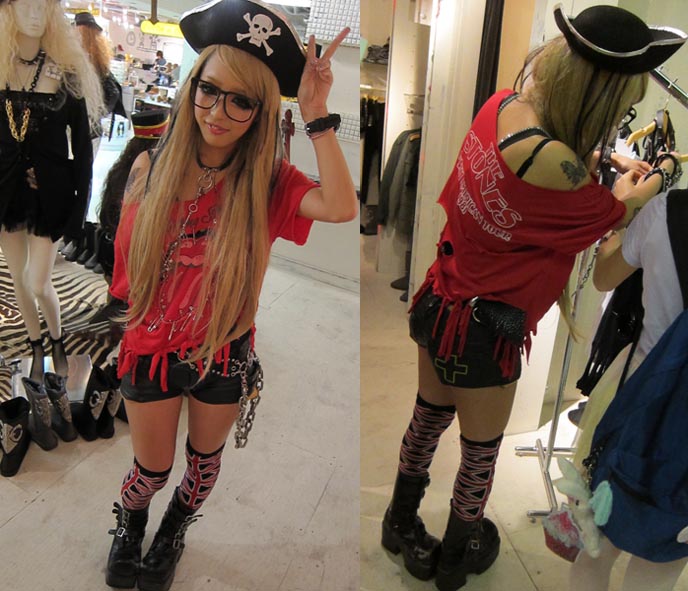 This Jaoanese shop girl, dressed as a pirate, won my heart.
She's captain of a new boutique, Fernopaa.
It's rocker-80s: loads of studs, leopard print, toy soldier hats.
Dig the pirate girl's arm jewelry, and the punked-out doll at counter.
As soon as you enter the glass doors of Studio Alta, you'll find doll eyelashes, nail polish, and Hello Kitty cosmetics.
Also near the entrance: Liz Lisa.
The girly, gyaru brand is very popular in Japan.
Shoe stores are scattered throughout the building.
Animal prints and cute accessories are always in season.
The basement has a cool stockings / socks store.
Don't overlook Claires, or the takoyaki and taiyaki stands! (The octopus balls are only 500 yen.)
What else can you find in Studio Alta? Sweet lingerie and PJs..
Street, punky clothing (quite well-priced, around $30-50 per item).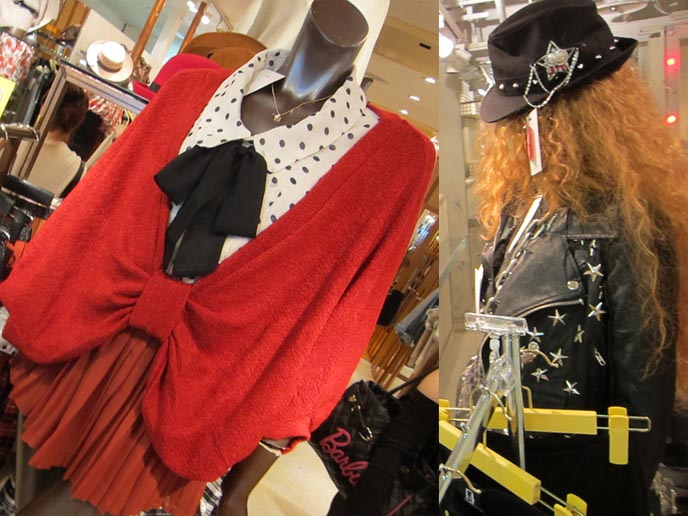 Some of the latest styles are… questionable.
But you can't go wrong with nail art decals, and AC/DC backpacks.
PS: Speaking of shopping, thank you to Racked for interviewing me about my favorite obscure shop in LA: Hyaena Gallery! And arigato Kyoko for the drawing on the left, inspired by Yukiro and me.
What do you think of gal style in Japan? Which items and stores did you like best, out of the photos in this post? Let's chat in the comments.
❤ Aww-ed at this post? Please give it a Like (below) ❤