JUNIE MOON, BLYTHE DOLL SHOP IN DAIKANYAMA, TOKYO. JAPANESE NAIL ART, CRAZY NAIL DESIGNS, CUSTOM BJD DOLLS.
Does the name "Daikanyama" ring a bell? A one-stop subway ride from Shibuya, this ritzy Tokyo shopping district is home to the first Baby, the Stars Shine Bright (immortalized in the novel Kamikaze Girls).
Daikanyama's clothing boutiques aren't my cup of tea — too pricey and Park Avenue. But I enjoyed poking my head into the designer doll shop, Junie Moon.
I confess I'm not a doll person; however, I appreciated the sweet designs and dress sets. In addition to Junie Moon, this store stocks Neo Blythe / Petite Blythe stationery and character goods.
The girly window display.
A huge assortment of doll accessories… and these things aren't cheap.
The pink and black Gothic Lolita doll was one of my favorites. Skirt too short? Not by my books.
Big eyes and oversized heads are always a draw in Japan.
Daikanyama Junie Moon: 4-3, 1F, Sarugaku-cho, Shibuya-ku, Tokyo. Map.
There is also a shop on the 4th floor of Marui One Shinjuku (this is the exterior). For more photos and info of the Marui department store, visit my Tokyo shopping guide.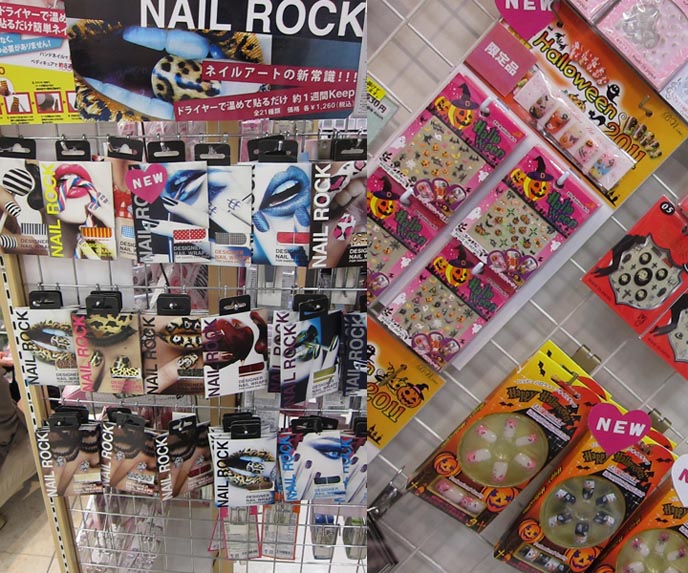 What else can you find at Marui (and all over Tokyo, for that matter?) Nail art!
Flamboyant, tricked-out, ultra-decorated nails have spread from Japan. Now, you'll often spot Western celebrities with crazy nail designs.
If you can't afford a nail salon, or would rather DIY, you can pick up stickers, polish and fake nails from Odakaya. (This craft/design store is stupendous; see my store photos here and here.)
I'm sad that Halloween is over… had a riotous time in Mazatlan, Mexico. Photos of my costume to come!
PS: my Bizarre Foods with Andrew Zimmern (Tokyo) episode aired again yesterday. On this page, you can watch all my TV hosting clips.
Are you fond of nail art? Designer dolls like Blythe and Junie Moon? If so, what draws you to them?
Song of the Day:
❤ Smiled at this post? Please give it a Like (below) ❤