PIRATE PIN-UP GIRL PHOTOSHOOT. PROFESSIONAL GOTHIC MAKEUP TUTORIAL, HEART-SHAPED GLITTER EYESHADOW.
As you likely know, I'm Captain of a TV hosting/fixing and coolhunting business called La Carmina & The Pirates. So I was doubly excited to shoot a Pirate Pin-Up Girl look for the pages of Alt Noir, a Gothic fashion and culture magazine that put me on their latest cover.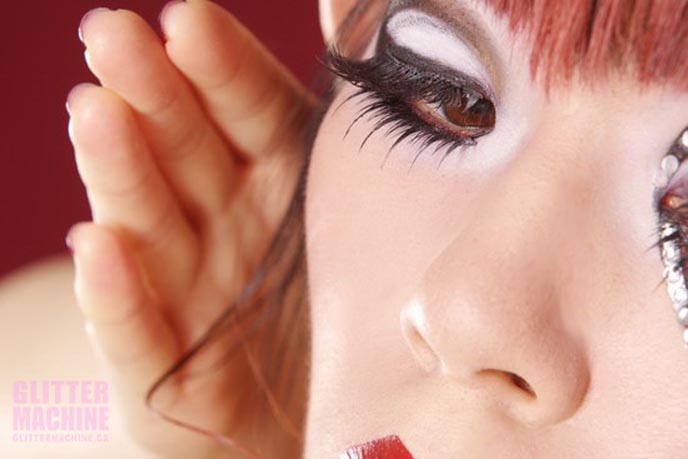 It was a marathon photoshoot, lasting from morning to night. None of this would be possible without the tireless work of my creative partners:
Makeup and Bodypaint by Jennifer Little of Glitter Machine
Photography by Lee Kembel of Glitter Machine
Wardrobe and styling by Tracy Rodger and Jenni Wong of Deadly Couture
Hair by Isolde Semple of Avant Garde Salon
I'm glad you liked the step-by-step Goth makeup tutorial in the latex space-queen post. Here's how Jenn turned me into a lady-pirate.
She swept a black "banana line" over my crease for the retro look, and painted on a thick cat-eye with liquid eyeliner. Then she added false eyelashes, and highlighted with white eyeshadow.
Next: a black heart over one eye, outlined with strips of sparkle gems from a craft store. And red, pouty lips.
I loved my sailor dress with a pencil skirt and red corset, accessorized with a silver bird necklace and bracelet.
Topping off the look… a mini pirate hat, in my big pin-up curls!
A salute to everyone who made the photoshoot possible. You can buy Issue 12 of Alt Noir here; it includes a La Carmina interview and spread, as well as cover.
Are you fond of pinup or retro-vintage makeup and fashion? What do you think of these makeup tutorials — would you like to see more?
PS: the NHK Kawaii TV shoot went amazingly! We toured Goth/subculture shops, then hit Midnight Mess party. Photos and video clips soon.
Song of the Day: Chemical Brothers – Escape Wavefold (from the uber-stylish thriller film, Hanna)
❤ Squealed at this post? Please give it a Like (below) ❤