CORPSE BRIDE HALLOWEEN GOTH MAKEUP, FULL BODYPAINT AIRBRUSHING: LA CARMINA FOR GOTHIC ALT NOIR MAGAZINE.
Here are more of the incredible photos from my Alt Noir magazine photoshoot! I appear on the cover of Issue 12, which is out now (thanks to everyone who picked up a copy).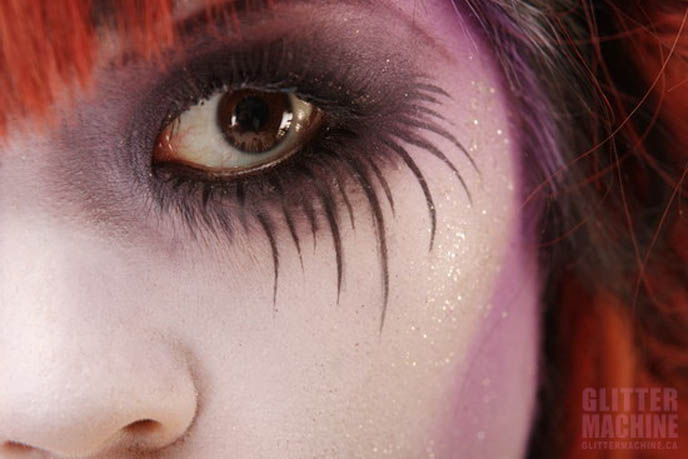 La Carmina's Corpse Bride transformation wouldn't have been possible without my talented Vancouver-based team. Glitter Machine is a photo and makeup/bodypainting team that specializes in avant-garde, alternative looks. All of these photos are by Lee Kembel; the makeup and airbrushing are by Jennifer Little.
Aren't you in love with the long black latex skirt, purple cobweb corset, and spider silver jewelry? The wardrobe and styling are by Tracy Rodger and Jenni Wong of downtown Vancouver boutique Deadly Couture (I visited them in this post). My curled hair is by Isolde Semple of Avant Garde Salon.
I'd never been bodypainted before — and it literally gave me goosebumps. Glitter Machine wrapped me up in paper towels, then sprayed my body white.
Jennifer sprayed on purple and sparkle to add depth.
Then she painted long trails from my undead eyes.
Several layers of false lashes and deep plum lips are the final nails in the coffin.
The devil's in the details. Silver glitter on my upper eyelids, spider hair clips in my ringlets.
We photographed this look with my curly hair pinned up, and loose around my face. Which do you like better?
Lace parasol and lace gloves… you wouldn't want to run into me on a dark and stormy night!
Big vampire bites to everyone who made the photoshoot possible, and to Alt Noir Magazine for invite me to grace their pages! Issue 12 is available for purchase from their site. You know you want a copy.
What do you think of Glitter Machine's makeup and photography techniques? If you need a brilliant Vancouver bodypaint/makeup/photo team, please give them a ring!
PS: I wrote about Hong Kong's dark fashion for my Lip Service Global Gothic column. LA Weekly also photographed my Hello Kitty birthday party; the slideshow is here.
Song of the Day: Virgin Prunes – Walls Of Jericho
❤ Squealed at this post? Please give it a Like (below) ❤